Thailand Field School
May 2023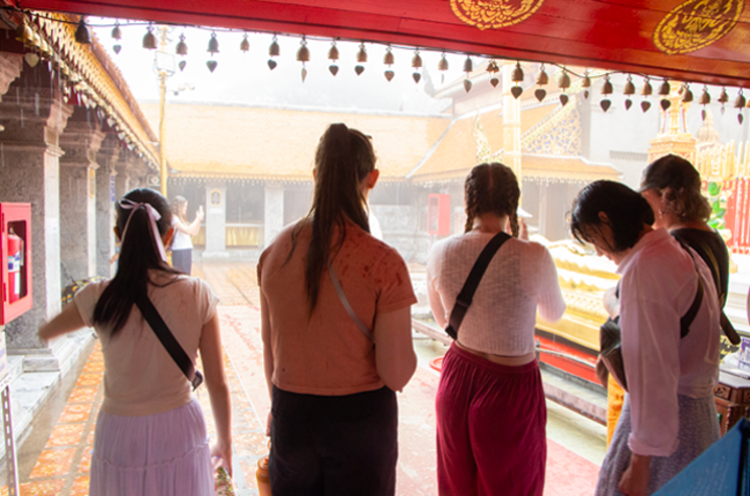 CAPI, UVic's Global Development Studies (GDS) minor program, and the Department of Political Science (POLI) have developed new initiative for UVic Undergraduate students: a field school in northern Thailand examining policies of development and the environment. The 1.5 unit, third-year level cross-listed course (POLI / GDS) took place in May 2023 and encompassed one week of intensive classroom study at UVic followed by 2.5 weeks of experiential learning in Thailand. This field school is unique in that priority is given to those students who are typically underrepresented in overseas opportunities. Funding to cover the entire costs of the field school is provided for up to 7 students, and partial funding for another 3 students.
See full details below.
Spend two weeks in northern Thailand learning about local economic development and environmental challenges, specifically those issues that highlight the importance of inclusivity, equitability and sustainability in community development and resilience movements. Through community visits, conversations with civil society groups, museum visits, and travel throughout Thailand, students will learn about the impacts of environmental challenges on everyday life and on rural and urban landscapes. They will also learn about community resilience and innovative approaches to such environmental challenges, and strategies aimed at advancing sustainable community development. Topics and site visits may include: mining and the impact of extractive growth strategies on the local environment and on communities; deforestation and local experiences of climate change; grassroots anti-poverty initiatives; community resistance to environmentally damaging economic growth strategies and community resilience; and, legal rights and political movements of ethnic minorities. Finally, we will consider the intersection of some of these issues with local and international supports to refugee and undocumented communities in Northern Thailand.
Through classroom learning, site visits and direct engagement with communities and NGOs in Thailand, students will acquire a deeper understanding of the interconnections between humans, development policies and practices, and the environment. Students will also learn about how communities organize to resist harmful practices that affect livelihoods and the environment, and about community struggles, and the politics and processes of resilience.
Course requirements and expectations:
Attendance and participation in all pre- and post- departure training and classroom work.
Completion of all course requirements, including in-country (Thailand) activities, and one blog post for the CAPI website. Details will be provided in the course outline.
Profile picture and bio for the CAPI website.
Completed GSO pre-departure form and final narrative report (on an external portal). Details to be provided once program participants are identified.
This course will take place from approximately May 8 – June 7. Pre-departure training and classroom lectures will take place from May 8 – 12. The in-country component of the field school (see draft itinerary below) will take place from May 13 - 28. Post-trip classroom discussions and debriefing will take place at UVic on June 5 – 7.
Draft in-country itinerary

Day 0 (Saturday, 13 May)
Leave Victoria
Day 1 (Sunday, 14 May)
arrive in Bangkok, depending on time overnight, if early enough in the day fly on to Chiang Mai
Day 2 (Monday, 15 May)
Chiang Mai, settle in, Chiang Mai University (CMU)
Day 3 (Tuesday, 16 May)
Chiang Mai - TBD
Day 4 (Wednesday, 17 May)
first day trip – Mae Moh Coal Mining, Lampang Province, extractive industries/impacts of mining
Day 5 (Thursday, 18 May)
Chiang Mai
Day 6 (Friday, 19 May)
Trip 2 – Second community – Omkoi Proposed Coal Mining, Omkoi District, Chiang Mai Province, ethnic minority / deforestation/ community resistance
Day 7 (Saturday, 20 May)
spend day with community, return to Chiang Mai in the evening
Day 8 (Sunday, 21 May)
Travel to Mae Hong Son (MHS), near the Thai-Myanmar border
Day 9 (Monday, 22 May)
day off
Day 10 (Tuesday, 23 May)
MHS Community visits
Day 11 (Wednesday, 24 May)
MHS Community visits
Day 12 (Thursday, 25 May)
Fly from MHS to Bangkok
Day 13 (Friday, 26 May)
Bangkok – Embassy visit
Day 14 (Saturday, 27 May)
Free day in Bangkok
Day 15 (Sunday, 28 May)
Fly home
CAPI has received generous funding for this field school from the Canadian government's Global Skills Opportunity (GSO) Program, Canada's new outbound student mobility program. GSO is funded by Employment and Social Development Canada (ESDC) and administered through Universities Canada. Funding from GSO will be used to provide full funding for the field school for up to 7 students, and partial funding for 3 students. See full details below in the 'funding' section. The Social Science Faculty at UVic has provided some additional funding to support student participation in this field school.
GSO seeks to provide Canadian post-secondary students with international study and work experiences to obtain the skills and training needed to participate in a changing labour market. 
GSO objectives are to:
Widen access and equity to participation in outbound student mobility programming
Diversify the destination countries where students choose to study and work abroad
Test innovative approaches to reduce barriers to study/work abroad 
Who is eligible to participate in this field school?  
Canadian citizens or permanent residents; must be 18 years or older at the time of application;
Full-time undergraduate students (preferably 3rdor 4th year standing);
Prerequisites: POLI 103; and POLI 217 or GDS 201; or permission from the department(s). POLI 240 and GDS 301 strongly recommended;
Students from other faculties and departments who do not have the pre-requisites are encouraged to contact Dr. Marlea Clarke, GDS Director, or Robyn Fila, CAPI Program Manager, to discuss participation.
Information sessions:

26 October 2022 and 18 January 2023 | 1-2pm in Sedgewick Building, C-wing, room C168 - 

Map
Application deadline:
27 January 2023 at 4pm Pacific Time
Review and shortlisting applicants:
first week of February 2023
Candidate interviews:
second week of February 2023
Students receive offer letters:
week of 20 February 2023
Mandatory pre-departure meetings and training:
March and April 2023 (approx. two full days, likely on a weekend, plus a few other short meetings)
Submit GSO pre-departure form (instructions will be provided):
March/April 2023
In-class course components (at UVic):
8-12 May 2023
Departure flight to Thailand:
13/14 May 2023
In Thailand:
14-28 May 2023
Return flight to Victoria:
28 May 2023
Submit GSO final narrative report (instructions will be provided):
1 June 2023
In-class component upon return:
5-7 June 2023
Generous funding to cover most or all of the entire cost of the course (including all travel) is available for up to 10 students. Priority for participation in this course (the field school) will be given to students who are typically underrepresented in outbound mobility programming. In other words, priority will be given to students who have not been able to participate in field schools or international experiential learning opportunities due to identified barrier(s). Racialized students who also identify with one of the criteria below are encouraged to apply.  
Underrepresented groups include and are defined by the program funders as:
Low-income students: students who report to be in receipt of Canada Student Grants, or similar non-repayable student financial assistance offered by provinces or territories, or, in the absence of receiving non-repayable student financial assistance, can provide information to demonstrate that they require financial support to study or work abroad.
Indigenous students: students who report being an Indigenous person; that is, First Nations, Metis, Inuk (Inuit), or other.
Students with disabilities. Students who report to have a difficulty or impairment due to a long-term condition or health program and/or experience a limitation in their daily activities.
Funding Amounts
Target Category Students
Those who meet the requirements of the identified target communities (i.e., Low-income, Indigenous, or Students with disabilities) are eligible for funding that will cover most or all of your travel and field school related expenses, up to a maximum of $7000 CAD/student (7 students).
Additional expenses such as passport application fees, immunizations (please book an appointment with a travel clinic for advice), non-deferrable expenses while you are away (missed wages, phone bill, etc., up to $400), and a small allowance will be provided directly to the student. 
Other Students
Those who are not part of the identified target communities are eligible for funding up to $5000 CAD/student (3 students).
We anticipate that all funded participants will have the following costs covered through the program funding and administered by the program team: airfare, tuition, in-country travel, basic dorm-style and hostel type accommodation, group meals and in-country programming (museum and site entrance fees, donations to host organizations, translator fees, etc.). 
Spending money for shopping and meals other than group meals will be at the students' own expense. 
We may also accept up to 2 additional students who can self-fund and cover the costs of most of their own participation in the course. Small grants (e.g. $500 - $1,000) for these students are available through GDS. Contact the GDS Director for more information.
All participants must purchase comprehensive travel insurance covering cancellation, travel interruption, health, and baggage once your flights have been booked and purchased. If you have comprehensive coverage through a parental plan or credit card, proof must be shown once your flight has been purchased. 
Applicants must submit the following documents:
A completed application form
An up-to-date resume (no more than 2 pages)
University transcripts (unofficial copies or CAPP reports are acceptable)
Complete application packages MUST BE submitted by email to Robyn Fila at rfila@uvic.ca by 27 January 2023 - 4 pm PST. Late and/or incomplete applications will not be accepted. Please include "2023 Field School Application - FirstName LastName" in the subject line of your email.
Applications should be saved as "your name - description of the document" (e.g. "Your Name - transcript"). All attachments should be in PDF format only.
We thank everyone for their applications and interest in the CAPI/GDS/POLI Field School program. Only shortlisted candidates will be contacted (in February) to set up an interview time.
Once applicants have been accepted into the field school, they will need to register for the course in the May – August 2023 term.
Application form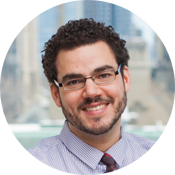 Will Greaves
Dr. Will Greaves is Assistant Professor of International Relations at the University of Victoria, where his research examines intersections between global security, environmental politics, and Canadian foreign policy. He has published two books and more than thirty peer-reviewed articles and book chapters on security theory, climate change, energy extraction, and Indigenous peoples in North America and the circumpolar Arctic.
Professor Greaves received his Ph.D. in Political Science from the University of Toronto and is Lead for Climate and Environment with the North American and Arctic Defence and Security Network (NAADSN). Professor Greaves has organized, led, or participated in field schools and educational programs for youth and young adults in the Northwest Territories, Peru, the Nunavik region of Quebec, and the European Arctic. In 2022, he received the University of Victoria's Faculty of Social Sciences Excellence Award for Early Career Teaching.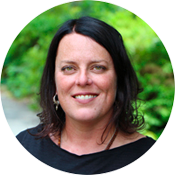 Robyn Fila
Since 2010, Robyn has facilitated over 200 international internship placements for UVic students and graduates from across Canada. She is responsible for program design and partnership development across the Asia-Pacific region, selecting, training and mentoring scholars, and program monitoring and evaluation. CAPI's international internship programs have focused on governance, development and migrants' and refugee rights.
Robyn has an extensive background in experiential learning and curriculum development as it pertains to global and intercultural education initiatives. She has worked in Indonesia with street entrenched youth and on social change movements concerning reproductive rights in the Czech Republic. She has an undergraduate degree from UVic in Geography and a MA in Adult Education and Global Change from Linkoping University in Sweden.

This project is funded by Global Skills Opportunity (GSO), the Government of Canada's outbound mobility pilot program.