Tristan Denniston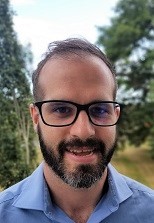 Position
Associate Director, Community and Government Relations
University of Victoria
Credentials
Double Major History and Political Science - BA (2013)
Tristan graduated from UVic in Spring of 2013, he obtained a Bachelor of Arts with a double major in History and Political Science.
Upon graduation, he worked in a number of roles for the BC Government Caucus in research and administration. In Spring of 2015, he moved into various advisory roles for a number of Ministers. Here he gained hands experience working with policy related climate change, clean energy, regulations and Crown Corporations. Following the 2017 election, he worked as a policy advisor in Opposition.
In June 2017, Tristan began his new role here at the University as Associate Director of Community and Government Relations. Through his career, Tristan has gained experience in communications, strategic planning, stakeholder relations and policy development and implementation. He has also gained insight from working with industry, Crown Corporations and governments at the local, provincial and federal levels. He is very grateful for the incredible professors he had the opportunity to learn from while at UVic that encouraged him to follow his lifelong love of politics and history.
Always remember in your life and work to do the right thing, treat others how you would like to be treated and get better everyday. These are simple rules that can make all the difference in both your personal and professional lives