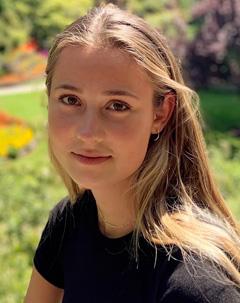 Tips for Success
One tip that I would offer new international students starting their program at UVic is… As intimidating as it sometimes feels, showing up to different events, signing up for student groups and clubs, and getting to know your classmates are all great ways to make new friends and build a sense of community on a new campus and in a new city. Making a small effort to connect with others will always go a long way, and remember that lots of other students are in the same place as you. 
One of the best ways for international students to get connected during their time at UVic would be… Join the Global Community here at the ICS! Don't be discouraged if it takes some time to feel connected, that is a very normal feeling when moving somewhere new. I have also recently moved to Victoria, and taking lots of time to explore the city and its surroundings has been such a good way to help orient myself and develop more of a sense of place here at UVic.
Student Success Tip: Take advantage of all the amazing opportunities available to you at UVic and internationally. Join the Global Community, and go on Exchange! You won't regret it.
About
I grew up in Deep Cove, North Vancouver and just recently completed my undergraduate degree in International Relations at UBC. My father is from Scotland and my mother is from Ireland, and I have them to thank for instilling in me an early appreciation for travelling, learning new languages, and meeting new people. My interest in international experiences inspired my decision to study IR in university, and I am thrilled to now be part of the team at the International Centre for students. As a very new and recent graduate, in many ways I still feel like a student myself. I am looking forward to meeting and connecting with new students here at UVic, so please don't hesitate to reach out!
Interests
Travelling, reading, exploring Victoria and Vancouver Island, trying out new coffee shops, and spending time with my friends and family.
Fun fact
In my last year of my undergrad I started learning Swedish. Hej!