iSLR Field Recorder for iPhone and iPad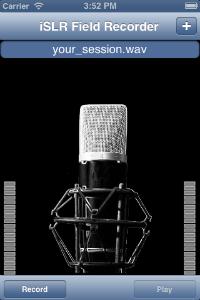 Download the free iSLR Field Recorder for iPhone, iPod, and iPad from the Apple iTunes APP store.
The iSLR Field-Recorder APP allows you to record words or phrases prompted by your own text list (optionally randomized). Then, simply upload your recording session to your Dropbox account or Sync with iTunes. You can retrieve new wordlists through Dropbox, too!
For inquiries or suggestions, contact Dr. Alexandra D'Arcy.
Credits and Acknowledgements
Department of Linguistics, University of Victoria
Office of the Vice-President Research, University of Victoria
Social Sciences and Humanities Research Council of Canada
Alexandra D'Arcy, Director, Sociolinguistics Lab, University of Victoria
All Programming and Design: Christopher Coey, University of Victoria
© 2012 University of Victoria, Victoria B.C.