Office 365 basic authentication change
Microsoft is making changes in mid-January 2023 to the types of services Office 365 desktop applications can connect to. The centrally hosted service Connect (SharePoint 2013) will be affected by this change. University Systems is taking steps to ensure access to Connect from Office 365 desktop applications is not impacted for Office 365 installations acquired through UVic.
The following Office 365 desktop applications will present warnings when users access and open files on legacy systems:
Access
Excel
OneNote
Outlook
PowerPoint
Project
Publisher
Visio
Word
The following image shows the warning message users will receive when attempting to access files from legacy systems with Office 365 desktop applications after mid-January.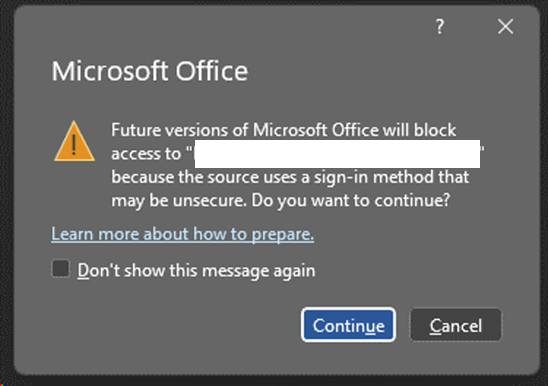 If you encounter this warning message, you can click Continue to access the file.
Please contact the UVic Computer Help Desk if you are impacted by this change when opening files hosted by UVic centralized services.