Community voices on tapping into tech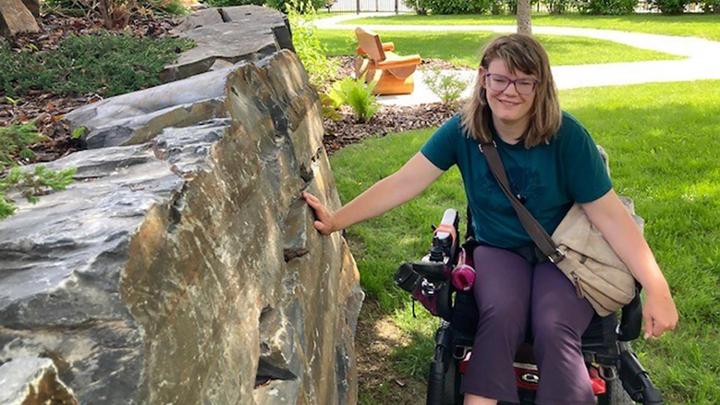 Kate Gibbs has been employed as a community researcher with this project for the past two years.
A Participatory Action Grant from the Vancouver Foundation funds a UVic research project to address a longstanding inequity in early childhood development services in northern and rural BC.
Community Voices on Tapping into Tech is a two-year research project lead by UVic School of Child and Youth Care researcher Dr. Alison Gerlach. It sprang to life during the COVID-19 pandemic, when early child development and intervention programs and services were caught up in the rapid shift towards online, virtual delivery. But, as Alison explains, the story behind this research began long before the pandemic.
"Many families living in northern and rural parts of British Columbia have been struggling for a long time to access the help they need to raise children with disabilities and medical complexities," says Alison. These families face social, economic and geographical barriers compared to children living closer to urban centres. "Given the importance of the early years, this 'inequity from the start' can have lifelong consequences on families and children's quality of life and children's life chances," she says.
Funded by a Vancouver Foundation Participatory Action Grant, this project is exploring how information and communication technologies (including apps, texting/messaging, Facebook and videoconferencing) can provide families with easier and timely access to early child development (ECD) resources and services in addition to in-person options.
The research project is co-designed and lead by parents, service providers and child disability advocacy groups who will directly benefit from the research. Parents with lived experiences of raising children with support needs and young people with disabilities were hired as paid community researchers for the project. The research team co-created two provincial surveys, one for families and the other for professionals, and held in-depth discussion groups.
Kate Gibbs, who has moderate cerebral palsy, has reviewed surveys and articles and attended interviews with families and service providers throughout the two years she's been employed as a community researcher. Kate's passion and interest in the work stems from having received ECD services as a child and her volunteer role with Inclusion BC.
"Nothing about us, without us is a very popular saying in the diverse ability community. Too often, government decisions, or any decisions that may affect people who have diverse abilities are made without the input of people with diverse abilities themselves. Their voices need to be heard, highlighted and responded to. Thank you, Tapping into Tech for giving me this employment opportunity. I'm excited to see where this job will take me." – Kate Gibbs, community researcher for Tapping into Tech.
 Tapping into Tech is centering the voices of parents, community members and ECD professionals at a critical time when government is shifting towards a hybrid model of ECD service delivery for the long-term. Alison is planning on sharing the research through policy impact forums and other knowledge-exchange sessions with government decision makers and community agencies. It will help those groups understand how to better serve families using technology—without leaving anyone behind.
"As long as we have families in communities who cannot access affordable, high-speed, stable internet, we need to remember that technology is not the only answer to addressing inequity," Alison warns. She is appreciative that the Vancouver Foundation provided funding to address a long overdue problem.
"There has been such a longstanding negligence of families living in rural northern parts of our province who are raising children with support needs. This research has the potential to make a large and lasting impact on the provincial early child development system." – Alison Gerlach
To read more about the impact of donor generosity, visit the 2023 UVic Annual Report to Donors.
Learn more about giving to UVic.