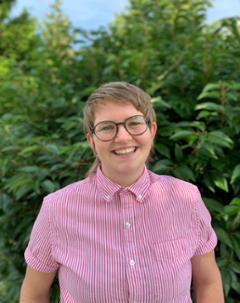 Doctoral intern
Counsellors
Contact:
Credentials:

MSc (University of Calgary), PhD candidate (University of Calgary)
  Please note: Vanessa's internship ends August 2022
About
I was born and raised in a small rural community in Southern Alberta, a visitor on Treaty 7 land - the traditional and ancestral territories of the Blackfoot Confederacy (Siksika, Piikani, and Kainai First Nations), the Tsuut'ina Nation, the Îyâxe Nakoda Nations, and the Metis Nation (Region 3).
Following high school I moved to the "big city" (Calgary), where I continued to learn, grow, work, and play until very recently, when I packed up my two cats and all of my knickknacks to make my way west. I identify as queer and my pronouns are she/her; they/them.
Counselling approach
I come from the belief that having many different ways of understanding and addressing challenges is better than having few, and that there is no one right way. In my role as a counsellor, I have had the opportunity to support children, adolescents, and adults of all ages, with diverse backgrounds, as they navigated a wide range of challenges in their lives, relationships, and families. I have received training at various settings, including child and adolescent mental health, developmental and cognitive support programming, family therapy, and student wellness at the University of Calgary. 
As a counsellor, I draw from a range of different approaches with the aim of supporting people in ways that are most meaningful to them. Most readily, my approach is informed by feminist and narrative traditions, and I strive toward a collaborative, respectful, and creative practice, with the foundational belief that the person is not the problem, the problem is the problem. I believe in the importance of finding the right "fit" with your counsellor to ensure that you are supported in ways that are affirming and... actually helpful!
Areas of interest
To give you a better sense of our potential fit, these are some of the common challenges I have supported clients in navigating: 
Body image
Confidence and self-esteem
Mood challenges (anger, anxiety, depressed mood)
Gender and sexuality
Grief and loss
Identity exploration
Life transitions of all kinds
Lived experiences of adversity and/or trauma
Relationship dynamics and challenges (colleagues/peers, family, friends, intimate partners, etc.)