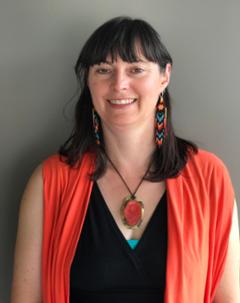 Counsellor
Counsellors
Status:

On leave
Contact:
Credentials:

BA (UVic), PDPP (UVic), MEd (UVic)
About
Born and raised in Victoria, I have been a visitor on unceded lək̓ʷəŋən and W̱ŚANÉC traditional territories for most of my life. I am of Russian Mennonite and Welsh/British ancestry.
I was married into a Cree family for 12 years and have worked at the Victoria Native Friendship Centre for 10 years. I am thankful for my opportunity to work with and learn from Indigenous people; it has profoundly shaped me personally and professionally.
Education & experience
I attended University of Victoria and received my BA (English literature), my PDPP (secondary teacher), and my MEd (counselling psychology) from UVic.  
I have been counselling in Victoria for 13 years, working in non-profit community organizations, in Island Health, and in private practice in a variety of areas including substance abuse, mental health, sexualized violence, sex work, grief and loss, life transitions, inter-generational trauma and colonization.
Counselling approaches
I work holistically and draw from different theories and approaches (Satir Transformational Systemic Theory, Developmental Psychology, Mindfulness, Bio-Psycho-Social-Spiritual Model, Evolutionary Psychology, Motivational Interviewing and others.)
I view individuals as experts on their own lives and experiences, as valuable and whole beings who deserve appreciation and respect, and who are doing the best they can. I believe working collaboratively, counsellor and client can discover the best solutions for life's challenges and the best routes for creating positive change.