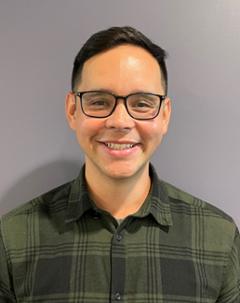 Counsellor
Counsellors
Contact:
Credentials:

MA Counselling Psychology (UVic), Canadian Certified Counsellor (C.C.C.) through the Canadian Counselling and Psychotherapy Association
About
Hello! My name is Adam (He/Him). I am a settler with mixed ancestry (Vietnamese/UK/German) born and raised in Calgary, on Treaty 7 territory, the traditional territory of the Blackfoot Confederacy (Siksika, Kainai, Piikani), the Tsuut'ina, the Îyâxe Nakoda Nations, and the Métis Nation (Region 3). I have been a visitor on the traditional territories of the Songhees, Esquimalt, and W̱SÁNEĆ peoples since 2009. I am grateful to the Indigenous stewards of this land and to the ocean, cedars, heron, and the beings seen and unseen that nourish me and support my counselling practice here at UVic Counselling Services.
Some things that I enjoy include meditation and yoga, family time, hiking and stillness in nature, poetry, coffee and conversation, Vietnamese food, rivers, and drawing birds and animals.
Office Hours: Please note that I am only in office and checking my emails on Mondays, Tuesdays, and alternating Thursdays.
Counselling approach
As a counsellor, I have worked in various settings with adults of diverse backgrounds, including supporting masculine-identifying folks with trauma recovery, hospice patients and their families, and in community mental health care agencies.
I believe in supporting people's innate and unique capacities to heal and grow. I draw from counselling approaches that are mindfulness-based, person-centred, relational, and trauma-attuned. I find these approaches helpful in supporting people to expand awareness, rest their nervous systems, connect to values and strengths, and shift patterns that cause unnecessary suffering.
Additionally, people are impacted by their social positioning and cultural contexts, and so I believe it is important to explore together how this influences relationship to self, others, and also the therapeutic relationship.
I also am interested in approaches that recognize the importance of non-human relationships on growth and wellbeing. I am interested in continuing to learn how to bridge this area of interest to my counselling practice. 
Some Areas of Interest
Anxiety and stress
Trauma recovery
Identity Exploration (including multiracial, queer, and other identity experiences that may not "fit in the box")
Grief, loss, death, dying
Chronic pain
Relationships
Major life and career transitions
Ecological grief and other responses to climate change