Draco the Dragon: bringing fun to family health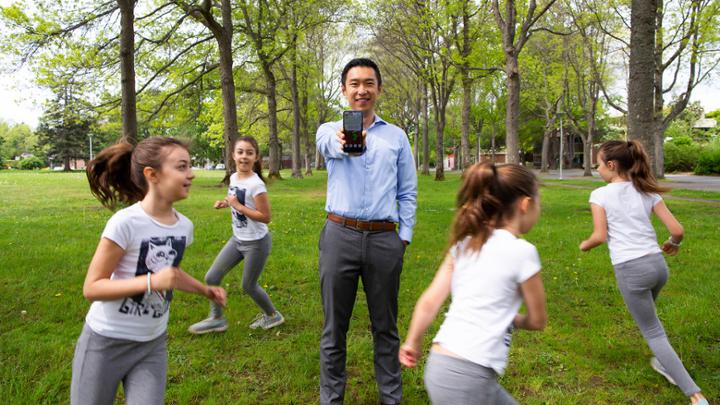 University of Victoria researcher Sam Liu is piloting a smartphone app aimed at motivating families and their preteen children to increase their physical activity and eat nutritionally.
A tiny virtual dragon named Draco is at the heart of the app. To care for Draco, children and their family members engage in physical activity and healthy eating habits. Walks, jumping jacks and nutritional family meals are all key parts of keeping Draco healthy.
"Kind of like a Tamagotchi-inspired exercise buddy"—Sam Liu
Generation Health
Draco is one of the digital health tools designed to be piloted with the Generation Health program.
Generation Health is a family-based community program to support making family changes to healthy behaviours across BC.
Generation Health takes an evidence-based approach to family health. Its process and outcome evaluation was conducted by UVic researchers, who were awarded nearly $500,000 by the Canadian Institutes of Health Research to conduct the evaluation and continue their research into how digital technology can promote health and well-being. 
Family-oriented programs
It simply isn't possible to change children's behaviour without their parents' buy-in, Liu says.
Previous research conducted by Liu confirmed that parent messaging is vital in influencing their children's behaviours. Both Draco and Generation Health strive to get the whole family motivated to eat well and be active together.
Vital impact
Obesity rates among Canadian children and youth have been on the rise for 40 years. Obesity in childhood is a predictor of obesity in adulthood, and a risk for physical health problems ranging from heart disease and Type II diabetes to sleep apnea, asthma, and bone and joint problems.
"I was encouraged to see how many kids do engage with Draco"—Sam Liu
Liu drew on his work in data science and behavioural science to understand how users interact with health and exercise apps. Digital health programs are at their more effective and motivating when they are customizable, personalized and
fun
. Liu believes that any intervention aimed at changing health behaviours must have an element of fun to be effective.
More research from UVic
View more vital impact stories on our 
YouTube channel