Bronwyn Hobson (Physics & Marine Biology)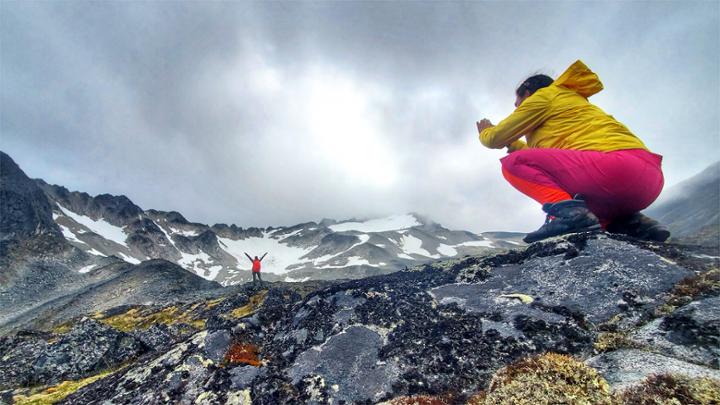 Incredible co-op capture
"If you want to protect an area or a species, you have to make people care about it first," says Bronwyn Hobson (Physics and Marine Biology). On a co-op placement as a Student Ranger for BC Parks Hobson got hands-on in some of BC's most pristine surroundings.
Putting conservation into action though her co-op experiences she has maintained trails and cabins, surveyed parks for wildlife and helped preserve a dwindling plant species.
Inspired by her dramatic surroundings in the Rocher Déboulé Range near Hazelton, BC, she also captured an amazing photo providing a peek into her unique learning environment.
"It made me appreciate how important my role is for the outdoors community of Northern BC," she says. "As a student ranger, I feel so fortunate to be able to maintain access to beautiful places such as these so that everyone has the chance to go outdoors and explore the beauty that is protected within BC Parks!"
UVic's co-op program
With more than 4,200 placements each year, UVic has one of Canada's largest university co-operative education programs. Co-op integrates academic studies with relevant paid work experience in more than 40 academic areas.
Our co-op program is designed to help students start their careers while they're still in university. The combination of academic courses and relevant work experience lets our students put their learning into action.
Close to half of eligible UVic undergraduates take part in co-op and graduate with experience in their field. 75 per cent of our co-op students graduate with job offers.
Hands-on learning
Our commitment to dynamic learning gives our students a powerful edge of expertise. 75 per cent of our co-op students graduate with job offers.
When we give our students the opportunity to take their learning outside the classroom, they put their innovation into action. They engage directly in problem solving, gain career-relevant expertise and experience deep personal growth.