A deeper understanding of the universe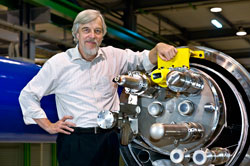 CERN Director General Dr. Rolf Heuer to give inaugural Alan Astbury Public Lecture on April 27, 2015.
The world's most powerful particle accelerator came back online this month after a two-year hiatus. Already credited with the discovery of the Higgs boson (or "God particle"), the Large Hadron Collider (LHC) in the CERN facility at Geneva, Switzerland, holds the key to discovering the origin of mass, the nature of dark matter, and much more.
In April, UVic welcomed Dr. Rolf Heuer, Director General of CERN, to the campus for a public talk on the collider's potential.