Student's community engagement recognized with national award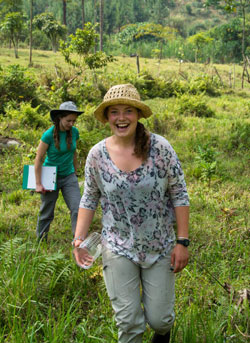 UVic student Navarana Smith has been named as one of 10 Canadian undergraduates to win a 2015 3M National Student Fellowship, celebrating outstanding student leadership.
Smith's resume reads like an adventure novel. A child of two biologists who ran an eco-tourism company, Smith spent her childhood exploring the remote wilderness of the Pacific Northwest and the High Arctic. Now a third-year biology and environmental studies student, Smith has travelled to Germany, Kenya, Uganda, Tanzania and Madagascar in the course of her undergrad studies.
Closer to home, she spent a semester at the Bamfield Marine Science Centre on Vancouver Island. Her travels have given Smith a sense of her position in the world—a deeper understanding of place and perspective.