Machine Shop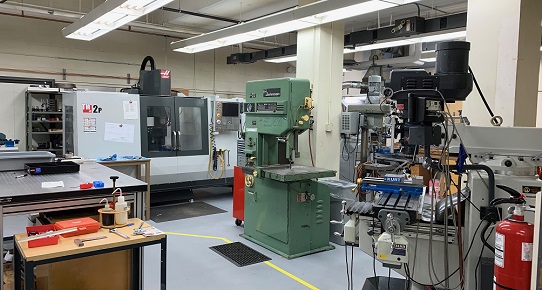 Room: Elliott 029 (Basement)  
Phone: 250-721-7721

Hours: Monday - Friday 8:30am - 4:30pm, Closed weekends and holidays.


No one is permitted to enter or work in the shop after hours without the express permission of the shop supervisor.
Check with your supervisor before contacting the shop.
Fill out the Job Submission form found below, including a FAST account number.
Make an appointment by phone or email. Avoid dropping by without an appointment.
| Cost | Service |
| --- | --- |
| free | estimate |
| $30 | minimum charge |
| $30/hour | regular rate - includes personal use of the shop |
| $120/hour | overtime rate (salary plus regular rate($30/hr)) |
The Machine Shop serves the Faculty of Science. Normal priority for processing work will be the repair or fabrication of equipment for:
Science customers
Non-Science departments/units on campus. Job submissions are considered if there is capacity.
No tool, equipment, or facility is to be used for commercial purposes nor shall any tool or item of equipment be removed from the shop without the approval of the shop staff.
The shop machinists will be responsible for completing jobs that are brought into the shop. Any other eligible user wishing to use shop equipment or tools must seek the permission of shop staff, demonstrate competence with the use of the equipment and basic shop practices, and have a shop staff member present.
Eligible users may include:
Senior Science undergraduate students
Science graduate students
Science Faculty, research personnel and staff