UVic researchers welcome CFI President and Board of Directors
November 24, 2022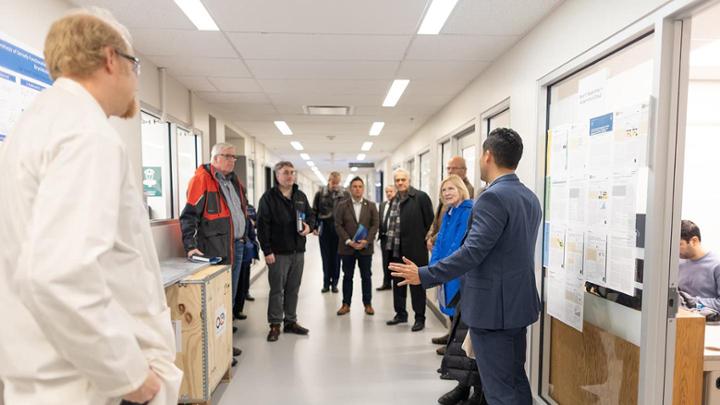 President Roseann O'Reilly Runte and members of the board and leadership team of the Canada Foundation for Innovation (CFI) saw some of their funding in action at UVic this week.
They heard from Ocean Networks Canada President and CEO Kate Moran, from Associate Vice-President Research and former Director of UVic's Centre for Advanced Materials and Related Technologies (CAMTEC) Fraser Hof, and learned about the reach of the Victoria Hand Project from Executive Director and Associate Mechanical Engineering Professor Nick Dechev. All of these research enterprises – and more – have received funding from CFI over the years, including the largest Major Science Initiative Fund award in history. The visit also included four lab tours.
UVic organic chemist David Leitch who showed them state-of-the-art equipment that has enabled high-throughput experimentation for drug discovery and development.
Nearby, chemist and Canada Research Chair Makhsud Saidaminov described his team's use of CFI-funded infrastructure in their pursuit of sustainable energy and efficient consumption via new functional materials and scaled-up solar cell technology.
The next stop was the newly upgraded microbiology lab of Lisa Reynolds, whose culture and analysis machines help them to identify intestinal molecules and mechanisms that influence immune function.
In Marie-Ève Tremblay's lab, she and PhD student Fernando Gonzáles Ibáñez showcased a rare electron microscope (one of three in Canada) used to explore immune cells in the brain called microglia.
CFI funding powers some of the most advanced research in the world, and UVic researchers are driving the impact of these investments for global health, wellness, sustainable energy and more.