University Librarian's Lecture
The University of Victoria Libraries' University Librarian's Lecture Series hosts guests and speakers from across the globe, and is a unique public forum for the exploration of issues that inform the past, present, and future role of libraries, and the creation and circulation of knowledge in all its many forms. The series was established by University Librarian Jonathan Bengtson in 2013 following generous support from a library donor, and is free and open to all.

2023 University Librarian's Lecture
'You don't like those ideas? I got others!'*
Friday, June 2, 3:30 - 5 pm
The emergence of artificial intelligence (AI), social media, and quantum computing is fundamentally transforming the way we process and understand information, and will have far-reaching implications for human culture and society. This panel of distinguished international experts will explore the shining lights and dark shadows of AI, quantum technologies, and social media platforms. The panel will explore the need for developers and policymakers to prioritize ethical considerations in the development and deployment of these technologies and strategies to combat the spread of misinformation. They will also discuss the ethical implications of these technologies, particularly in terms of privacy and bias as we navigate the rapidly evolving landscape of information technology. 
Elizabeth Denham, CBE - International Consultant - Data and Tech (Baker & McKenzie LLP), former UK Information Commissioner, and former BC Information and Privacy Commissioner
Brewster Kahle - Founder and Digital Librarian, The Internet Archive
Masud Khokhar - University Librarian and Keeper of the Brotherton Collection, University of Leeds, and Chair of Research Libraries UK
Dr. Michael Ridley - Librarian Emeritus, University of Guelph, and AI expert
Moderated by Dave Obee - Editor and Publisher, Times Colonist
*The title of this event is inspired by a quote from Marshall McLuhan from the lecture The Medium Is the Message (1977) part 1, volume 3.
Brewster Kahle, Founder and Digital Librarian, The Internet Archive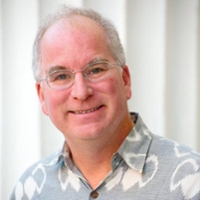 A passionate advocate for public Internet access and a successful entrepreneur, Brewster Kahle has spent his career intent on a singular focus: providing Universal Access to All Knowledge. He is the founder and Digital Librarian of the Internet Archive, one of the largest libraries in the world. Soon after graduating from the Massachusetts Institute of Technology where he studied artificial intelligence, Kahle helped found the company Thinking Machines, a parallel supercomputer maker. In 1989, Kahle created the Internet's first publishing system called Wide Area Information Server (WAIS), later selling the company to AOL. In 1996, Kahle co-founded Alexa Internet, which helped catalog the Web, selling it to Amazon.com in 1999. The Internet Archive, which he founded in 1996, now preserves 99+ unique petabytes of data - the books, Web pages, music, television, and software of our cultural heritage, working with more than 950 library and university partners to create a digital library, accessible to all.
Photo credit: Open Libraries
Masud Khokhar, University Librarian & Keeper of the Brotherton Collection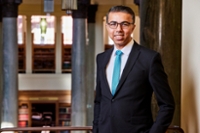 Masud is the University Librarian and Keeper of the Brotherton Collection at the University of Leeds. A computer scientist by education, and with libraries in his DNA, Masud is passionate about digital leadership and innovation in the changing library and archive environments. His core interests include strategic development, digital transformation, open research, and inclusive leadership. Masud is also the Chair of Research Libraries UK (RLUK) and a firm supporter of diversity embedded in our thinking and practice within libraries and collections.
Dr. Michael Ridley, Librarian Emeritus, University of Guelph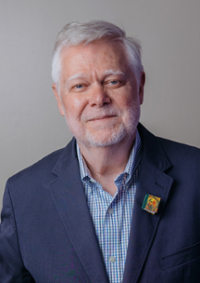 Dr. Michael Ridley is Librarian Emeritus at the University of Guelph where for many years he was the Chief Information Officer (CIO) and Chief Librarian. Before this he held positions at the University of Waterloo and McMaster University. Ridley has degrees from Guelph (BA), New Brunswick (MA), Toronto (MLS, MEd), and Western (PhD). His recently completed doctoral research explored the challenges of human centered explainable artificial intelligence (HCXAI) under the direction of Dr. Jacquie Burkell, Faculty of Information and Media Studies. Ridley's ongoing research interests include machine information behaviour, explainable AI, algorithmic literacy, and historical perspectives on library information technology. Ridley has held executive positions on the Ontario Library Association, the Canadian Library Association, the Canadian Association of Research Libraries, Ontario Council of University Libraries, the Canadian Research Knowledge Network, and the Canadian University Council of Chief Information Officers, and the Ontario Research and Innovation Optical Network.  He currently serves on Executive Committee of the Canadian Association for Information Science. Yes, he believes strongly in the power of association and collaboration. Ridley is on Twitter at @mridley. His website is www.MichaelRidley.ca.
Elizabeth Denham, International Consultant - Data and Tech (Baker & McKenzie LLP)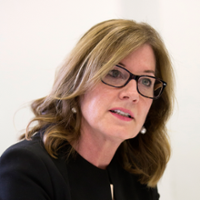 Elizabeth Denham CBE brings extensive international regulatory expertise to Baker McKenzie. She served as the UK Information Commissioner from 2016-2021, following a decade of roles as a data protection and information rights regulator in Canada. As Information Commissioner for the UK, she built and led the largest data protection regulator in the world and Chaired the Global Privacy Assembly (international forum of data protection commissioners) from 2018-2021. She is committed to making digital technologies and data work for the benefit of society. Under her leadership, the ICO embarked on some of the most daunting cross-border investigations on the misuse of individuals' data -- including her investigation into political micro-targeting and election interference, data brokers and credit reporting agencies, and use of facial recognition technology by commercial firms and the police. She is passionate about the ethical and safe collection, storage and use of data. A highlight of her time at the ICO was drafting the first 'privacy by design' statutory Children's Code – a set of fifteen enforceable standards to protect children's safety and agency on- line. This Code is having global impact as technology companies and services making meaningful changes to their services to comply with the rigorous standards in the UK Code.  In the 2019 New Year's Honours list Elizabeth was awarded a CBE for her services to protecting people's privacy. In 2020 she received the BCS Society Medal, which recognises an outstanding individual whose work and values have helped to enhance the reputation of digital technology and its contribution to improving our lives. In 2021 she received an honorary doctorate from the University of Victoria for international leadership in information rights.
Dave Obee, Editor and Publisher of the Times Colonist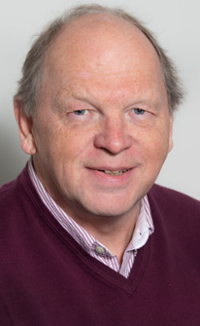 Dave has been a journalist since 1972, working in British Columbia and Alberta. He has written a dozen books on genealogy and local history, and has given more than 700 presentations at genealogical conferences and seminars in Canada, the United States and Australia since 1997. Dave researched and wrote The Library Book: A History of Service to British Columbia, a comprehensive look at library service and development over the past two centuries. The British Columbia Historical Federation named it one of the top three books in B.C. history in 2011. He worked with UVic Libraries and other partners in the digitization of the Daily Colonist and the Victoria Daily Times, which are at BritishColonist.ca. Dave was a member of the services consultation committee at Library and Archives Canada in Ottawa for four years. He is also a former member of the board of Canada's History Society, which publishes Canada's History magazine and Kayak, a history magazine for children. The University of Victoria has awarded Dave with an honorary doctorate of laws for his work as a historian, genealogist and journalist. Dave is also a recipient of the B.C. Library Association's Keith Sacre Library Champion Award, the top award for non-librarians, as well as the Bill Good award, given by the Jack Webster Foundation to recognize a B.C. journalist, leader or educator who has made a significant impact in journalism and in the community at large.
Photo credit: Darren Stone, Times Colonist
2022: Truth and Healing through Story-telling: Indigenous Podcasting with Connie Walker
2019: Building Reconciliation through the Archive: the past, present, and future of Indigenous documentary heritage with Carey Newman, Shelagh Rogers, and Ry Moran
2017: Look Again: A conversation with Guy Berthiaume about Library and Archives Canada with Guy Berthiaume and Jo-Ann Roberts
2016: An Evening with David S. Mao, Deputy Librarian of Congress, and Shelagh Rogers, Chancellor, University of Victoria
2015: The Alchemy of Special Collections with Richard Ring
2013: The Libraries of the National Trust: a Grand Tour with Mark Purcell