UVic Libraries Honorary Librarian and Archivist Award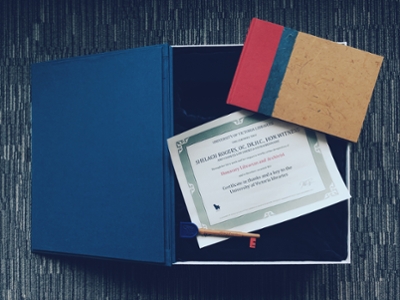 From time to time, the University Librarian may designate an individual to be an Honorary Librarian and Archivist of the University of Victoria Libraries. This designation is unique to the University of Victoria Libraries and signifies our commitment to honoring extraordinary individuals who possess ways of knowing and being that reflect the competencies and values of librarianship and archival studies.
Extraordinary knowledge or professional and/or lived experience that warrants recognition
Expertise in a selected field(s) that has positive impact on areas of activities related to UVic Libraries
Demonstrated commitment to and/or advocacy for advancing library and information studies or archival studies
Reflects UVic Libraries Open, Engaged, Enduring values
To be designated and appointed by the University Librarian on an ad hoc basis, and in consultation with the members of the Libraries Executive, usually no more than once a year. Any member of UVic Libraries may nominate an individual at any time by providing a written summary of how they fit the criteria.
Shelagh Rogers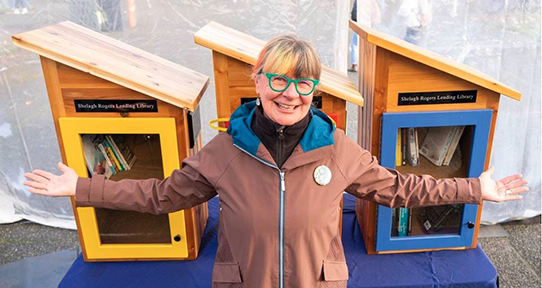 Shelagh Rogers is a veteran broadcast-journalist at CBC Radio, currently the host and a producer of The Next Chapter, the program devoted to Canadian books and writing in Canada. Prior to this program, she hosted a number of national shows including This Morning, Morningside and The Arts Tonight. Through all that programming, she frequently relied on the CBC Reference Library.
In 2010, Native Counselling Services of Alberta presented Shelagh with their Achievement in the Aboriginal Community Award. In 2011, she was inducted as an Honorary Witness for the Truth and Reconciliation Commission. Also in 2011, she was named an Officer of The Order of Canada, for promoting adult literacy, advocating for mental health, and Truth and Reconciliation. In 2016, she received the inaugural Margaret Trudeau Award for Mental Health Advocacy. She holds eight honorary doctorates and is Chancellor Emerita of the University of Victoria.
Shelagh is co-editor of the Speaking My Truth series of books about truth, residential schools and reconciliation, and is honoured to have participated in the KULA Special Issue: Indigenous Knowledges, published by UVic Libraries.
In 2019, she was selected as one of the inaugural Library and Archives Canada Scholars for "individuals who have dedicated their lives to the creation and promotion of the country's literary and historical heritage."
It was a great honour being named an Honorary Librarian and Archivist of the University of Victoria Libraries. Shelagh has loved every minute being in the company of UVic librarians and always ensured their contributions to students' academic success was acknowledged at every convocation ceremony over which she presided.