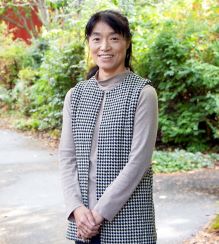 Position
Visiting Scholar 2022
History
Contact
Office: Sed C185
Credentials
BA (Tokyo University of Foreign Studies), MA (Queen's University at Kingston), Ph.D (Doshisha University)
Area of expertise
History; American Studies; Political and Cultural History of Japanese Canadians and Japanese Americans; Civil Liberties, National Security and Race; Cultural Activism and Community Revitalization; Transpacific Japanese and Japanese North American Studies
Bio
Masumi is a Professor of North American Studies at the Department of Global and Regional Studies, Doshisha University, in Kyoto, Japan. She is a historian of Japanese Americans and Japanese Canadians, and she has written extensively about their wartime removal and incarceration as well as about their post-internment community building efforts. She is a Scholar in Residence on the Past Wrongs, Future Choices project, where she will examine the racial persecution of diasporic Japanese population during World War II and their reactions to the persecution to reinterpret notions such as "citizenship" and "nationalism" as transnational concepts. Masumi is happy to be back on the UVic campus, where she spent two years as an exchange Ph.D student at the Department of History.
Selected Publications:
The Rise and Fall of America's Concentration Camp Law: Civil Liberties Debates from the Internment to McCarthyism and the Radical 1960s (Temple University Press, 2019). Outstanding Academic Title, Choice, 2020. New in paperback.
『日系カナダ人の移動と運動―知られざる日本人の越境生活史(The Japanese Canadian Movement: The Little-Known Trans-Pacific History of Japanese Migration and Activism])』 (Tokyo: Takanashi Shobo, 2020). Winner of the 2021 Pierre Savard Award for a Book Written in a Language other than French or English.
"An Accidental Historian: My Journey in Research on Japanese North American Community Activism," in Mari Yoshihara (ed.), Unpredictable Agents: The Making of Japan's Americanists during the Cold War and Beyond (University of Hawai'i Press, 2021), pp.165-184.
"The Vancouver Asahi Connection: (Re-)engagement of the Families of Returnees/Deportees in Japanese Canadian History," in Cathy J. Schlund-Vials, Guy Beauregard, and Hsiu-chuan Lee (eds.), The Subject(s) of Human Rights: Crises, Violations, and Asian American Critique (Temple University Press, 2019), pp.56-73.