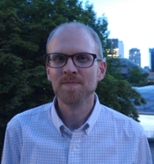 Position
Sessional Lecturer
History
Contact
Area of expertise
Late Antiquity and the Early Middle Ages; the Carolingian Era; Patristics; Augustine of Hippo; canon formation; uses of the past; intellectual, cultural, and reception history.
Office Hours
Fall Term: Zoom by appointment
Bio
I am an historian of Late Antiquity and early medieval Europe, in particular the Carolingian era (ca. 751–888 C.E.) and with emphases on intellectual, cultural, and reception history. My forthcoming book is concerned with perceptions and applications of the texts, ideas, and famous writers of the Christian past – especially the "Church Fathers" of the fourth through sixth centuries – across the period of social, legal, and ecclesiastical reforms spearheaded by Charlemagne and his heirs in the ninth century. My publications include studies of Augustine of Hippo's multifaceted influence in the Carolingian world and the ninth-century reception of the De vita contemplativa of Julianus Pomerius (d. ca. 500 C.E.). I have taught on subjects close to this area of research, but also more broadly on the history of Europe, on uses of the past and the construction of "golden ages" from antiquity to modern times, and on many other topics.