Graduate Program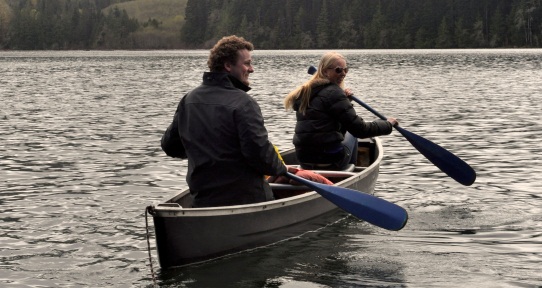 The History department has a major graduate program built around a cadre of approximately 70 students, 34 regular faculty members and 15 emeritus professors.  More than 60 of our students have won SSHRC scholarships in the last decade.  Since 2000 faculty members have been awarded $5 million in research grants. Graduates of our Master's program have gone on to build handsome careers in government, law, private enterprise, research and academia.  Alumni of our doctoral program are currently teaching at universities and colleges throughout Canada.
Victoria is home to the BC Archives and the Royal BC Museum and offers a spectacular physical location for Canada's most westerly graduate program.
A proven commitment to excellence.
The 2008 academic review of UVic's History department called it one of the "best mid-sized departments in Canada." UVic as a whole was ranked 1st among mid-size universities in Canada in the 2014 McLean's survey. UVic History has an exceptionally strong research record and research culture, with faculty producing many award winning books and major research grants, with the most recent being Dr. Jordan Stanger-Ross's 2.5 million SSHRC funded Partnership grant, Landscapes of Injustice, exploring the confiscation of Japanese-Canadian property during the Second World War.   
Faculty in the department offer supervision is a broad range of areas.   We are particularly strong in Indigenous history, digital history, public history, military history, the history of gender and sexuality, political history, racism, immigration and ethnicity, religion, legal history, environmental history, Canadian history, B.C. and the Pacific Northwest, World and colonial history and early modern European history.
Competitive fellowships.
Funding of our program by UVic's Faculty of Graduate Studies has increased by more than 50% in the last five years, allowing us to offer extremely competitive fellowships and TA-ships to qualified applicants.
An excellent and supportive academic environment.
The program is built around opportunities for faculty-student contact, both intellectual and social, and a strong and supportive sense of community among graduate students.
Important research initiatives and RA opportunities.
Leadership in new technologies and in public history
Faculty members explore non-traditional ways of conducting and communicating research, including the use of websites, GIS and a range of databases
Many of our faculty have expertise in a range of public history fields.  We offer a popular graduate course in public history, and are finalizing arrangements to offer an MA in public history, which (pending final approval) should be available to students in the fall of 2016.