Student Highlights

Ivan Leonce, 3rd year BSW student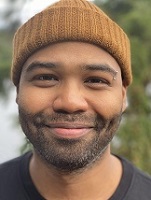 Ivan (he/him) is a Black queer artist, healer and educator, and is a 3rd year BSW student at the University of Victoria. He was born and raised in one of his ancestral homelands, Iere, land of the hummingbirds, Kalinago territory and moved to the unceded xʷməθkʷəy̓əm territory in 2012 seeking a change from colonially imposed anti-queer laws in the Caribbean. His ancestors are the Afro-Caribbean, Tamil and Kalinago people. Ivan is completing his studies part-time through the distance education program at the School of Social Work, and works full-time as the Executive Director of YouthCO, a non-profit providing support and health education services to youth living with and impacted by HIV.
Here are some of Ivan's reflections on pride: 
Growing up as a young person criminalized in my own homeland for my queerness has informed so much of my relationship to pride – the word, the movement, the history, and the present moment. I did not have the language for it back then, but choosing to step into my identity – to welcome myself in its fullness – was to reject the laws of a people who were not my own, of a British nation who though no longer occupied our land, occupied so much of our ideas of what is good, just, and moral. In choosing this, I step into the history of pride – into a history of queer and trans people of our colour creating safety for ourselves outside a colonial justice system never built with us in mind. I try to honour this history every day in my work to decriminalize HIV non-disclosure here in Canada, a law that to this day still sees queer and trans people as those who are dangerous, rather than those who need protecting.

Pride to me is a remembering. An honoring of the revolutionaries within our own communities to whom we owe the freedom we have, and a commitment to them to keep fighting for the freedom still to come. It is an invitation to reclaim ourselves in our fullness.
Posted: June 18, 2021