About Us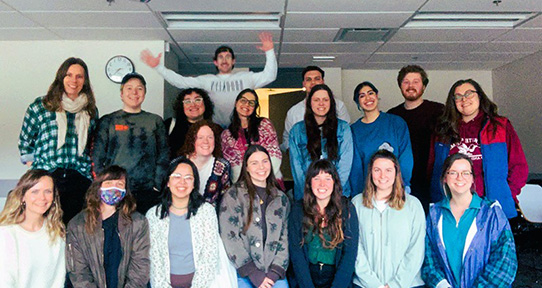 The School and our partners, who are students, staff, sessional instructors and faculty members, are committed to decolonizing, anti-racism, and anti-oppressive work in our leadership and pedagogies, and in research and education. Our goals are to establish learning opportunities in a supportive on-campus and online environment that promotes equity, respect, responsibility, curiosity, collaboration, risk-taking and creativity.  As a school, we apply a decolonial equity framework that includes an intersectional lens in all that we do academically and administratively.

UVic is committed to upholding the values of equity, diversity, and inclusion in our living, learning and work environments. In pursuit of our values, we seek members in our SOCW school including our partner communities who will work respectfully and constructively with diverse differences across multiple levels of power.


Who we are
The School offers an undergraduate, Bachelor of Social Work (BSW), degree and three graduate programs (MSWF, MSWA, MSWI) that emphasize social justice, Indigenous, and anti-oppressive approaches to working with communities, families, and individuals. All of our programs are fully accredited by the Canadian Association for Social Work Education (CASWE). UVic is also home to the Centre for Indigenous Research and Community-Led Engagement (CIRCLE) and the Indigenous Mentorship Network of the Pacific Northwest (IMN-PN).
Mission
We recognize the impact of ongoing colonialism in lands currently known as Canada and the ongoing commitment to advancing practices of racial equity and decolonization within our School, the university, and with our community partners more broadly. We utilize an intersectional, decolonial equity, and anti-racist approach to advancing teaching, learning, scholarship, research, service, and community activism. In this, our mission is that our School leadership will reflect decolonial-equity values in all that we do as scholars and learners.
Vision
Our vision is that "who and how" we are as a School will contribute to socially-just practices by confronting barriers and transforming dominant systems to create opportunities for access and meaningful participation in our communities and society. Our vision is that when students complete their studies with us, that their learning of social justice and decolonial equity practices will strengthen and enhance lives of children, families, and communities.
Guiding Principles/Core Values
Practicing relational and transparent accountability and responsibility


This process weaves together Indigenous, decolonial-equity, critical race, intersectional feminist, LGBTQ2S+, global/international perspectives, and critical abilities frameworks


Our undergraduate and graduate programs nurture accountable and critically engaged social work education, research, and practice in the advancement of decolonization, anti-racism, Indigenous resurgence, feminism, LGBTQ2S+ liberation struggles, disability justice, and other social justice pursuits


As educators and staff, we center race, anti-racism, and reconciliation in relation to experiences of Indigenous and racialized social work researchers, students, and communities


We understand that white supremacy, colonialism, and racism are connected to other forms of structural violence, including, but not limited to, anti-Black racism, anti-Indigenous racism, anti-Asian racism, anti-Semitism, Islamophobia, sexism, homophobia, heteronormativity, transphobia, xenophobia, cisnormativity, ableism, classism, and ageism


We seek to provide accessible and flexible social work education and we are committed to working through, working across, and working together in all our differences and similarities as faculty and staff for program and course development and delivery