2021 Climate Solutions Challenge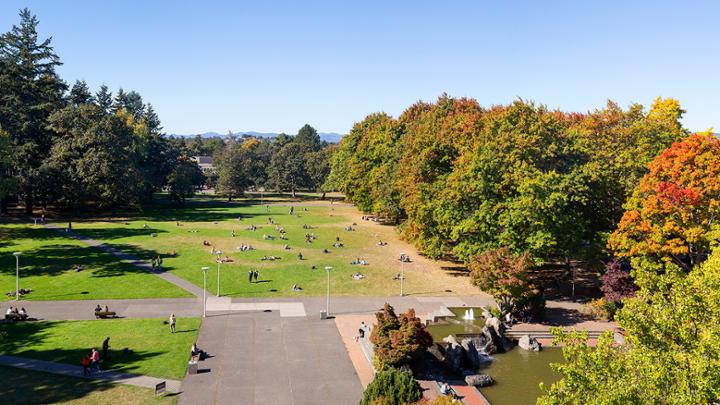 Wondering how to do your part in helping fight climate change?  Do you have innovative ideas that could drive meaningful change on and off campus? If so, we want to hear from you!
Enter the 2021 Climate Solutions Challenge and have a chance to win cash prizes and the opportunity to pitch your idea to UVic leadership.
Registration deadline: March 12, 2021
Full proposal submission deadline: May 3, 2021
What is the Challenge?
The 2021 Climate Solutions Challenge is a campus-wide contest for actionable climate ideas by and for the UVic community and beyond. The purpose of the challenge is to inspire dialogue and build concrete plans of action that will change our community for the better. 
In 2021 the Challenge will invite, help develop and award promising proposals in two main categories:
Looking Past COVID to Climate
Measuring and Managing for Climate
Partners & outcomes
The 2021 Challenge campaign is led by the Climate Solutions Navigator (CSN) Working Group with support from the Strategic Framework Impact Fund. It is an Accelerated Action in support of the University of Victoria Climate Action and Sustainability Planning process.
How to participate
Review the full contest description and details.
Select a category for your submission. Begin with a concept and reach out to possible team members, start looking for relevant examples and information.
Plan to join our online information session and 'mentorshop' with UVic experts and leaders on March 22 to share and brainstorm your initial ideas, ask questions and connect with others.
Sign-up before March 12 and check back for details on the online 'mentorshop', judging criteria, suggested references and more. Or contact us with any questions.
Submit your proposals by May 3, 2021 to be considered for an opportunity to pitch and the cash prizes!
Mentorshop
The virtual 'mentorshop' on March 22 will help applicants build their ideas with our Challenge Mentors. Experts from multiple departments, units and disciplines across UVic will mentor prospective applicants to develop early concepts, answer questions about what has been tried before and increase applicant's chances of success.
Eligibility
Open to all UVic students, faculty, and staff.
Team submissions are encouraged, but individuals are welcome to participate.
Participation in the online information session and 'mentorshop' is critical and open to all interested participants regardless of the stage of their ideas.
Prizes
The top proposals and runners-up in each category will be awarded $1,250 and $750 respectively.
All ideas will be shared with the committee developing UVic's Climate Action and Sustainability Plan and shortlisted proposals will have an opportunity to pitch their ideas to senior leadership directly.
Key dates
| Key date | Description |
| --- | --- |
| February 8-12 | Challenge kick-off, sign-up opens |
| March 12 | Sign-up deadline |
| March 22 | Online 'mentorshop' for information and idea brainstorming with experts (required) |
| May 3 | Full proposal deadline |
| Mid-May (date tbc) | Pitch session with UVic leadership (for shortlisted proposals only) |
| Late May | Winners announced |
2021 submission categories
Category 1: Looking Past Covid to Climate
COVID-19 has led to an unprecedented and rapid shift in many aspects of campus life, work and operations. In this category we ask:
How can we act now to ensure a stronger and better 'future normal' while dealing with ongoing restrictions? How do we turn this crisis into an opportunity to ensure that we re-evaluate the long-standing attitudes, practices and policies that have been holding us back from progress on climate change?
Category 2: Measuring and Managing for Climate
Sometimes, making a climate-unfriendly choice seems easier, or less costly, but when the real intergenerational, social and environmental implications of climate change are considered alongside the economic costs, these choices often come up less rosy. 
Since "you manage what you measure", what tools could be developed or have been used elsewhere that can be applied at UVic to facilitate improved integration of climate considerations into decision-making?