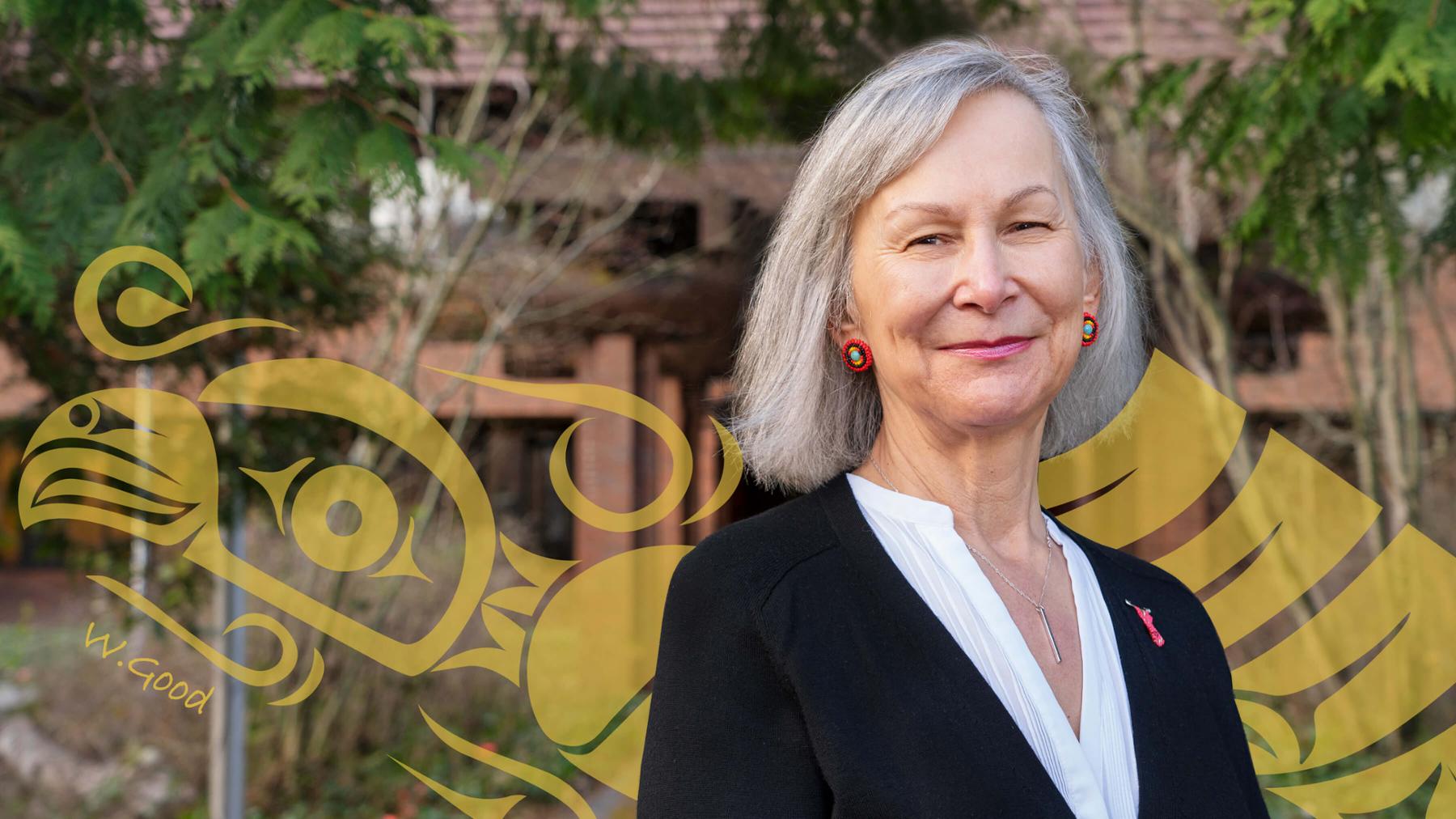 Welcome to the Territory & installation ceremony for Chancellor Marion Buller
Following Coast Salish protocol, Chancellor Marion Buller formally requested permission to work on the territory prior to being installed as UVic's Chancellor at a ceremony hosted by President Kevin Hall and the Office of Indigenous Academic and Community Engagement.
Virtual ceremony
The ceremony was shared May 4, 2022.
About the Chancellor
Renowned legal scholar and judge Marion Buller was appointed chancellor of the University of Victoria and began a three-year term on Jan. 1, 2022.
Buller is a member of the Mistawasis Nêhiyawak, a Cree First Nation in Saskatchewan. A long-time advocate for Indigenous issues and rights, in 1994 Buller was the initial First Nations woman to be appointed as a judge in British Columbia after working as a civil and criminal lawyer. A little over a decade later she created and presided in the First Nations Courts of BC—now known as Indigenous Courts—and provided the foundation for the Aboriginal Family Healing Court conferences. From 2016 to 2019, she was the Chief Commissioner for the National Inquiry into Missing and Murdered Indigenous Women and Girls (MMIWG).
Chancellor Buller received her undergraduate degree in anthropology ('75) and her law degree ('87) from UVic. In 2012, she received the Distinguished Alumni Award from the UVic Faculty of Social Sciences.
As the university's titular head, the chancellor confers degrees and is a member of the UVic senate and board of governors.
Territory acknowledgement
We acknowledge and respect the Lək̓ʷəŋən (Songhees and Esquimalt) Peoples on whose territory the university stands, and the Lək̓ʷəŋən and W̱SÁNEĆ Peoples whose historical relationships with the land continue to this day.
About the ceremony
News story
Many of those who gathered on a recent day for the installation of the University of Victoria's 12th chancellor had never been part of a Coast Salish welcoming ceremony before.
Throughout her career, Marion has shown meaningful connections to Indigenous and non-Indigenous communities. Her legal expertise and leadership experience make her a wonderful fit for the role of chancellor for the university's next phase of upholding our commitment to serving our community and continuing the work of truth and reconciliation.
–David Zussman, chair of UVic's Board of Governors
UVic law school mentors lit a fire in me that set me on my legal path. Education transformed my life and because of my education I was able to work within systems to make change. Education is a great gift that should be shared generously and wisely.
I want to be the catalyst for new relationships inside and outside of UVic. I want to help build bridges to new relationships and to support new ways of learning and incorporating Indigeneity into the curricula to show we can together, through respect, inclusion and curiosity, weave in Indigenous principles—in academic relationships, in business, in partnerships and community connections to bring about critical change in society.
–Chancellor Marion Buller
Marion's appointment reflects UVic's unwavering commitment to listening, learning and to being open to new ways of thinking and doing as we aspire to embed Indigenous principles and Indigenous-led scholarship into the fabric of UVic.
–President Kevin Hall
Ceremonial items and artwork
Local Indigenous artists created artwork and ceremonial items for Chancellor Buller's welcome and installation. These works of art will support the Chancellor in her work and remind her of the commitments she made during the ceremony.
Contact
Email us for more information about the ceremony.