This page discusses residential schools. If you are in need of support, please reach out to one of the
supports available
.
Facing the legacy of residential schools
On May 28, the Tk'emlúps te Secwépemc First Nation announced that they had located more than 215 unmarked graves. This news brought into sharp focus the continuing legacy of the residential school system.
On June 1, the university community came together in ceremony to honour the children found on the grounds of the Kamloops Indian Residential School and to offer support to Elders, students, staff, and faculty.
UVic, like all Canadian educational institutions, must acknowledge our role in perpetuating colonial systems and violence. With each residential school that is investigated we are watching the evidence of genocide unfold before our eyes. We can no longer turn away. It is time to focus on truth-telling, community support and being accountable to the commitments we have made. 
There were 139 residential schools across Canada —including five on or near Vancouver Island — and we know that these findings will continue. Graves have now been located across the country, including at Kuper Island Industrial School on Penelakut Island off Vancouver Island.
The Indigenous students, staff and faculty at UVic and local Indigenous Nations are our priority. We know that news from communities close to Victoria could be more difficult for our community and encourage our staff, students, faculty and Elders to reach out for support.
With commitment,
President Kevin Hall & AVP Indigenous Qwul'sih'yah'maht Robina Thomas
Territory acknowledgement
We acknowledge and respect the lək̓ʷəŋən peoples on whose traditional territory the University of Victoria stands, and the Songhees, Esquimalt and W̱SÁNEĆ peoples whose historical relationships with the land continue to this day.
Sacred fire
On June 1, a Sacred Fire ceremony was held on campus to offer support to students, staff, faculty and Elders as we honoured the 215 Indigenous children found by the Tk'emlúps te Secwépemc First Nation at a former residential school in Kamloops, BC.
The sacred fire was tended to 24 hours a day until noon Friday, June 4 when it was allowed to extinguish on its own.

Hundreds of people came by to sit by the fire, lay down prayers and medicine and write messages to the 215 children of the Kamloops Indian Residential School. Those messages were burned in the fire as part of the healing.
University flags
The university flags were lowered on May 28 in memory of the 215 children whose remains were located on the grounds of the Kamloops Indian Residential School. They remain lowered in honour of the thousands of students who died while held at residential schools.
Following the guidance of local Nations and Elders, and as a sign of our commitment to action and as a reminder of the mourning that will continue until all children are returned home, our flags will remain lowered until the end of the year.
Commitments
At UVic, we commit to facing head-on the realities of Canada's history and present. We commit to breaking down the colonial systems and barriers that still exist in our institution and to being accountable in this work.
We are undertaking open and honest conversations to understand and address how we can move forward with respect for Indigenous peoples in all areas of our university. We are reflecting on our own activities and practices, and exploring the many historic partnerships and relationships we have with organizations outside of our university. We encourage all non-Indigenous faculty, staff, alumni and students at UVic to learn about and truly engage on these important issues.
We have much to learn, much to reflect on and we commit to immediate action.
Strategic Framework
As an institution, UVic has committed to taking action on truth, respect and reconciliation. The following commitments are included in UVic's Strategic Framework:
Strategy 4.1– Implement and advance the applicable calls to action of the Truth and Reconciliation Commission and the goals of our own Indigenous Plan.
Strategy 4.2– Develop new pathways for access to higher education for Indigenous students.
Strategy 4.3– Increase the number and success of Indigenous students, faculty, staff and leaders at UVic by developing priority recruitment strategies across the university, along with programs to support success.
Strategy 4.4– Implement transformative programs to provide a welcoming, inclusive campus environment for all, and include the entire university community in Indigenous-engaged learning to promote mutual understanding and respect.
Strategy 4.5– Foster respectful partnerships with Indigenous communities, governments and organizations—developing and supporting educational and research programs that align community needs and priorities with UVic's strengths and capabilities.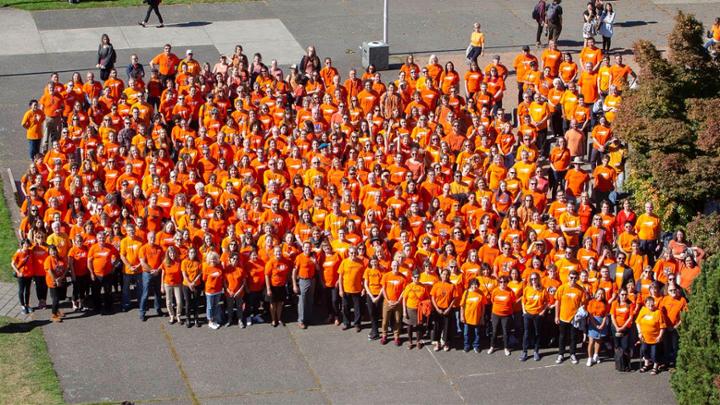 Orange Shirt Day
You can partner in the work of reconciliation by listening, learning and sharing on Orange Shirt Day.
Supports
This is a time of deep grief and sadness and our priority is supporting the UVic Elders and Indigenous students, staff and faculty. Support for students, staff and faculty who have been affected by this issue can and should include the flexibility required to attend to ceremonial and community needs, to grieve and support others in their lives.
If you find that you need emotional support, there are supports available.
Gerry Ambers ('Na̱mǥis / Kwakwaka'wakw), Elder-in-Residence at the First Peoples House, offers viewers several ways to stay calm and grounded in these challenging times. Produced by the Office of Indigenous Academic and Community Engagement at UVic.
Indigenous resources
KUU-US Crisis Line
The KUU-US Crisis Line Society operates a 24-hour provincial aboriginal crisis line for adults/Elders and youth.
Adults/Elders: 250-723-4050
Child/Youth: 250-723-2040
Toll Free Line: 1-800-588-8717
Indian Residential School Survivors Society Crisis Line
24-hour crisis line for survivors and family of survivors.
Toll Free 1-866-925-4419
First Nations Health Authority Mental Health Benefits
FNHA partners with Indigenous Services Canada to offer a comprehensive mental health plan to First Nations in BC. The plan covers counselling services from a qualified mental health provider, including psychologists, clinical counsellors and social workers. 
UVic resources
Counselling for Indigenous Students
Indigenous counsellors provide individual and group counselling that treat the heart, body, mind and spirit for Indigenous students. Indigenous counselling sessions are flexible in length, you are seen on the spot for emergency appointments and in general, you are able to meet with the Indigenous Counsellor without having to wait too long.
Employee and family assistance program
UVic staff and faculty and dependents can find support through our employee and family assistance program (EFAP). The program is designed to provide you with information, advice and support to help you navigate many of life's milestones. EFAP is a confidential program that includes professional counselling, information and referral services. UVic' s EFAP provider is LifeWorks.
SupportConnect
SupportConnect is a free, confidential mental health support service for UVic students. You can connect with qualified counsellors, consultants and life coaches by phone or online 24/7. Video or in-person options are available.
Toll-free (calls from North America): 1-844-773-1427
International collect calls: 1-250-999-7621
UVic Counselling Services 
Located in the new Student Wellness Centre at 2300 McKenzie across the street from the CARSA gym. Counselling sessions for UVic students can be booked by calling the number above. Indigenous counsellors are available.
250-721-8563 
Here2Talk
Connects students with mental health support when they need it. Through this program, all students currently registered in a B.C. post-secondary institution have access to free, confidential counselling and community referral services, conveniently available 24/7 via app, phone and web.
Other resources
Vancouver Island Crisis Line
24-hour crisis line service to Vancouver Island, the islands of the Georgia Strait, and the mainland communities between Powell River and Rivers Inlet, as defined by Island Health. It operates 365 days a year. Crisis workers provide short-term nonjudgemental emotional, support, crisis intervention, information and resources.
1-888-494-3888
Learning resources
Every Child Matters: Honouring Children Missing from Residential Schools
UVic Libraries have put together a list of educational and scholarly resources related to the remembrance of the many children missing from Canada's residential schools.
Artist's statement
"This design was made to honour the children who died in residential school. The hearts express love for all those in unmarked graves and compassion for the families and communities who waited for them to be found. The small and colourful hands remind us of the uniqueness and beauty of every child. Taken together, they represent our commitment to listen to our hearts and use our hands, to do the work that needs to be done.  
The visceral confirmation of Survivor accounts that has come from locating these graves has affected many of us on an emotional level. It has changed the way that many people think and feel about our histories and current realities in Canada."
Artist Carey Newman (Kwakwaka'wakw/Coast Salish) on "Hearts and Hands"