Updates to UVic VPN service
On May 18, 2022, University Systems will be making a few changes to the UVic Virtual Private Network (VPN) service to improve ease of use and reduce cybersecurity risk:
UVic multi-factor authentication (MFA) will become required for all VPN users
The menu options will be updated to clarify how you connect to different VPN networks
Why are we doing this?
UVic MFA strengthens your account security by requiring another factor when accessing online services. Both your passphrase in addition to a second factor, such as your mobile phone or hardware token, are needed to sign in with your NetLink ID.  MFA is especially important for services such as VPN that secure your network connection, your accounts, and access to your data.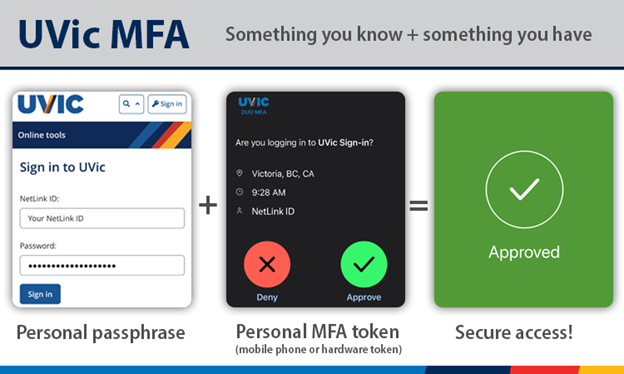 Learn more about UVic MFA for more information and to enrol.
Changes to menu options
In past incarnations of the UVic VPN service, it has not always been clear which option you are meant to use to access specific VPN networks. The changes coming on May 18 will address this lack of clarity through more informative menu selections:

Unless otherwise instructed by your department or IT support staff, employees including faculty, staff, instructors, and affiliates will use the first option "1 – Employee" to connect to the UVic VPN service. This option will connect employees to a network with access to online services for employees.
If you have been advised by your department or IT support staff to connect to a departmental VPN network , choose "2 – Employee Dept Network".  This option will provide access to your department-specific online services.
Students must use the option "3 – Student" and will not be able to connect using the other menu options.  This option will provide access to online services required by students.
If you have multiple employee/student roles you can use both employee and student options and are encouraged to select appropriately on a per-session basis.
What client software is supported?
University Systems recommends the officially supported Cisco AnyConnect client to access UVic VPN. 
The UVic VPN service will support connections from 3rd party VPN client software such as OpenConnect, although a number of features will not be supported. 
You can learn more in the Remote access (VPN) support section.
How can I get help?
If you have questions about these changes, the UVic VPN service, or UVic MFA, contact the Computer Help Desk for assistance.