Undergraduate program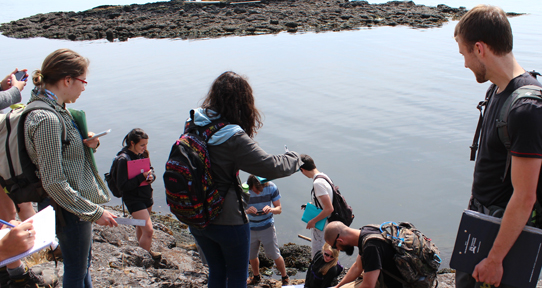 Global climate change, earthquake hazard, natural resource planning, greenhouse gas/ozone-level monitoring, marine pollution, and groundwater contamination are all phrases heard daily in the news. These are just a few of the fields in which earth and ocean scientists make a contribution.
On the south end of Vancouver Island, the University of Victoria is perfectly situated for offering a complete education in Earth System Science. Canada constitutes one of the largest land masses on Earth, has the longest coast line of any country, and faces numerous challenges associated with ongoing global warming.
We have close ties with government agencies involved in the investigation of Canadian climate, coast lines, marine life, geology, and natural hazards. Our students have opportunities to participate in scientific ocean cruises and to investigate the geology of the Cordilleran mountains of British Columbia.
Our students come from diverse backgrounds and bring a wide range of interests to bear on the study of the earth. Chemistry, physics, mathematics, biology, and geology all find a home in the School of Earth and Ocean Sciences.
Our graduates enter into exciting professional careers including hydrocarbon exploration, mining, environmental studies, and research.
Contact us to discover how you can be a part of this exciting field.