Advanced Field Geology (EOS 400)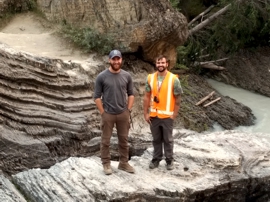 2023 dates: April 28 – May 10, 2023, inclusive – must be in Las Vegas by 8AM on April 28.
Location:  Nevada and eastern California.
Maximum enrollment: 28
Instructor: Dr. Ed Nissen
Co-ordinator: Siobhan McGoldrick
Pre-requisites: EOS 300 and 316
Participation Fee: $1300 (exclusive of tuition, flights, personal gear, accommodations on April 27).
Application: via webform (to be submitted by Oct 31, 2022)
Deposit ($100) Deadline: November 15, 2022.
Balance ($1200) Deadline:  January 15, 2023.
Participation fees (deposit and remaining balance) can be paid online. Please select "EOS 400 Advanced Field Geology – Deposit $100" and "EOS 400 Advanced Field Geology – Balance Owing" from the drop down list.
Accommodation/Board: Accommodation & meals during the field school will be provided by UVic, with the exception of breakfast and lunch on Day 1 (April 28) and dinner on Day 13 (May 10). Accommodation will be at the Shoshone Education & Research Center (SHEAR, April 28 – May 4, 2023) and at the Owens Valley Station White Mountain Research Station (WMRC, May 4 – 10, 2023). Students are expected to contribute to camp life and will be divided into assigned groups to prepare meals and clean up.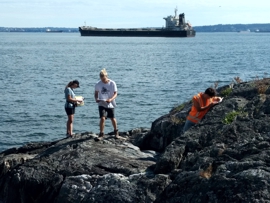 Vaccination Requirement: Due to vaccination requirements of our accommodations for field school, all participants must be fully vaccinated against COVID-19 and will need to provide proof of their vaccine status. According to the policies in place at our accommodations, "fully vaccinated" includes up to date booster doses.
Transportation: All transportation during the program will be provided. Students are responsible for booking flights to and from Las Vegas. The start and end point of the trip will be the Travelodge by Wyndham Las Vegas Airport Near The Strip.  Students are responsible for booking travel to Las Vegas and must ensure they book flights that arrive in time. We will be departing Las Vegas at 8:00 AM on April 28, so students should book flights arriving the day prior (April 27). There are many hotel options for different budgets nearby. We will be returning to Vegas ~2:00 PM on May 10, so students should book flights departing no earlier than 5:00 PM on May 10, 2023.
Travel health insurance: Please be aware that students offered places on the trip will need travel health insurance and will be expected to provide the insurance provider, policy number, and member ID number for their travel health insurance on their Assumption of Risk form.
Mandatory pre-trip meetings: There will be a series of short mandatory pre-trip meetings from late February to April 2023 to prepare the group for the trip. These will likely be held at 6 PM in B119, on a day that works for the group.
Other travel considerations: Some students may require a visa or other special travel documentation to enter the United States. All paperwork required to gain entry into the United States is the responsibility of the student.
Refunds: Refunds for deposits and participating fees are ONLY available under the following circumstances:
Deposit amounts will ONLY be refunded to students who are not offered a seat in the course and are otherwise non-refundable
Participation fees are only refunded in extenuating extreme circumstances (i.e., medical, death in the family) and are determined on a case-by-case basis at the discretion of SEOS administration
Note that conflicts with work schedules or other personal choice circumstances are not considered for refunds  
Questions? Concerns? Please contact Siobhan (smcgold@uvic.ca).
Pre-trip Readings: to be posted in early 2023.