Earth Science Field School (EOS 300)
Note: expressions of interest to participate in this course should be directed here.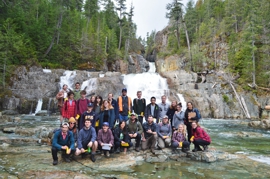 2022 dates:
Section A01: May 2 – May 13, inclusive.
Location: Southern Vancouver Island
Instructors: Dr. Rouhong Jiao
Co-ordinator: Duncan Johannessen (duncanj@uvic.ca)
Pre-requisites: EOS 201 (Sedimentary), 202 (Structural) - strictly enforced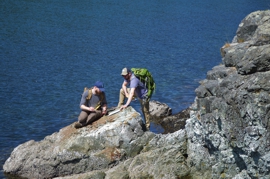 Participation fee: estimate $1000 – $1300 (exclusive of tuition)

Application: via webform
Deposit ($100) deadline: to be announced.
Balance (difference between fee and deposit) deadline: to be announced.
Registration: An invitation to register will be sent to participating students by email.
Accommodation/board:
The first portion of the program will involve daytrips in and around Victoria and the Gulf Island.  Students will be picked up from Parking Lot #1 each morning and dropped off there each evening. Accommodation and food on those days will be the student's responsibility.
The second portion of the program will take place based out of Strathcona Park Lodge.  Hostel style accommodation will be provided as will meals for the days we are there. Please be aware that this accommodation requires all guests to be fully vaccinated against Covid 19.
Transportation:
The department will provide transportation to and from parking lot #1 for the duration of the program. Multi-passenger vans or busses will be used.
* in addition to regular tuition. Cost for external students, if accepted, will be higher.