Earth Science Field School (EOS 300)
Note: registration in this course is by permission only and opens up in mid-March.  Interested students will be asked to complete and submit this webform (to be opened in early January) and a $100 deposit by January 31st.  Inquiries should be directed here.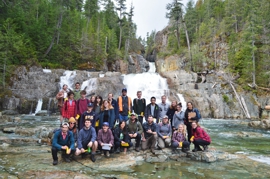 2020 dates:
Section A01: Aug. 18th - 29th, inclusive
Section A02: Aug. 24th - Sept. 4th, inclusive
Location: Southern Vancouver Island
Maximum enrollment (per section): 28
Instructors: Dr. Jon Husson and Dr. Rouhong Jiao
Co-ordinator: Duncan Johannessen (duncanj@uvic.ca)
Pre-requisites: EOS 201 (Sedimentary), 202 (Structural) - strictly enforced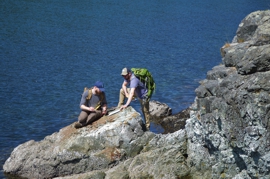 Participation fee: $TBD*

Application: via webform (to be opened in early January)
Deposit ($100) deadline: January 31st
Balance ($TBD) deadline: April 3rd
Registration: An invitation to register will be sent to participating students by March 18th.
Accommodation/board:
Hostel-style accommodation (including meals) will be provided by Strathcona Park Lodge (http://www.strathcona.bc.ca/) when outside of Victoria.
Transportation:
Transportation to and from exercise areas/Strathcona Lodge from UVic will be provided.
---
* in addition to regular tuition.  Cost for external students, if accepted, will be higher.