Val Napoleon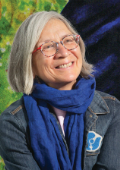 Position
Director of JD/JID program, Professor, Law Foundation Chair of Indigenous Justice and Governance
Faculty of Law
Contact
Credentials
Area of expertise
Indigenous legal traditions, Indigenous feminist legal studies, governance, restorative justice, Indigenous property law, Aboriginal legal issues.
Biography
The title of my research chair is Law Foundation Chair of Indigenous Justice and Governance. I am from northeast British Columbia (Treaty 8) and a member of Saulteau First Nation. I am also an adopted member of the Gitanyow (Gitksan) House of Luuxhon, Ganada (Frog) Clan. Prior to joining the Faculty of Law at UVic in 2012, I was cross-appointed with the faculties of Native Studies and Law at the University of Alberta.
My current research focuses on Indigenous legal traditions (Indigenous legal theories, pedagogies, law and precedent, legal institutions, and legal research methodologies), Indigenous feminism, citizenship, self-determination, and governance. Some of my major initiatives include the JD/JID (joint JD and Indigenous law degree) program, establishing the Indigenous Law Research Unit with a number of research partnerships with Indigenous communities and groups in BC, across Canada, and with international connections. Some of our projects are a two-year Indigenous/non-Indigenous water law research project, gender and Indigenous law, dispute resolution, Indigenous lands and resources, and human rights in Indigenous law. We are currently looking to hire graduate students for our water project.
I have taught and published on aboriginal legal issues, Indigenous law and legal theories, Indigenous feminisms, governance, critical restorative justice, oral traditions, and Indigenous legal research methodologies. I also teach property law.