Joint Degree Program in Canadian Common Law and Indigenous Legal Orders (JD/JID)
The joint degree program in Canadian Common Law (JD) and Indigenous Legal Orders (JID) welcomed its first cohort of students in September 2018. It is the first program of its kind in the world, combining intensive study of Canadian Common Law with intensive engagement with Indigenous laws. The JD/JID will develop the skills needed to practice within Canadian Common Law, with Indigenous legal orders, and at the interface between them.
Students graduate in four years with two professional degrees: a Juris Doctor (JD) and a Juris Indigenarum Doctor (JID). They will have a deep understanding of Indigenous law and governance, the academic qualifications to pursue a career in Canadian Common Law, and a strong sense of how to create and manage institutions functioning across both spheres.
There is a rapidly increasing need for legal professionals with Indigenous legal knowledge. Consultations with potential employers make clear that the graduates of this program will be in great demand in:
Indigenous governance,
non-Indigenous government agencies,
law firms that work with Indigenous peoples and Indigenous lands, and
business enterprises.
Click here to view the program brochure.
The JD/JID is a four-year program which combines classroom learning with field studies conducted in collaboration with Indigenous communities. Students will obtain the full content of UVic's Common Law degree (JD), together with greatly enhanced skills to work productively with Indigenous legal orders.
Important elements of the program, especially core first-year subjects, will be taught transsystemically – through intensive, mutually-illuminating comparison in courses that deal with Canadian law and one or more Indigenous legal traditions. The credit weight of those courses will be increased to make room for the comparative treatment. Two of what are, in the JD curriculum, first-year subjects will be studied in second year.
One compulsory upper-year course, Coast Salish Legal Studies, will introduce the legal tradition of this region, using legal categories drawn from that tradition and exploring how those categories are related to concepts within Coast Salish languages. Upper-year courses, elective and compulsory, will be drawn from the JD curriculum and newly-created specialized courses designed to complement the JD/JID.
A crucial dimension of the program is its field schools. Students devote one full term in each of their third and fourth years to study in Indigenous contexts. Under close academic supervision, students learn from community-based experts on a particular Indigenous people's legal order, observe the ways in which Indigenous legal processes are being employed today, and work with the community on law-related projects. The study will be sufficient for students to acquire an understanding of the institutions, sources of law, forms of reasoning, principles, and procedures particular to that Indigenous people's law.
The program cannot, of course, provide comprehensive training in every North American legal order. The program does work with a sampling of Indigenous legal traditions chosen to address the three categories of North American Indigenous peoples: First Nations, Inuit, and Métis. The JD/JID program courses will introduce students to a range of areas of law of Indigenous peoples: governance, responses to harms and injuries, child welfare, familial responsibility, land tenure, land management, and others.
Admission to the JD/JID Program
The JD/JID program is limited to a class of 25 students with an intake in September of each year. The first intake of students is September 2018.
The program is open to first year admits only. Transfer or Visiting applicants to the program will not be accepted. Applications will be accepted under the Regular and Discretionary categories. Connection to an Indigenous community and reasons for pursuing the program are important considerations in the admissions process. All admissions to the program are at the discretion of the Faculty's Admissions Committee.
When to apply
Online applications open on September 1 and close on January 15. You are encouraged to submit your application and supporting documentation as early as possible. Typically, you need to choose to apply to either the JD/JID program or the JD program, rather than apply to both programs. If your application to the JD/JID program is denied, the Admissions Committee may invite you to apply to the JD program.
Admissions requirements
Admission to the JD/JID program is based on:
Your academic record (GPA) - weighted 50%
Your Law School Admissions Test (LSAT) - weighted 50%
A holistic review of all other elements of your application (see below)
Your entire undergraduate academic record is used in our GPA calculation. We do not include Masters or PhD grades.
All applicants must:
Pay the application fee
Write or have registered for the LSAT; and submit:

A personal statement; part A must not be longer than 750 words
Transcripts from all post-secondary institutions you have attended
One academic letter of reference
One reference letter describing your suitability for and commitment to this unique program
A statement describing your connection to and/or involvement in an Indigenous community, the reasons why you want to pursue the program and how you will enrich the learning environment at the faculty
A copy of your status card or evidence supporting your Indigeneity, optional
Applicants in the discretionary category must also submit:
Evidence supporting your eligibility to apply in the discretionary category
Program of Legal Studies for Native People
Regardless of the category of admission, if an applicant's academic background makes it appropriate, the Admissions Committee may make an offer of admission conditional upon successful completion of the Program of Legal Studies for Native People, conducted by the Native Law Centre at the University of Saskatchewan. The faculty fully endorses this program, and considerable weight is placed upon the evaluation submitted by its director. For more complete information concerning the Program of Legal Studies for Native People, please contact:
The Director
Program of Legal Studies for Native People
Native Law Centre
University of Saskatchewan
101 Diefenbaker Place
Saskatoon, Saskatchewan
CanadaS7N 5B8
Phone: 306-966-6189
Email: native.law@usask.ca
Language requirements
If your first language is not English and you have not completed a minimum of three full academic years of post-secondary study that was taught and assessed in English, you must submit your Test of English as a Foreign Language (TOEFL) results.
Minimum score requirements:
Internet Based Test - 100 with no less than 25 on each of the individual components
Computer Based Test - 250 out of a possible 300
Paper Based Test - 600 out of a possible 677
Applicants who do not meet these TOEFL minimums will not normally be admitted to the Faculty of Law.
Part-time studies
A limited number of positions in the faculty are available for part-time studies. You must demonstrate to the satisfaction of the faculty that you are unable to attend on a full-time basis because of health factors, physical disability or exceptional family or financial hardship. If you are requesting to apply to study on a part-time basis, you must do so in writing addressed to the Admissions office.
The course structure for the four-year program is:
First Year 
Mandatory Courses (14.5 – 15.5 units):
LAW 100I: Transsystemic Constitutional Law (3.5-4.0 units) or LAW 100 Constitutional Law Process (3.0 units)
LAW 102I: Transsystemic Criminal Law (2.5-3.5 units) or LAW 102 The Criminal Law Process (2.0 units)
LAW 104: Law, Legislation and Policy (1.5 units)
LAW 107I: Transsystemic Property Law (2.5-3.5 units) or LAW 107 Property (2.0 units)
LAW 112I: Transsystemic Legal Processes, Research and Writing (3 units)
 Second Year
Mandatory Courses (7-8 units):
LAW 105I: Transsystemic Contracts (2.5-3.0 units) or LAW 105 Contracts (2.0 units)
LAW 109I: Transsystemic Torts (2.5-3.0 units) or LAW 109 Torts (2.0 units)
LAW 395I: Coast Salish Legal Studies and Language (2.0 units)
Electives Courses (6.5-8.5 units)
 Third Year
Mandatory Course (7.5 units):
LAW 350I: Indigenous Field Study Level l (7.5 units)
Electives Courses (7-9 units) 
Fourth Year 
Mandatory Course (7.5 units)
LAW 450I: Indigenous Field Study Level ll (7.5 units) 
Electives Courses (7-9 units)
Second, Third or Fourth Year: 
Mandatory Courses:
LAW 301I: Transsystemic Administrative Law (2.5-3.0 units) or LAW 301 Administrative Law Process (2.0 units)
LAW 315I: Transsystemic Business Associations (2.5-3.0 units) or LAW 315 Business Associations (2.0 units)
LAW 360: Legal Ethics and Professional Responsibility (1.5 units)
LAW 390: Major Paper Requirement (0 units)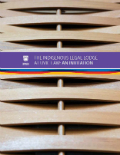 The Indigenous Legal Lodge is a national forum for critical engagement, debate, learning, public education, and partnership on Indigenous legal traditions and their use, refinement, and reconstruction. The Lodge will house both the JD/JID program and the
Indigenous Law Research Unit
, conduct research on Indigenous Law, and stimulate discussion and engagement with Indigenous legal orders throughout Canada. It will serve as a global centre of excellence on Indigenous and customary law. For more information,
click here
.
The JD/JID program is made possible by our treasured relationships with the Songhees and Esquimalt peoples, on whose lands the University of Victoria is located, the W̱SÁNEĆ people, who have longstanding connections to this land, and Indigenous peoples from coast to coast to coast and around the world. It builds upon our longstanding commitment to and international reputation in Indigenous law and Indigenous legal education.
The program was conceived by two of Canada's leading Indigenous scholars: John Borrows, Canada Research Chair in Indigenous Law, and Val Napoleon, Law Foundation Chair in Aboriginal Justice and Governance. Its development has benefited from the strong support of faculty and staff throughout UVic Law and been greatly assisted by networks of Indigenous scholars in Canada and internationally. 
UVic Law is the home of the Canada Research Chair in Indigenous Law held by John Borrows; the Law Foundation Chair in Aboriginal Justice and Governance held by Val Napoleon; the Indigenous Law Research Unit (ILRU); LLM and PhD programs that have trained many of the next generation of researchers in this field in Canada and around the world; the Akitsiraq program, which delivered a full JD to a cohort of Inuit students in Iqaluit (2001-05); the Aboriginal Cultural Awareness Camp, which has introduced first-year students to Indigenous peoples and their legal orders for more than 22 years; some of the earliest and best-developed support systems for Indigenous students in the country; a consequent record of success in training Indigenous LLB/JD students (more than 200, many of whom hold leadership roles throughout Canada); and, in collaboration with the Gustavson School of Business, the National Consortium for Indigenous Economic Development. 
The Indigenous Law Research Unit and its director, Professor Val Napoleon, conducted a major study on Indigenous Law for the Truth and Reconciliation Commission of Canada, which helped to shape the TRC's Calls to Action. Call to Action #50 in particular reads:
In keeping with the United Nations Declaration on the Rights of Indigenous Peoples, we call upon the federal government, in collaboration with Aboriginal organizations, to fund the establishment of Indigenous law institutes for the development, use, and understanding of Indigenous law and access to justice in accordance with the unique cultures of Aboriginal peoples in Canada.
The JD/JID program and the Indigenous Legal Lodge directly respond to this Call.
The JD/JID program has been under discussion and development at UVic Law since 2004 – the product of pilot projects, experimentation, research, deliberation with Indigenous peoples, conferences, and consultations with many parties.
It has the support of Indigenous organizations, law faculties, political leaders, professional organizations, and enterprises across Canada and worldwide.
The 38th annual general assembly of the Assembly of First Nations in July 2017 passed a resolution of support for the JD/JID program:
"THEREFORE BE IT RESOLVED that the Chiefs-in-Assembly:
Support the University of Victoria Indigenous Law Program and the development of the Indigenous Legal Lodge.
Direct the Assembly of First Nations (AFN) to respectfully call upon the Government of Canada to support the establishment of the University of Victoria's Indigenous Legal Lodge and for delivering the transformative Indigenous law program, including both the Common Law (JD) and Indigenous Legal Orders (JID) degree programs.
To view the full text of the resolution, look for #5 on the resolution document.
ILRU Resources:
The Indigenous Law Research Unit produces a broad array of resources, many freely downloadable from ILRU's website. These include:
Videos on Indigenous law.
A graphic narrative on Cree criminal law.
Toolkits on gender and matrimonial property on reserves.
Reports on various areas of Indigenous law in the legal traditions of specific peoples or communities
Faculty Members:
John Borrows - Lectures and Interviews

Val Napoleon - Lectures and Interviews
Rebecca Johnson - Interviews
Indigenous Law Video on Demand: Rebecca is interviewed in several videos, created as part of an Indigenous Law Research Unit project. 
Reconciliation Syllabus

, a collaborative blog to support recommendation #28 of the 

TRC Calls to Action

, led by Prof. Rebecca Johnson.
Heidi Kiiwetinepinesiik Stark