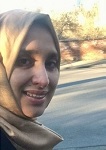 Position
Assistant Teaching Professor
School of Social Work
Status
Contact
Office: HSD B330
Area of expertise
African studies, migration and xenophobia
---
Professional Information & Research Interests
African studies
Migration and xenophobia
Globalised approaches to decolonization theory and practice
Visual methods
Policy
Zaheera's interdisciplinary scholarship is informed by decolonial, global south and intersectional theories and practice. Over the last decade she has taught at the African Centre for Migration and Society, Wits University (South Africa) where she remains a research associate, the University of Alberta, and in the European Masters in Migration and Intercultural Relations program at the University of Oldenburg (Germany).
Her interests are centred around migration and refugee studies, especially in, from and around Africa. She has supervised several graduate students to completion in these areas of scholarship. Her recent publication is a co-edited book, Borders, Bodies and Boundaries: Gender and Mobility in Africa (Palgrave 2018).
Outside of academia, Zaheera has consulted for the United Nations in developing immigration policies for several countries in Africa, has co-drafted the ILO's labour migration strategy for the continent, is a Designated Representative for the Immigration and Refugee Board of Canada, and is active in refugee support programs.
---
Recent Teaching
Social Work 356, Human Development and the Social Environment within a Global Context
SW 4th year, Integrated Practice Seminar
PolSci 261 'International Relations from global south and decolonial perspectives', University of Alberta
Curriculum development and lecturer in Labour Migration, Wits University
MA module on labour migration at REMESO, Linkoping University, Sweden
Informal Economy at the annual ILO Labour Migration Academy, United Nations
Joint coordinator BA in Migration and Human Rights in conjunction with the International Human Rights Exchange program (IHRE) and Bard College (NY)
Education
PhD (Anthropology) University of KwaZulu Natal, South Africa. Unfinished journeys: an exploration of agency in Somali women's lives and livelihoods in Johannesburg, 2014
MA (Development Studies) University of KwaZulu Natal, South Africa, 2007
BA (Social Work) University of South Africa, 2004
---
Selected Publications
Books and book chapters
Hiralal, K and Jinnah, Z (2018) Borders, Bodies, and Boundaries: Gender and migration in Africa. Palgrave.
Jinnah, Z., & Rugunanan, P. (2017). Remaking Religion, Rethinking Space: How South Asian and Somali Migrants Are Transforming Ethnically Bound Notions of Hinduism and Islam in South African cities. In Routes and Rites to the City (pp. 137-161). Palgrave Macmillan UK.
Jinnah, Z. (2015). Chapter 4. Rational routes? Understanding Somali migration to South Africa 43-54. In Mobility and Migration Choices. Edited by Martin van der Velde and Ton van Naerssen, Ashgate.
Polzer- Ngwato, T., and Jinnah Z. (2013). Migrants and mobilisation around socio-economic rights, in Migrants Rights. Symbols or Substance? The Role and Impact of Socio-Economic Rights Strategies in South Africa," Ed Langford, M., Cousins, B., Dugard, J., and Madlingozi,T. Cambridge University Press. Chapter 14.
Jinnah, Z. (2010). Migrant mobilisation: structures and strategies of claiming rights in Johannesburg and Nairobi, in Handmaker, J and Berkhout, R "Mobilising Social Justice" pp 137-178. Pretoria University Law Press.
Peer reviewed journal articles
Jinnah, J., Rutherford, B. & Stasiulis, D. (2020). Migration, Intersectionality and Social Justice. Studies in Sosical Justice, 14(1), 1-21.  https://doi.org/10.26522/ssj.v2020i14.2445
Jinnah, J., Vanyoro, K. P. & Wee, K. (2018). Repoliticizing international migration narratives? Critical reflections on the Civil Society Days of the Global Forum on Migration and Development, Globalizations. DOI: 10.1080/14747731.2018.1446600
Shaffer, M., Ferrato, G., & Jinnah, Z. (2017). Routes, locations, and social imaginary: a comparative study of the on-going production of geographies in Somali forced migration. African Geographical Review, 1-13.
Jinnah, Z. (2017). Silence and Invisibility: Exploring Labour Strategies of Zimbabwean Farmworkers in Musina, South Africa. South African Review of Sociology, 48(3), 46-63.
Jinnah, Z. (2016). In the Shadow of a State: Self-Settlement Strategies and Informal Governance Amongst Somalis in Johannesburg. Journal of International Migration and Integration, 1-15.
Jinnah, Z (2016). Cultural Causations and Expressions of Distress: a Case Study of Buufis Amongst Somalis in Johannesburg. In Urban Forum (pp. 1-13). Springer Netherlands.
• Jinnah, Z. (2016). L'Afrique du Sud face aux migrations économiques. Politique étrangère, (1), 53-63.
Jinnah, Z., & Lowe, L. (2015). Circumcising Circumcision: Renegotiating Beliefs and Practices among Somali Women in Johannesburg and Nairobi. Medical anthropology, 34(4), 371-388.
Jinnah, Z. (2013). New Households, new rules? Examining the impact of migration on Somali family life in Johannesburg, QScience 2013, Family, Migration & Dignity Special Issue, Volume 7 DOI.
Jinnah, Z. (2010). Making Home in a Hostile Land: Understanding Somali Identity, Integration, Livelihood and Risks in Johannesburg, in Journal of Sociology and Social Anthropology, 1 (1-2) 91-99.
---
Selected Grants and Awards
Mitacs Canada Science Policy Fellow (2019-20)
Volkswagen Stiftung fellow in the Humanities : Principle Investigator: 'Shifting families, migration and violence' project (2016-19)
National Research Foundation South Africa: Thuthuka postdoctoral award (2016-18)
Wellcome Trust fellow on Investigator Award (Prof Jo Vearey): 'Wellbeing, informality and health in Southern Africa' (2015-19)
Security at the Margins Co-PI, ESRC (Edinburgh and Wits) (2015-18)
European Union: Co-PI Migrating for Work Research Consortium (MiWORC) (2012-4)