Harvey Southam Lecturer and Residency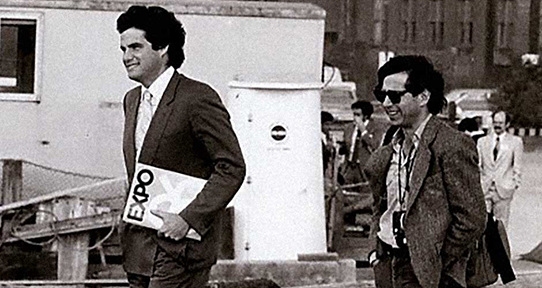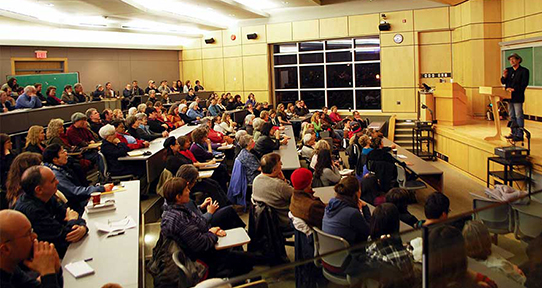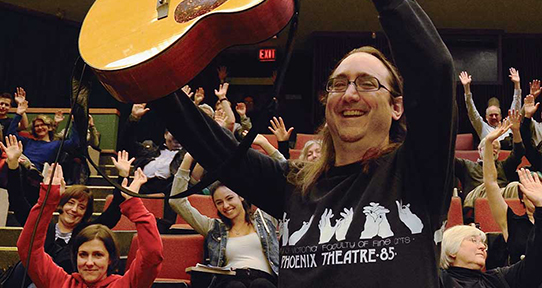 Each year, one or more journalists of national renown are invited to share their knowledge with the university and local community as a visiting lecturer and/or a journalist-in-residence, thanks to the Harvey Stevenson Southam Lecture Fund in Journalism and Non-Fiction. The visiting lecturer visits a variety of our classes and gives an annual public lecture offering an insider's view of the shifting media landscape, and the journalist-in-residence teaches a unique class in the area of their expertise for one semester in UVic's Department of Writing. Both of these positions give our students an opportunity to learn from some of Canada's top working journalists.

The fund was made possible due to a $250,000 donation from one of the country's leading publishing families. During the appointment, each visiting writer gives a public lecture on issues related to contemporary journalism, teaches an upper-level journalism course and provides valuable mentorship to young writers and aspiring journalists at UVic.
The program
The program has been an immea­surable success since its introduction to the department of Writing at the University of Victoria in 1994. In its original incarnation in 1994, the Harvey Southam Diploma provided several students a year the opportunity to complete post-degree studies in UVic's professional writing program. Diploma graduates have gone on to successful careers in journalism, publishing, com­munications—and, in the case of journalist and author Arno Kopeke, a Governor General's Literary Award nomination for his 2014 book, The Oil Man and the Sea.
As of this writing, over a dozen lecturers have delivered a diverse range of talks and courses to over 700 students, as well as the general public who attend the free annual public talk.
The vision
Very quickly, the Southam Lectureship attained national prominence. We receive applications from top writers and editors from across the country each year. Many of them have the skills and background to run our entire program, so it's a daunting process to choose just one person for this position. Each Harvey Southam Visiting Lecturer spends a term mentoring young writers, as well as offering an insider's view of life in the media.
About Harvey S. Southam
Harvey Southam, the son of Gordon Thomas and Gertrude Jean (nee MacMillan) Southam, worked as a journalist at the Winnipeg Tribune, the Vancouver Province, and Vancouver Sun before serving as a director of a number of Southam companies—including Southam Inc., Southam Printing Ltd., and Coles Book Stores Ltd.—as well as being the founder and editor of the Vancouver-based Equity, a monthly Vancouver business magazine. Southam was also a University of Victoria alumnus. He died suddenly in 1991.
Southam Lecturers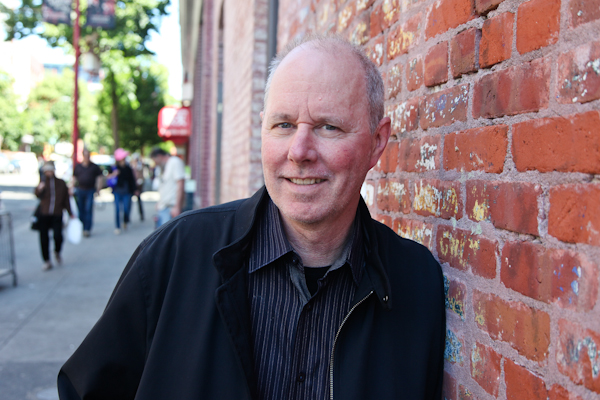 David Beers
2022-23 Lecturer and Journalist-in-residence
David Beers founded and heads The Tyee, launched in 2003 as a Vancouver-based experiment in new ways of doing online journalism in the public interest, including solutions-focused reporting, crowd-funded support and a humane work culture. Before The Tyee, he was a senior editor at The San Francisco Examiner, Mother Jones Magazine and The Vancouver Sun. An award-winning magazine writer, he taught feature writing at the UBC Graduate School of Journalism for 18 years.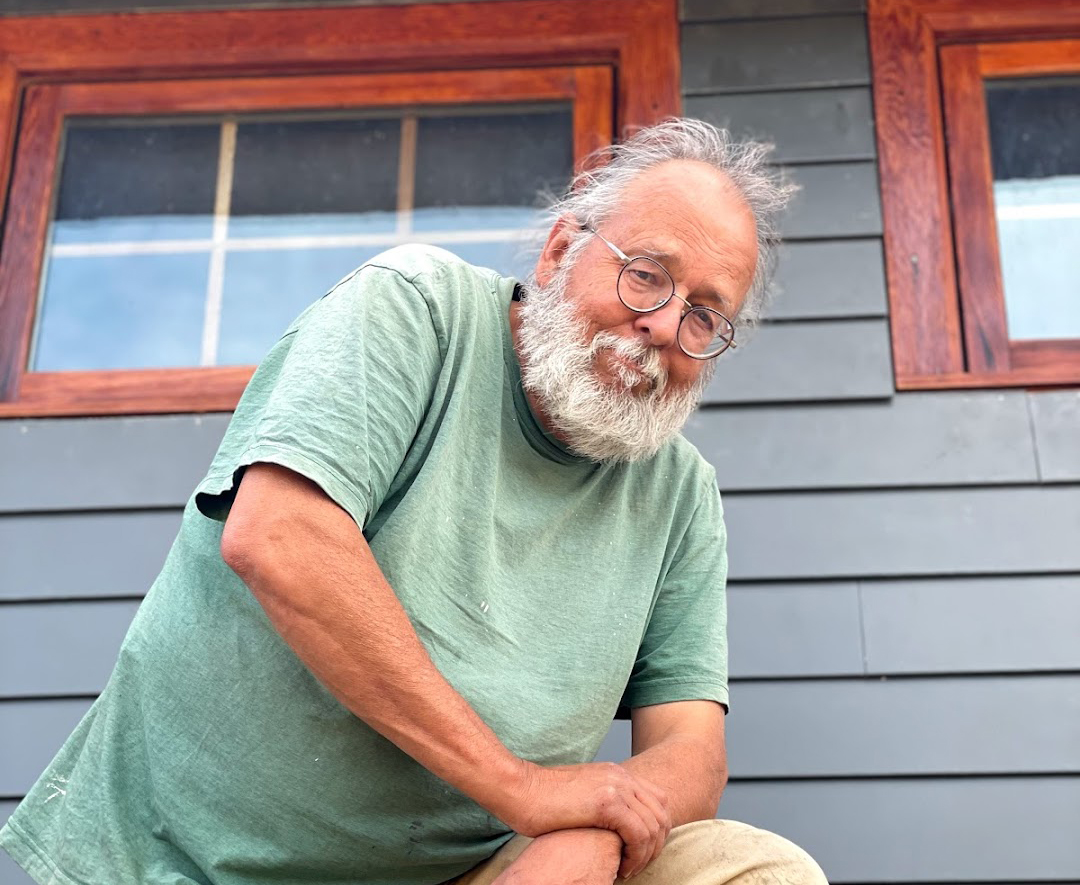 Andrew Nikiforuk
2021-22 Lecturer
As an author, journalist and contributing editor for The Tyee, Andrew Nikiforuk has written about the use—and abuse—of natural resources and wild landscapes in Canada for more than 30 years. Now, the Department of Writing is proud to have him as their latest Harvey S. Southam Lecturer. 
Farah Nosh
2019-20 Lecturer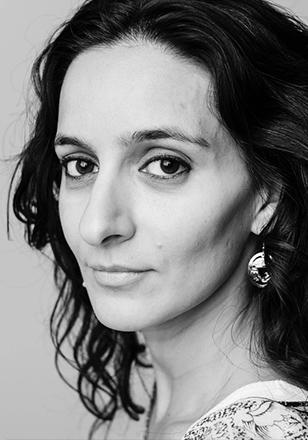 Farah Nosh is an award-winning photographer whose long-term projects have focused on war's impact on Iraqi civilians and the last speakers of threatened languages. Her work has appeared in The New York Times, Newsweek and TIME magazine and won the prestigious Overseas Press Club Award for Feature Photography. She  has worked on assignment in Iraq, Afghanistan, Lebanon, Pakistan, Syria, the West Bank, Gaza, and Egypt. More recently she has been working in collaboration with the Haida Nation on sanctuary projects. She appeared on CNN's Inside the Middle East segment entitled "Someone You Should Know," which features personalities making an impact.
Brian Payton
2019-20 Journalist-in-residence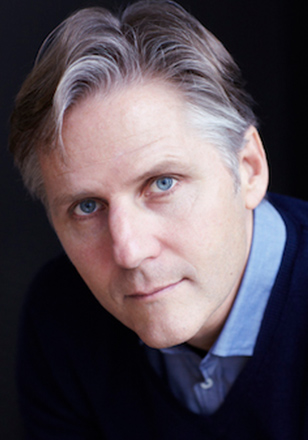 Brian Payton writes both fiction and nonfiction. His book The Wind Is Not a River was published in seven countries, a national bestseller, and chosen as an Amazon Book of the Month, an Amazon Canada Best Fiction of the Year, and a Best Book of the Year by both the Seattle Times and BookPage. 
Payton is also the author of the novel Hail Mary Corner and two acclaimed works of narrative nonfiction: Shadow of the Bear: Travels in Vanishing Wilderness, which was a Barnes and Noble Book Club Pick and a U.S. National Outdoor Book Awards Book of the Year; and The Ice Passage: A True Story of Ambition, Disaster, and Endurance in the Arctic Wilderness, which was a finalist for the Hubert Evans Nonfiction Prize. His articles and essays have been published in the New York Times, Los Angeles Times, The Guardian, The Walrus, and Canadian Geographic and have earned both national and international awards. Payton was the nonfiction mentor at Simon Fraser University's The Writer's Studio (2010-2012) and has presented at literary events in London, New York, Los Angeles, San Francisco, Denver, Seattle, and throughout Canada.
Judith Pyke
2017-18 Lecturer and Journalist-in-residence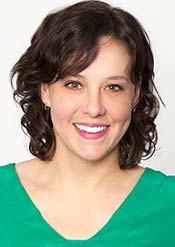 When it comes to narrative filmmaking, it's hard to beat a good documentary. The form of visual storytelling most closely related to journalism, documentaries have unparalleled power to not only connect us with their subjects in remarkably personal ways, but to also cross time and place while staying firmly rooted in reality.
Such is the world in which Judith Pyke lives. An award-winning writer, director, executive producer and showrunner, Pyke collaborates with top creative professionals to make absorbing documentary and non-fiction television and films.
She has worked in diverse and challenging locations worldwide (the High Arctic, Liberia and rural Kenya, Japan, Europe) and has interviewed hundreds of people — from top scientists and international figures to village locals and renowned artists like Lou Reed, Philip Glass, Cecilia Bartoli and Stephen King. Her films have received accolades and aired on networks all over the world (CBC, History Television, CTVglobemedia, Bravo, TLC) and, best of all, she's a UVic alumna, having received her BA here back in 1994.
The Vancouver-based writer-director shared her cinematic passion with students through her "Discovering Documentary" course, which also provided the basis for her popular public talk of the same name. 

Expert panel celebrates a decade of the Southam Lecturer in Writing
For the past 10 years, students in UVic's writing department have benefited by learning from veteran journalists and authors, thanks to the Harvey Stevenson Southam Lecturer in Journalism and Nonfiction.
Courses have varied widely, ranging from print and broadcast journalism to sports, humour, popular culture, Indigenous perspectives on storytelling, and changes in the media landscape itself.
Leach, who will act as emcee and moderator, will be joined by six returning Southam Lecturers:
Vivian Smith
2016-17 Lecturer and Journalist-in-residence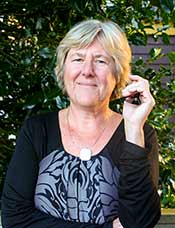 We may be living in the 21st century, but that doesn't mean we've achieved gender equality in Canada. Nowhere is this more evident than in the field of journalism, as Vivian Smith well knows.
A Canadian journalist and author, Smith has been a reporter, editor and manager at The Globe and Mail, a columnist for the Times Colonist and an editor of Boulevard magazine. She has taught journalism at four Canadian universities, freelanced for national publications and provides media training for professionals and academics.
Her book, Outsiders Still: Why Women Journalists Love – and Leave – Their Newspaper Careers, was published in 2015 by the University of Toronto Press. Her talk will consider who defines the news and how their decisions reinforce – and increasingly resist –.stereotypes that limit us all.
The second Southam Lecturer in 2016, Smith is drawing from her own research on how women's careers in print journalism are limited by its deeply gendered culture. As well as her Writing department elective focused on gender and journalism, Smith also presented a well-attended free public talk titled "Minding My Own Business: A Reporter's Inquiries into Gender and Journalism."
Carl Wilson
2015-16 Lecturer and Journalist-in-residence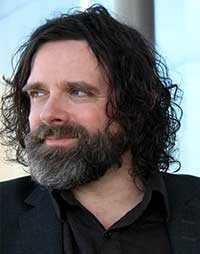 When it comes to writing about popular culture, Carl Wilson's heart will always go on. That's partially because, as a music critic for Slate and Billboard magazines, Wilson is deeply passionate about the impact music can have on everyone's lives; but it's also because his book about Céline Dion struck a chord that rivaled the power of love.
Originally published in 2007 as part of the acclaimed 33 1/3 music criticism series, and reprinted in 2014 as a stand-alone edition, Wilson's Let's Talk About Love: Why Other People Have Such Bad Taste deftly deconstructed Céline Dion's dichotomous popularity and vilification. A Canadian cultural critic who spent nearly 15 years as a feature writer and editor at The Globe and Mail, Wilson has also been a contributor to the likes of The New York Times, The Atlantic, Pitchfork, The Nation, Exclaim!, Spin and many others.
Wilson's Let's Talk About Love has sparked debates about taste in the music-writing community as well as on blogs and podcasts, in cultural studies departments and across traditional media outlets ranging from The Village Voice to The Colbert Report. It even got a shout-out from actor James Franco on the red carpet at the 2009 Oscars. 
Mark Leiren-Young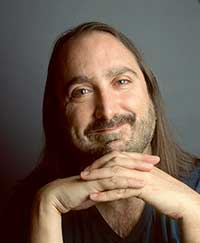 2014-15 Lecturer and Journalist-in-residence
Mark was born in Vancouver and received his BFA in Creative Writing and Theatre at the University of Victoria. After graduating (with distinction) from UVic he was hired as a reporter at the venerable Williams Lake Tribune (a stint that inspired his award-winning first book, Never Shoot a Stampede Queen).
Since then Mark has been a full-time freelance writer working in a variety of mediums and genres. His plays have been produced throughout Canada and the US as well as in Europe and Australia. He has written over a hundred hours of television for shows including adult dramas like Psi Factor and The Collector, live events like the Juno Awards, documentary series like CBC's Life and Times and animated shows like ReBoot, Class of the Titans and Transformers: Beast Wars.
Mark also toured Canada (and produced two albums and a tv special) with his musical comedy duo, Local Anxiety. As a journalist Mark has written for TIME, Macleans, The Hollywood Reporter and most of Canada's daily newspapers. He's a regular contributor to The Vancouver Sun, TheTyee.ca, The Georgia Straight and The Walrus.
Tom Hawthorn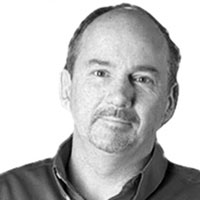 2013-14 Lecturer and Journalist-in-residence
Tom Hawthorn is an award-winning reporter who has written for a wide range of newspapers and magazines.
He wrote a human-interest column for the Globe and Mail for seven years and is a now columnist for the Victoria lifestyles magazine Boulevard, as well as a contributor to TheTyee.ca and CBC Radio. His byline has appeared in Reader's Digest, Canadian Geographic, the National Post, the Washington Post, the San Francisco Chronicle, and the Detroit Free Press, as well as Morning Calm (the inflight magazine of Korean Airlines) and Chill! (the magazine of the Beer Store in Ontario).
Tom is the author of Deadlines: Obits of Memorable British Columbians (Harbour, 2012). He is also a contributor to a dozen historical books published by the Society for American Baseball Research. For a change of pace, he wrote more than 1,000 sports trivia questions last year for the Citytv show, Beer Money.
Jo-Ann Roberts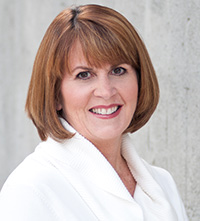 2012-13 Lecturer and Journalist-in-residence
Jo-Ann Roberts is an award-winning journalist, and was a long-time CBC Radio host, best known locally as the former host of All Points West, CBC Radio's Victoria-based afternoon show. During her career she has worked in print, radio, and television. She earned an undergraduate degree in Political Science and English at Mount Allison University and then went on to Carleton University for an honours degree in Journalism. 
Roberts was the first broadcast journalist to win the Asia-Pacific Scholarship in Journalism, was one of the hosts of CBC's 2010 Olympic coverage, was part of the CBC Vancouver news team that won a National RTDNA award for coverage of the Stanley Cup Riot, and was also a finalist for two Canadian Association of Journalism Awards. 
Her Southam class, Public Broadcasting and the Public Good, focused on the history and future of public broadcasting in Canada. It examined research and literature about not only the CBC but also public broadcasters in other countries, and students re-imagined what form of public broadcasting is needed in the future.
Terry Glavin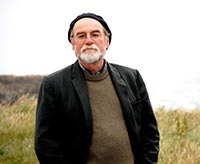 2011-12 Lecturer and Journalist-in-residence
Terry Glavin is the author of six books and the co-author of four. He has won more than a dozen literary and journalism awards, including the Hubert Evans Non-Fiction Prize. He has been hailed as "one of the finest journalists writing anywhere in the English language" (Canadian Forum) and "one of the prophets of our time" (Literary Review of Canada). Glavin is a co-founder of the Canada-Afghanistan Solidarity Committee, and he has been described by the National Post as "one of Canada's leading voices in support of our Afghanistan campaign."
Glavin is also the editor of Transmontanus Books. He has been a reporter, editor and columnist for the Vancouver Sun and The Globe and Mail. His essays in cultural criticism, science writing and travel writing have appeared in journals and magazines such as Democratiya, the National Post, SEED and Canadian Geographic. In 2009 he was the recipient of the British Columbia Lieutenant-Governor's Award for Literary Excellence. Glavin is the writer for the exhibit Unsung Heroes of Afghanistan, on view in 2010-11 across Canada, the U.S. and Europe.
Glavin's lecture and discussion course was titled Orwell and Everything After, and explored what he deemed "a disorienting time of social, geopolitical and economic upheaval." But far from describing the era of George Orwell (1984, Animal Farm), he was actually referring to the world around us today. 
"Today's revolutionary transition from analog to digital media is as epochal to the way we communicate ideas, stories and report 'news' as yesterday's transition from an oral to a written-word culture," explained Glavin. "But what has endured is our continuing evolution as a species that comprehends and explains the world through narrative . . . what also appears likely to endure is the value most people place on true stories."
His 2012 book, Come From The Shadows: The Long and Lonely Struggle for Peace in Afghanistan (Douglas & McIntyre), was launched during his Southam Lecturership, and it reflected his disturbing observations in that war-torn country. "In my own working life, I have never encountered such a deep and dark gulf between the real world and the way that country—and the war there—appears in the media," said Glavin.
Richard Wagamese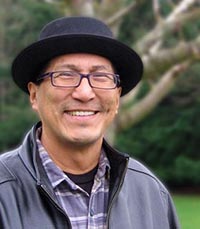 2010-11 Lecturer and Journalist-in-residence
Richard Wagamese is one of Canada's foremost Native authors and storytellers. Working as a professional writer since 1979, he's been a newspaper columnist and reporter, radio and television broadcaster and producer, documentary producer and the author of over a dozen titles from major Canadian publishers. He holds an Honorary Doctor of Letters degree from Thompson Rivers University in Kamloops, in recognition of his lifetime achievement in writing and publishing. 
Wagamese has been a success in every genre of writing he has tried. An Ojibway from the Wabaseemoong First Nation in Northwestern Ontario, he became the first Native Canadian to win a National Newspaper Award for Column Writing in 1991. He has twice won the Native American Press Association Award and the National Aboriginal Communications Society Award for his newspaper columns. Currently, his series One Native Life runs as a radio commentary and newspaper column in both Canada and the U.S., and was a weekly television commentary on CFJC-TV 7 in Kamloops from 2007 to 2010.
His memoir One Native Life was one of The Globe and Mail's 100 Best Books of 2008. He launched his acclaimed memoir One Story, One Song during his Southam Lectuership, and it went on to be awarded the George Ryga Award for Social Awareness in Literature in 2011. Wagamese was honored with the 2012 National Aboriginal Achievement Award for Media & Communications.
His 2011 Southam class, Changing Perspectives: Discovering Your Story's Voice, was a lecture and discussion course exploring how the observational skills and traditional spiritual principles of First Nations' storytelling can help all writers to improve their craft.
"Relying solely on memory and improvisation, oral storytellers created an enduring legacy of tales still told in the same manner today as when they were created generations ago," explained Wagamese at the time. "Our class discussion will focus on the principles of traditional storytelling and combine them with contemporary narrative skills to learn to 'free the mind' and allow a spontaneous generation of ideas and expression to occur." Wagamese's course followed First Nations pedagogy by using the land as the setting for discussion and oral exercises to encourage students to discover their authentic voices.
Sandra Martin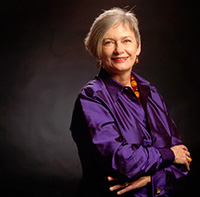 2009-10 Lecturer and Journalist-in-residence
Sandra Martin is a writer who bridges the world of journalistic and literary excellence. She has written for most of our country's major magazines, has been a CBC Radio host, a literary jury member, a past president of PEN Canada and is a senior arts writer, feature writer and chief obituary writer journalist with The Globe and Mail. She has won writing prizes from the Society of Professional Obituary Writers, gold and silver National Magazine Awards, the Atkinson and William Southam Journalism Fellowships.
The co-author of three books, including Rupert Brooke in Canada and Card Tricks: Bankers, Boomers, and the Explosion of Plastic Credit, which was shortlisted for the Canadian Business Book Award, she is the editor of the bestselling and critically acclaimed collection, The First Man in My Life: Daughters Write about Their Fathers. Her 2012 book, Working the Dead Beat: 50 Lives that Changed Canada was longlisted for the Charles Taylor Prize for Literary Nonfiction and was selected as one of the Globe and Mail's Top 100 Books of 2012. 
Her 2010 Southam class, Changing Perspectives, was an advanced lecture/discussion course in print and electronic journalism with a particular focus on the obituary.  Combining breaking news with feature writing, the obituary is both a literary and a journalistic form; her students discussed its past as part of a venerable oral and print tradition and projected its future in a digital world. 
Martin's course was based on a rigorous journalistic form and had three main goals: teaching students to read and write critically; appreciating the storytelling value—for fiction and non-fiction writers—in the biographies of real people; and exploring different ways of  telling a life story, while adhering to the facts.
Jody Paterson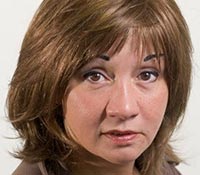 2008-09 Lecturer and Journalist-in-residence
Jody Paterson is an award-winning newspaper journalist, writer and communications strategist who has worked since 1982 as a journalist and manager at daily papers in Kamloops and Victoria. She is actively engaged on a number of social fronts in Greater Victoria, particularly around issues involving homelessness or the sex industry. Honours for her writing include Best BC Profile Writer at the Western Magazine Awards (2005), Best BC Columnist at the BC Newspaper Awards (1996), and Best BC Editorial at the BC Newspaper Awards (1986).
Paterson was also executive director of the Prostitutes Empowerment Education and Resource Society from 2004 to 2007. She has sat on the co-ordinating committee of the Greater Victoria Commission to End Homelessness and UVic's advisory boards for the Centre For Addiction Research. 
Her 2009 Southam class, Writing from the Inside, was a lecture and discussion course exploring techniques and issues in "experiential journalism": non-fiction writing that engages as closely as possible with the experiences of those at the centre of a story or issue without sacrificing balance or facts.
            
"Writers who are able to engage with the subjects at the centre of a story through shared experience and empathic story-telling are rewarded with powerful insights, a deeper understanding of the broader issues at play, and a much more compelling 'read' for their audience," Paterson explained at the time. "But the practice requires specialized interviewing skills, a clear knowledge of ethical boundaries and a commitment to balance." 
Paterson's course explored successful examples of the form and led students through a number of assignments based on community field trips and hands-on experiences.
Charles Campbell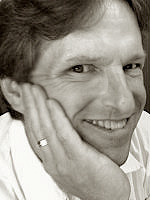 2007-08 Lecturer and Journalist-in-residence
Charles Campbell edited Vancouver's The Georgia Straight for 11 years and helped to establish the venerable alternative weekly newspaper as an influential and respected voice in the Vancouver media. Later, as the Vancouver Sun's entertainment editor, he increased the section's readership by more than 30 percent in two years. Most recently, he served on the Sun's editorial board. 
As an editor and writer, he's been closely involved in work that has won more than 60 awards. In 2000, he was honoured with a Southam Fellowship by the University of Toronto's Massey College. He is currently a freelance writer and editor whose recent projects have ranged from features for Western Living and Vancouver magazine to BC Business. Campbell is also a contributing editor to TheTyee.ca, where he created Tyee Books. He has taught in the writing programs at Simon Fraser University and Capilano University.
Campbell was the natural choice for the inaugural Southam Lecturer—not only because of his position as a Southam Fellow at Massey College where Southam Newspapers has funded a program for more than 40 years, but also because he was personally acquainted with Harvey Southam. 
"I knew Harvey Southam," Campbell said during the introduction to his public lecture, titled News Barons vs. Internet Geeks: A Media Apocalypse?, back in 2008. "Not well, but well enough. I wrote my first magazine feature for him a quarter century ago, when he edited Equity. Harvey was an iconoclast, and as a result there was a sense at the publication that anything was possible. It was more provocative and fun than any Canadian business magazine I could direct you to today. I miss Equity, and I miss Harvey."
Much like his public lecture, Campbell's course reflected on the corporate concentration of media ownership and audience fragmentation, which he said undermines Canada's civic commons, the place where communities can come together to share disparate views about social values.