HSD A154 – Digital media studio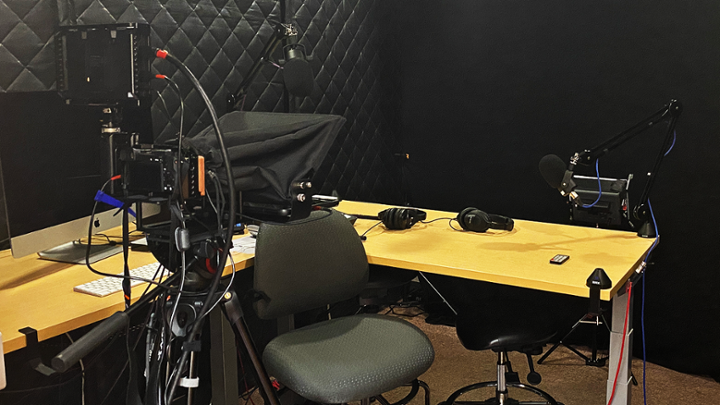 Lab details
Room type: Media studio
System type: Mac OS
Mon-Fri: 8:30am-4pm
Sat-Sun: Closed
Holidays: Closed
Capacity: 1 - 3
Availability:
Location
Accessibility information
This room is located on the basement level with elevator access from the HSD building lobby. The elevator gives you access to the door on the far side of the drop-in lab.
What's in this lab
The studio's standard equipment set-up includes:
27" iMac with wireless keyboard and mouse
20TB external scratch disk for temporary storage
Elgato Stream Deck and Cam Link 4k
3 ceiling mounted Aputure Amaran HR672S daylight video lights
1 additional free-standing video light
Black video backdrop
Sony α6400 mirrorless camera
7″ external field monitor
Glide Gear teleprompter with display
RODECaster Pro podcast production studio
2 RODE PodMic broadcast microphones on RODE PSA1 swing arms
2 Sennheiser HD280 Pro headphones
Eris stereo studio monitor speakers
Green or grey backdrop
s Document camera kit (ELMO MX-P and writing board)
Creative pen display (Wacom Cintiq 16)
Behringer U-PHORIA UMC404HD USB audio interface
61-key MIDI keyboard
Up to 2 additional RODE PodMic broadcast mics
Up to 2 AKG C100S hypercardioid condenser mics
Up to 2 additional Sennheiser HD 280 Pro headphones
Lav mic kit (Saramonic Blink 500 with 2 lav mics)
Software
The software installed in this lab can change throughout the semester.
Adobe Acrobat Reader DC Mac
Adobe After Effects CC 2022
Adobe Animate CC 2022
Adobe Audition CC 2022
Adobe Creative Cloud 2021
Adobe Illustrator CC 2022
Adobe InCopy CC 2022
Adobe InDesign CC 2022
Adobe Photoshop CC 2022
Adobe Prelude CC 2022
Adobe Premiere Rush CC 2019
Adobe Premiere Rush CC 2021
Apple Compressor 4
Apple Final Cut Pro X
Apple GarageBand 10
Apple Keynote 12
Apple Logic Pro X
Apple MainStage 3
Apple Motion 5
Apple Numbers 12
Apple Pages 12
Apple Xcode 14
Apple iMovie '13
Audacity 3 Mac
Blackmagic DaVinci Resolve 18
Blender 3
Cyberduck 8 Mac
Echo360 Universal Capture 6 Mac
FaceTime 5 Mac
GIMP 2 Mac
Google Chrome 105 Mac
Google Earth 7 Mac
JAMF Casper Suite 10 Mac
KeyVerify
Maxon CINEMA 4D Prime R22 Mac
Maxon CINEMA 4D Studio R25 Mac
Maxon CINEMA 4D TeamRender Client R22 Mac
Maxon CINEMA 4D TeamRender Client R25 Mac
Maxon CINEMA 4D TeamRender Server R22 Mac
Maxon CINEMA 4D TeamRender Server R25 Mac
Microsoft Office for Mac 2016
Microsoft Teams 1 Mac
OBS Studio 27 Mac
OBS Studio 28 Mac
PaperCut MF Client 19 Mac
Praat 6 Mac
Safari 15 Mac
Skype 8 Mac
TechSmith Camtasia for Mac 2019
TechSmith Camtasia for Mac 2020
VideoLan VLC Player 3 Mac
Visual Studio Code
Zoom 5
Booking
You must be a current UVic student, instructor, or staff member to book this space
First-time users require a brief orientation before your session begins
Bookings for this space are managed through MS Bookings
Food and beverages are not permitted
See our student booking page for booking instructions and full service guidelines.
Support
If you're having problems with lab equipment, software, or the space, please see a staff member at the HSD A140 support desk.
You can also contact us for help with any questions about UVic technology, services, or accounts.