Seven Days in Guangdong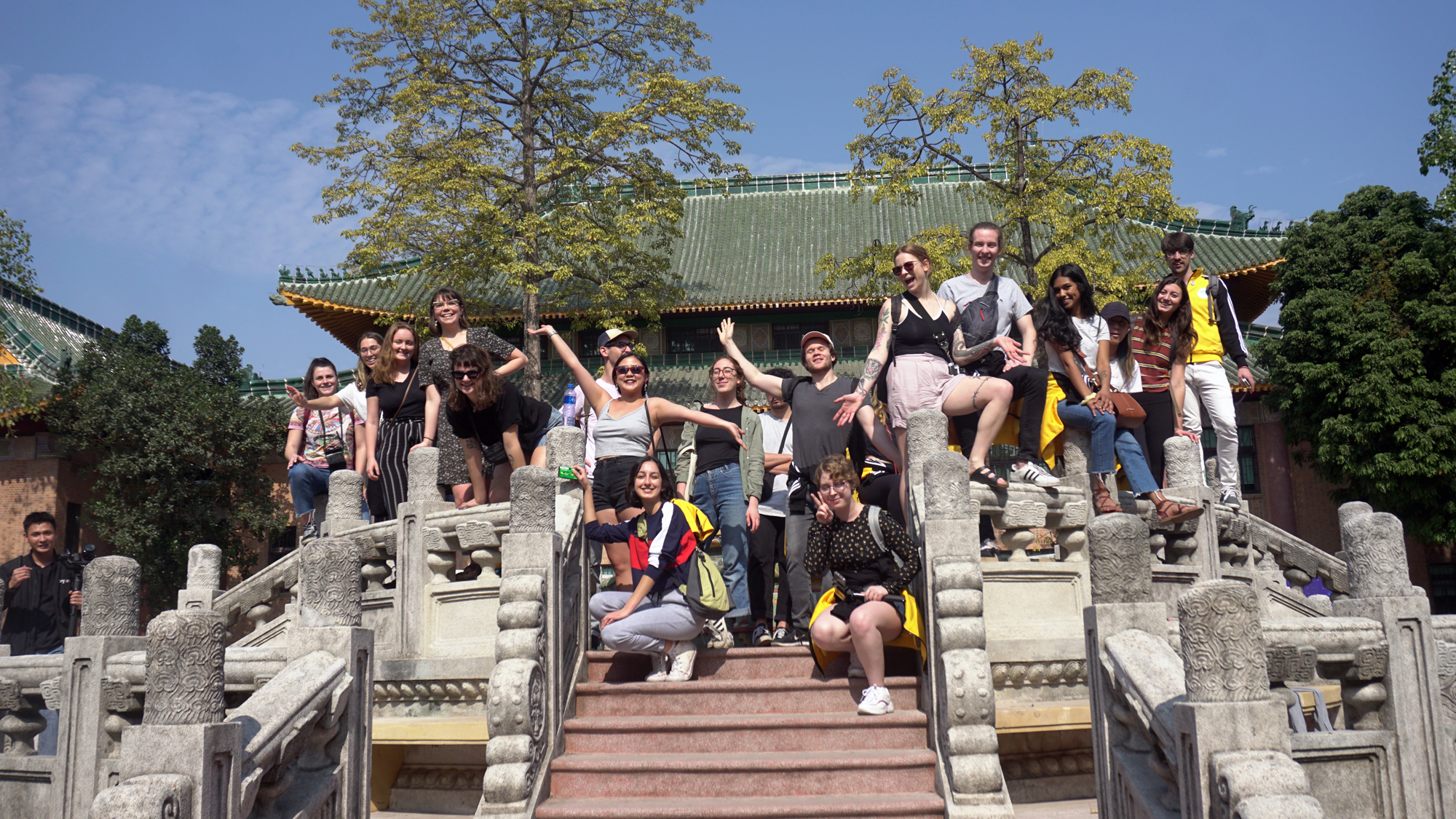 Winter break had something a little different in store for a group of forty UVic students who undertook a CAPI-led seven-day cultural tour of BC's sister province of Guangdong, China, as part of a goodwill relationship-building program.
Based out of the South China University of Technology (SCUT) and Jinan University in the provincial capital of Guangzhou, the cultural showcase included classroom sessions on Chinese architecture, philosophy and history, as well as excursions to cultural sites and landmarks.
Students visited local families and received instruction in Chinese song, acupuncture and kung fu as part of the program, which was funded by Guangdong's education department and administered by the BC Ministry of Advanced Education, Skills and Training. The group rang in the new year on a night cruise on the Pearl River.
Fostering personal relationships
Aside from near-unanimous appreciation of the food, UVic participants lauded the kindness and hospitality of the people, in particular the program chaperones, instructors, student volunteers and host families, with whom many of the students exchanged contact details to stay in touch.
For first-year economics student Ashley Chan, the trip also provided an opportunity to connect with her family's roots. "My mom came from a small town just a few hours off of Guangzhou, so I was encouraged to see the environment in which she spent her childhood," Chan says. "I was glad I could talk to one of the tour guides and learn a little bit more about my mom's small village from where she came."
Getting out of the classroom and into the field
An important outcome of the journey was the breaking down of misconceptions and perceived differences. Students said they were surprised at the transport efficiency, cleanliness and abundance of green spaces in the sprawling metropolis of 13 million people and spoke of seeing beyond the black and white of media portrayals of the country. Fifth-year Anthropology and Global Development Studies student Jamie Fogg remarked on learning to "see people for who they are despite [their political] differences"; Madison Williams (fourth-year Anthropology) observed that "China is not so different from Canada . . . there were people from all different socio-economic statuses just trying to enjoy life"; and fellow Anthropology student Seema Prasad's "biggest takeaway from the trip" was that one must "travel the world to come to your own conclusions about different regions and take what you see in the media with a grain of salt."
. . . and back again
Upon returning home, many students lamented the brevity of the tour, but spoke of their profound appreciation for the eye-opening and enriching experience. For Lian Woo (second year Sociology), the trip was "without a doubt" her most memorable experience to date at UVic and for fifth-year Anthropology and Political Science student David Eupen, "one of the most unforgettable experiences of [his] life." Fifth-year Psychology student Cormac O'Neill spoke of "memories and friendships that will last a lifetime."
Indeed, in addition to the connections fostered with their Chinese hosts, several students were grateful for the bonding that took place within their own group, a hastily-assembled collection of students recruited by the Centre for Asia-Pacific Initiatives (CAPI) through its existing network of contacts. The group represented a broad cross-section of campus departments, from Anthropology, Linguistics and History, to Business, Biochemistry, and Engineering: "everyone on the trip was so open to the experience and to each other," remarked first-year Environmental Studies student Frances Lando, "that I feel like I've come home with friends for life."
Many of the students expressed an eagerness to return to China and some were keen to repay the favour of their generous treatment, suggesting that BC and UVic should welcome their counterparts from Guangdong for a similar visit to our part of the world.
In the meantime, though, the students continue to carry forward the spirit of their trip, whether through organizing friends for a meal of dim sum at a local restaurant, sourcing baozi (steamed pork buns) at the neighbourhood grocery store, or adding the folk song "Mo Li Hua" (Jasmine Flower) to their playlist so they can always carry a little piece of China along with them as they ply their lives back here in Canada.
---