Congratulations to former intern Natalia Yang!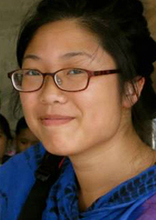 Congratulations to former CAPI intern Natalia Yang who just started a co-op placement with the Department of Foreign Affairs, Trade and Development (formerly CIDA).
Natalia is currently working as a student with the Gender Equality Team for the Strategic Policy and Performance Branch. 
"The internship that I did with CAPI in Dhaka, Bangladesh has helped me in not only attaining the co-op I am doing now, but also in forming my future career path and approach to development," says Natalia. "After completing my internship, I am better able to position myself in the global scheme of development and renegotiate what development means to me. This internship has helped me carve a path for myself in development with values that I can comfortably and proudly stand for, one that is participatory, reflective, sustainable, humanitarian and globally responsible."