Sara Ramshaw
Associate Professor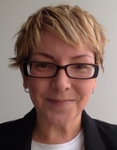 Sara Ramshaw was appointed Associate Professor at the University of Victoria Faculty of Law in 2017 following previous appointments at the University of Exeter (England) and Queen's University Belfast (QUB) (Northern Ireland).  After receiving her B.A. (Hons) from the University of Toronto, Sara obtained both a LLB and a LLM from the University of British Columbia. She then clerked at the Ontario Court of Justice (General Division) and was called to the Bar of the Law Society of Upper Canada in 2000. Sara worked for the Ministry of the Attorney General at the Superior Court of Justice, Family Court in Toronto before commencing postgraduate studies at the University of London (Birkbeck College) in England.
Sara's doctoral thesis, completed in 2007, examined the legal regulation of jazz musicians in New York City (1940-1967) through the lens of poststructural theory informed by feminism, critical race theory and critical improvisation studies. During the 2008-9 academic year, Sara was a Postdoctoral Fellow with the Improvisation, Community and Social Practice (ICASP) project in Montreal. Her monograph, Justice as Improvisation: The Law of the Extempore, published by Routledge in 2013, was nominated for the 2014 Socio-Legal Studies Association (SLSA) Hart Book Prize. 
More recently, Sara was the principal investigator of a large UK Arts and Humanities Research Council (AHRC)-funded project, entitled Into the Key of Law: Transposing Musical Improvisation. The Case of Child Protection in Northern Ireland. Sara has published widely in numerous international journals and given invited talks throughout the Commonwealth and beyond. She has also held Visiting Fellowships at the Sonic Arts Research Centre (Queen's University Belfast), the Institute for International Law and the Humanities (Melbourne Law School) and the Center for Globalization and Cultural Studies (University of Manitoba).
Sara sits on the editorial boards of the Australian Feminist Law Journal (AFLJ), Law & Critique, and Counterpress (UK). She is a former editorial board member of Feminist Legal Studies and the ICASP Website. Sara co-leads the Translating Improvisation Research Group(QUB) and is a member of Science, Culture and the Law at Exeter (SCuLE, UK), the AHRC Legal Materiality Research Network (UK), and the Listening Network: Cultures of Listening in Research and Practice (Open University, UK) [http://fass.open.ac.uk/research/projects/listening-network]. Sara is also a member of the AHRC Peer Review College (UK). 
Sara would welcome students wishing to pursue postgraduate studies in the following areas: arts-based approaches to law; law and the humanities; family law; feminist/intersectional legal theory; improvisation and the law; music and the law; human rights; critical legal studies; critical contract law; and poststructural legal theory. 
BA (Hons) – U of T (1991)
LLB – UBC (1994)
LLM – UBC (1998)
PhD – U of London (Birkbeck) (2007)
PGCHET – QUB (2008)
Read all of Sara's publications on her SSRN author page.
Monographs
Justice as Improvisation: The Law of the Extempore (London: Routledge, 2013). Nominated for the Socio-Legal Studies Association (SLSA) Hart Book Prize 2014.
Peer-reviewed Articles
(With Adnan Marquez-Borbon and Seamus Mulholland) 'Hydra: A Creative Tool for Critical Legal Advocacy and Ethics' (2017) 12(1) Critical Studies in Improvisation. Open Access . Online.
'The Paradox of Performative Immediacy: Law, Music, Improvisation', Law, Culture and the Humanities (Published online before print August 16, 2013).
'Improvising (Il)legality: Justice and the Irish Diaspora, NYC, 1930-1932' (2013) 3(1) Irish Journal of Legal Studies 90-121 (Special Issue on Irish Approaches to Justice).
'Deconstructin(g) Jazz Improvisation: Derrida and the Law of the Singular Event', (2006) 2(1) Critical Studies in Improvisation. Open Access. Online.
Refereed Book Chapters
(With Paul Stapleton) 'From Pre-Peace to Post-Conflict: The Ethics of (Non-) Listening and Cocreation in a Divided Society' in Daniel Fischlin and Eric Porter, eds., Sound Changes: Improvisation, Social Practice, and Cultural Difference, Volume Two (Duke University Press, forthcoming 2017).
'Commentary on Family Planning Association of Northern Ireland v The Minister for Health, Social Services and Public Safety' in Aoife O'Donoghue, Julie McCandless and Mairead Enright, eds., Northern/Irish Feminist Judgments (Hart Publishing, 2016), Chapter 21.
(With Paul Stapleton) 'Un-remembering: Countering Law's Archive. Improvisation as Social Practice' in Stewart Motha and Honni van Rijswijk, eds., Law, Violence, Memory: Uncovering the Counter-Archive (Routledge, 2015) 50-69.
Edited Collections/Special Issues
(With Paul Stapleton) Editor, Special Issue, Just Improvisation: Enriching law through musical techniques, discourses and pedagogies (2017) 12(1) Critical Studies in Improvisation. Open Access . Online.
Book Reviews
Review of Sonu Bedi, Beyond Race, Sex, and Sexual Orientation: Legal Equality Without Identity (Cambridge University Press, 2013) (2014) The Irish Jurist 174-176.
Other
(With Paul Stapleton) 'Just Improvisation' (2017) 12(1) Critical Studies in Improvisation. Open Access . Online.
(With Seamus Mulholland) 'The Improvising Judge: An Interview with Her Honour Judge Patricia Smyth, Northern Ireland County Court' (2017) 12(1) Critical Studies in Improvisation. Open Access. Online.
Other - policy documents
(With Science, Culture and Law at Exeter (SCuLE) Research Group). Contribution to the University of Exeter's response to the Higher Education Funding Council for England (HEFCE) Research Excellence Framework (REF) Consultation. Submitted: 8 February 2017.
(With Paul Stapleton, Adnan Marquez-Borbon, Kathryn McNeilly and Seamus Mulholland). Submission in response to the call by the Lord Chief Justice of Northern Ireland for a Review of Civil and Family Justice. Submitted: 16 December 2016.