Hank Intven
Adjunct professor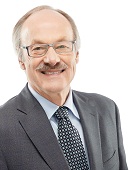 Hank Intven 
Tel: 250-896-2698 
Faculty of Law
University of Victoria
PO Box 1700, STN CSC
Victoria, BC   V8W 2Y2
Map 

Hank Intven practiced law in telecommunications, broadcasting and Internet-related areas for over 30 years. During that time he played a role in major regulatory, policy and business developments in Canada and internationally.
From 1988 to 2013, Intven was a partner in the Toronto office of McCarthy Tétrault LLP, where he led the firm's Communications Practice Group. Prior to that he was Executive Director of Telecommunications at the Canadian Radio-television and Telecommunications Commission (CRTC). He was the main external advisor to the Government of Canada in the preparation of the 1993 Telecommunications Act and was one of three members of the Federal Government's Telecom Policy Review Panel in 2006.
He has been president of the Canadian chapter of the International Institute of Communications, and is on the international board of directors for that organization.
In the course of his law practice, Intven represented telecommunications carriers, ISPs, broadcasting companies and many new entrants into the communications industry, as well as consumer and other public interest groups. He also advised regulators, governments, international financial institutions (including The World Bank and the EBRD), the International Telecommunications Union (ITU), and investors and other clients with an interest in the communications industry.
While most of his work has focussed on Canada, Intven has also worked on telecommunications regulatory and business matters in more than 25 other countries.
Intven has written and edited a number of texts on telecommunications law and regulation, including the Canadian Telecommunications Regulatory Handbook (latest edition 2017), and the International Telecommunications Regulation Handbook (2001) which has been published in 6 languages and distributed globally.