Maneesha Deckha
Professor
Lansdowne Chair in Law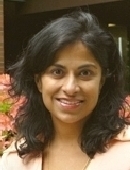 Maneesha Deckha
Tel: 250-721-8175
Fax: 250-721-8146

Faculty of Law
University of Victoria
PO Box 1700, STN CSC
Victoria, BC  V8W 2Y2
Map
Professor Deckha graduated with her BA (Joint Honours in Anthropology and Political Science, minor in Women's Studies) from McGill University in 1995 and her LLB from the University of Toronto in 1998. She joined the Faculty of Law as an Assistant Professor in 2002, after practising at the Ministry of the Attorney General in Toronto and completing her LLM at Columbia University. She is currently Professor and Lansdowne Chair at the Faculty of Law as well as Director of the Graduate Program. She also directs the Animals & Society Research Initiative at the University of Victoria.
Professor Deckha's research interests include critical animal studies and animal law, feminist analysis of law, socio-legal studies in general, and health law and bioethics. Her work has been published in Canada in the Alberta Law Review, the Canadian Journal of Women and the Law, the Canadian Legal Education Annual Review, the McGill Journal of Law and Health, the McGill Law Journal, the Osgoode Hall Law Journal, the Ottawa Law Review, and the UBC Law Review. Her scholarship has also appeared internationally in the Animal Law Review, the Cardozo Journal of International and Comparative Law, Journal of Animal Law and Ethics, Medical Law Review, Harvard Journal of Gender and Law, Hastings Women's Law Journal, UCLA Women's Law Journal, Stanford Journal of Animal Law and Policy, Unbound: The Harvard Journal of the Legal Left, and the Wisconsin Journal of Law, Gender & Society. Outside of law reviews, she has published in leading academic journals including American Quarterly, Hypatia, Sexualities, and Ethics and the Environment, among other publications. Professor Deckha has also contributed to numerous anthologies relating to animal law, animal studies, feminism, cultural pluralism and health law and policy.
Professor Deckha is the recipient of grants from the Canadian Institutes of Health Research, the Social Sciences and Humanities Research Council, and the Canada-U.S. Fulbright Program. She has delivered over one hundred papers in Canada and abroad and has served as referee for over 60 law review, socio-legal and feminist journals in Australia, Canada, the United States and the United Kingdom. Professor Deckha has also served as reviewer and on review committees in other capacities, including most recently for the Social Sciences and Humanities Research Council.
She has taught an array of critical theory and public law courses, including Animals, Culture and the Law and Administrative Law. She has been the recipient of the Faculty's Terry J. Wuester Teaching Award and a University of Victoria Learning and Teaching Centre Grant in support of her interactive pedagogy. Professor Deckha's seminar on Animals, Culture and the Law received the U.S. Humane Society's Animal and Society New Course Award when it was first offered. She supervises graduate students in the fields of animal law and critical animal studies, health law, bioethics, feminist analysis of law, and postcolonial and critical race theory. She invites prospective graduate students who wish to research in these areas or at the intersections of socio-legal theory and public law in general to contact her.
Professor Deckha was promoted to Associate Professor in 2008 and Full Professor in 2016. From 2009 to 2011, she served as the Chair of the University of Victoria's Academic Women Caucus. She is also a Research Affiliate with the Institute on Aging and Lifelong Health at the University. In 2017, Professor Deckha co-founded the community-engaged Animals & Society Research Initiative at the University of Victoria. In addition to her appointment at the University of Victoria, she has held the Fulbright Visiting Chair in Law and Society at New York University, and has been appointed as a Scholar-in-Residence at Seattle University School of Law and a Visiting Scholar at the Hastings Institute for Bioethics. She is currently a Global Affiliated Faculty member, Vulnerability and the Human Condition Initiative, Emory Law School in Atlanta as well as a fellow with the Brooks Animal Studies Academic Network. She currently serves on the editorial boards of Hypatia and Politics and Animals.
BA First Class Joint Honours – McGill (1995)
LLB – University of Toronto  (1998)
LLM – Columbia Law School (2002)
Access Maneesha's research online from her academia.edu site or through the Social Science Research Network.
Forthcoming
The Save Movement and Farmed Animal Suffering: The Advocacy Benefits of Bearing Witness as a Template for Law (2019) (forthcoming in the Canadian Journal of Constitutional and Comparative Law)

"Constitutional Protections for Animals: A Comparative Animal-Centered and Postcolonial Reading" (forthcoming in Chloë Taylor and Kelly Struthers Montford, eds, Decolonizing Critical Animal Studies, Brill, 2019).
Book Chapters
Maneesha Deckha, "Justice and Nonviolence" in Samantha King et al, eds, Messy Eating: Conversations on Animals as Food (New York: Fordham University Press, 2019), 84-98 (transcription of interview).
"Postcolonial" in Lori Gruen, ed, Critical Terms for Animal Studies (Chicago: University of Chicago Press, 2018).
"Humanizing the Nonhuman: A Legitimate Way for Animals to Escape Juridical Property Status?" in John Sorenson and Atsuko Matsuoka, eds, Critical Animal Studies: Toward a Trans-Species Social Justice (London: Rowman & Littlefield, 2018), 209-233.
"Is Multiculturalism Good for animals?" in Luis Cordeiro Rodrigues and Les Mitchell, eds, Multiculturalism, Race and Animals - Contemporary Moral and Political Debates (London: Palgrave, 2017) 61-93.
"Critical Animal Studies and the Property Debate in Animal Law" in Jodey Castricano and Lauren Corman, eds, Animal Subjects 2.0: An Ethical Reader in a Posthuman World, Wilfrid Laurier Press, 2016.
"Postcolonial Feminism: Liberal Feminism's (Humanist) "Sister"? in Ashleigh Barnes, ed, Feminisms of Discontent: Global Contestations (Oxford University Press, 2015), 173-193.
"Charities, Animals and Social Change: Charting a more Charitable Approach to Animal Advocacy" (co-authored with Sarah Runyon) in Peter Sankoff et al, eds, Canadian Perspectives on Animals and the Law (Toronto: Irwin Law, 2015), 239-275.
Review Essays, Book reviews
Article Review: Maneesha Deckha, Bearing Witness as Researchers in the Pursuit of Equality, JOTWELL (May 9, 2019) (reviewing Kathryn Gillespie, The Cow with Eartag #1389 (2019)), https://equality.jotwell.com/bearing-witness-as-researchers-in-the-pursuit-of-equality/.
Film Review: "Dominion and The Ghosts in our Machine" (2019) 9:1 Films for the Feminist Classroom, online: http://ffc.twu.edu/issue_9-1/rev_Deckha_9-1.html.
Book Review: Constance Backhouse, Claire L'Heureux-Dubé: A Life (2018) 56:1 Alberta Law Review 263-274 (one of nine co-authors).
Article Review: "Milk's Global Rise: A Case Study to Illuminate the Transspecies Violence of Law and Colonialism" (2018) JOTWELL, reviewing Mathilde Cohen, Animal Colonialism: The Case of Milk, 111 Am. J. Int'l L. Unbound 267, available online https://equality.jotwell.com.
Book Review: Yoriko Otomo & Ed Mussawir, eds, Law and the Question of the Animal: A Critical Jurisprudence (2014) 23:1 Social & Legal Studies 137-141.
Review Essay: "Personhood and Animal Law" (2014) 1:14 Figurationen 27-29.
Articles
"Reflections of a Postcolonial Feminist Animal Law Professor" (2019) Animal Law Review
"The "Pig Trial" Decision: The Save Movement, Legal Mischief, and the Legal Invisibilization of Farmed Animal Suffering" (2018) 50:1 Ottawa Law Review 65-98.
"A Missed Opportunity: Affirming the Section 15 Equality Argument against Physician-Assisted Death" (2016) 10:1 McGill Journal of Law and Health 69-121.
"Recasting Our "Wild" Neighbours: Toward an Egalitarian Legal Approach to Urban Wildlife Conflicts" (co-authored with Erin Pritchard) (2016) 49:1 UBC Law Review 161-202.
"Situating Canada's Commercial Surrogacy Ban in a Transnational Context: A Postcolonial Feminist Call for Legalization and Public Funding" (2016) 61:1 McGill Law Journal 31-86.
"Vulnerability, Equality, and Animals" (2015) 27:1 Canadian Journal of Women and the Law 47-70.
Administrative Law
Animals, Culture and the Law
Bioethics, Personhood and the Law
Feminist Legal Theories
Health Law
Law, Legislation and Policy
Legal Process