Kathryn Chan
Assistant professor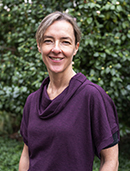 Kathryn Chan
Tel: 250-721-8163
Fax: 250-472-8146

Faculty of Law
University of Victoria
PO Box 1700, STN CSC
Victoria, BC  V8W 2Y2
Map
Kathryn Chan is an Assistant Professor of Law at the Faculty of Law, University of Victoria, where she teaches Constitutional Law, Administrative Law, and Non-profit Sector Law.  Kathryn has published in the areas of charity and non-profit sector law, administrative regulation, religious freedom, comparative law, and human rights and legal pluralism.  In 2015, she received the Scholarly Paper Award from the Canadian Association of Law Teachers for her article entitled "The Co-optation of Charitable Resources by Threatened Welfare States."  Her first book, The Public-Private Nature of Charity Law, will be published by Hart Bloomsbury in 2016.
Prior to joining the University of Victoria, Kathryn practiced law at a boutique firm in Vancouver that provides strategic, legal, and operational advice to persons involved in the voluntary sector. Between 2009 and 2013, she carried out comparative law research on the regulation of charities at the University of Oxford as a Trudeau Scholar. She has also been an executive member of the provincial and national branches of the Canadian Bar Association Charities and Not-for-Profit Law Subsection.
BMus (Honours) – McGill (1999)
JD – Toronto (2001)
LLM (Honours) – McGill (2006)
DPhil (Oxon) – 2014
Access Kathryn's publications through the Social Science Research Network (SSRN).
Books, Chapters, Monographs
Kathryn Chan, The Public-Private Nature of Charity Law (Hart Bloomsbury, forthcoming October 2016)

Kathryn Chan, "The Advancement of Religion as a Charitable Purpose in an Age of Religious Neutrality" (under review as part of an edited book proposal to Cambridge University Press)

Kathryn Chan, "Not-for-Profit Law, Public Law and Private Law" in Matthew Harding, ed., Research Handbook on Not-for-Profit Law (forthcoming Edward Elgar)
Journal Articles
Kathryn Chan, "Identifying the Institutional Religious Freedom Claimant" (2017) 95 Canadian Bar Review (forthcoming)
Kathryn Chan, "Charity and Justice: a conversation with women of faith serving marginalized populations in British Columbia" (2018) Journal of Religious Studies and Theology (forthcoming)
Kathryn Chan, "The Perils of Federalizing the Private Law: a Case Study of the Income Tax Act Gift Concept" (2017) UBC Law Review (forthcoming)
Kathryn Chan, "The Advancement of Religion as a Charitable Purpose in an Age of Religious Neutrality" (2017) 6:1 Oxford Journal of Law and Religion 112.
Kathryn Chan, "The Function (or Malfunction) of Equity in the Charity Law of Canada's Federal Courts" (2016) 2 Canadian Journal of Comparative and Contemporary Law 33
Kathryn Chan, "The Co-optation of Charitable Resources by Threatened Welfare States" (2015) 40:2 Queen's Law Journal 561
***awarded the 2015 Scholarly Paper Award of the Canadian Association of Law Teachers
Kathryn Chan, "The Role of the Attorney General in charity proceedings in Canada and in England and Wales" (2011) 89:2 Canadian Bar Review 373
Kathryn Chan, "Charitable according to whom?: The clash between Quebec's societal values and the law governing the registration of charities" (2008) 49 Les Cahiers de Droit 277
Kathryn Chan, "Taxing Charities/Imposer les Organismes de Bienfaisance: Harmonization and Dissonance in Canadian Charity Law" (2007) 55:3 Canadian Tax Journal 481
Kathryn Bromley Chan, "The Dueling Narratives of Religious Freedom: a comment on Syndicat Northcrest v. Amselem" (2005) 43:2 Alberta Law Review 451
Kathryn Bromley Chan, "From Legal Universalism to Legal Pluralism: expanding and enhancing the human rights approach to HIV/AIDS" (2005) 21: 2 South African Journal of Human Rights 191
Kathryn Bromley, "The Definition of Religion in Charity Law in the Age of Fundamental Human Rights" (2001) 7:1 Charity Law and Practice Review 39, (2000) 3:1 The International Journal for Not-for-Profit Law, and (2001) 16 The Philanthropist 2 and 3
Popular Press
Constitutional law - LAW 100
Legal process - LAW 106
Administrative law - LAW 301
Voluntary sector and the law (charities) - LAW 343
Law and Religion - LAW 379