Elementary Bachelor of Education (BEd)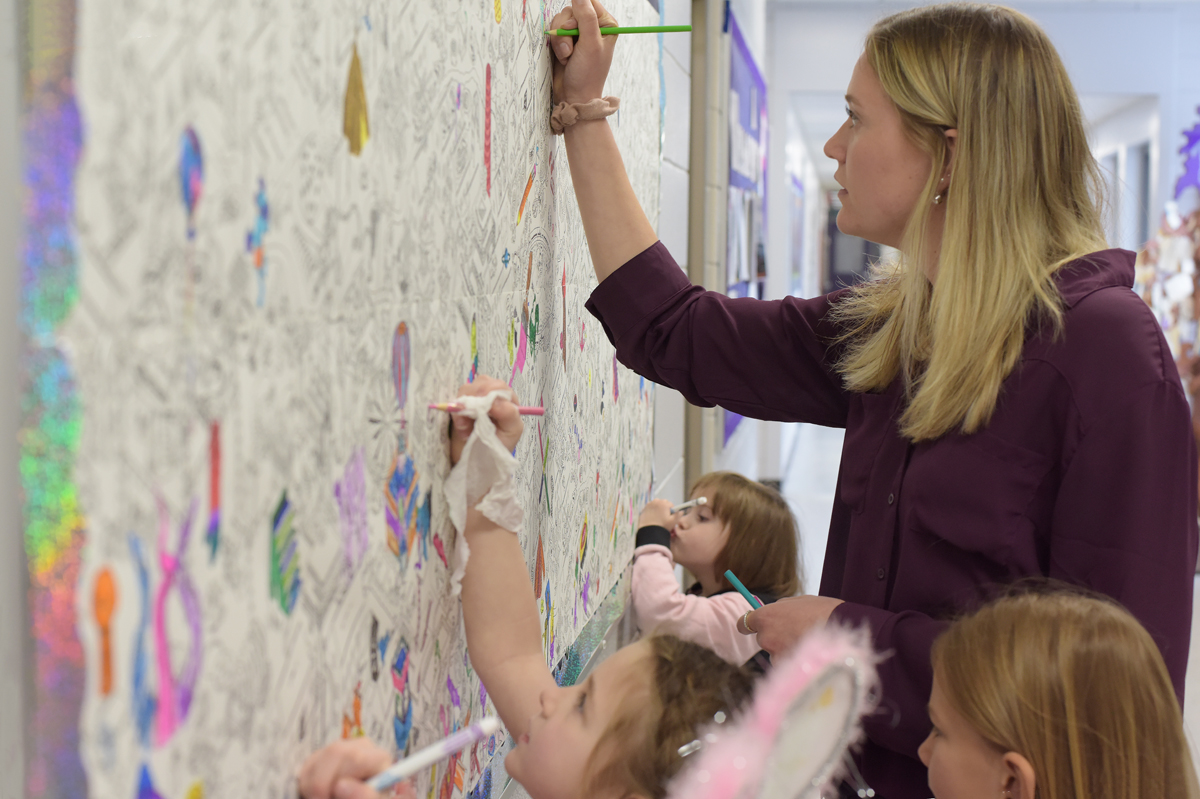 Program Snapshot
Full-time four-year program
September entry to year one or two
Embedded in local classrooms for weekly full days in the first term 
Three practicum placements in elementary or middle schools
Application deadline: February 28
About our program
Are you motivated to be a transformative force in children's lives? Are you dedicated to teaching and learning? 
Through school-based hands-on learning experiences early on in your degree, diverse course options with integrated teaching on Indigenous ways of knowing and learning, and small, group-based structure, our program will help you become an engaging, inspiring, and forward-thinking teacher, ready to make a difference. 
The Faculty of Education is committed to increasing the number of First Nations, Metis and Inuit teachers, and has reserved 5% of the placements in teacher education programs for applicants who meet the Faculty of Education's admission requirements
Year one (UVic or elsewhere)
In year one, you'll study English, Canadian studies, mathematics and laboratory science. Two elective courses from a wide selection of academic subjects are also required. While the electives are normally taken in year one, you may take them in a summer session following year one, two or three. You must complete the electives before beginning year four. 
Years two to four (full time at UVic or at College of the Rockies)
The core teacher education courses and practica are offered over three academic years (September to May). The courses introduce the full range of subjects taught in an elementary classroom (kindergarten to grade seven). To learn what you'll study in years two, three and four, refer to the program outlined in the UVic calendar.
Program delivery - Elementary BEd
September - April (Year 1)
Pre-requisites
15.0 units
September - May (Year 2)
Courses + 3-week paired practicum
18.0 units
September - May (Year 3)
Courses + 6-week practicum
16.5 units
September - April  (Year 4)
Courses + 9-week practicum 
12.0 units
French immersion opportunities: Contact Education Advising or the Teacher Education Office for more information.
Certifying process
Upon completion of this program, you will receive a Bachelor of Education (BEd) degree and will be eligible to apply for a BC teaching certificate. 
Application deadline: February 28
Apply to year one if you are a current or graduated high school student. The GPA cut-off for year one is high

and fluctuates annually depending on applicants. It has recently been between 85 - 90%

. If you aren't selected for year one entry you may, instead, complete year one courses at UVic in another faculty or at another post-secondary institution and then apply to year two.
---
Apply to year two if, by April 30, you will complete the specified courses described (i.e. at least eight half-year, university-level courses - see "Year one requirements: courses, competencies, GPA, and deadlines").
NOTE: To complete these year one course requirements at UVic, please apply for the Humanities or Social Sciences Faculty (area of study: pre-education).
Application instructions year two (September 2020) 
Indigenous applicants, please take note of the additional information provided in the 2020 application instructions document.
You'll take these courses as a first year student in UVic's Faculty of Education, in another faculty at UVic, or at another university or college.
The courses and competencies listed here must be completed by April 30:
3.0 units1 approved English, and
demonstrated competency in written English2, and
3.0 units approved Canadian studies, and
3.0 units approved mathematics3 with a C+ average, and
3.0 units approved laboratory science3, and
3.0 units approved academic electives4,5, and
a minimum sessional average of 3.00/9-point scale (UVic C+). If your most recent session is fewer than 12.0 units, you must have a grade-point average of at least 3.00 on a 9-point scale (equivalent to UVic's C+ grade) on your most recent consecutive 12.0 units.6
Notes:
3.0 UVic units are equivalent to two, half-year courses or 6 credits at most BC colleges and universities.
A minimum C+ grade in each of two approved English courses.
Mathematics and laboratory science courses must be completed within ten years of entry to year two.
Choose from subjects related to those taught in BC schools such as art, computer science, French, geography or physics. Courses from professional programs such as child and youth care, education and social work are not normally approved. Consult an Education adviser.
The electives are normally taken in year one but may be taken in a summer session following year one, two or three. The electives must be completed before entry to year four.
Learn how a GPA is calculated at UVic.
English and written English competency
Select two from:
ENGL 135 University Writing or Academic Reading and Writing or ENGL 215 The Writing of Expository Prose
ENGL 146 The Literature of Our Era
ENGL 147 Great Moments in English Literature
ENGL 200A English Literature to 1660
ENGL 200B English Literature, 1660-1800
ENGL 200C English Literature, 1800-1914
ENGL 201 Introduction to Modernist Literature
ENGL 202 Introduction to Canadian Literature
ENGL 203 Introduction to American Literature
ENGL 207 Introduction to Cultural Studies
ENGL 208 Introduction to Women's Writing
ENGL 209 Foundations of Literary Criticism
ENGL 260 The Bible as Literature
Written English competency
This will be satisfied with a grade of C+ or higher in each of two approved English courses.  Consult an Education adviser if you've completed any English course with less than a C+ grade.
Notes:
We can't accept technical or creative writing courses.
We can't accept 3.0 units of English composition.
Consult an Education adviser before taking a 'special topics' course. The adviser will need to see a course description or outline.
Consult an Education adviser if you have any questions regarding the English requirements.
Canadian studies
We accept courses that focus on the Canadian experience and cover topics taught in the BC elementary social studies curriculum.
Select two from:
CS 102 Introduction to Canadian Contemporary Issues
CS 201 Issues and Ideas in Canadian Environmentalism
ECON 100 The Canadian Economy - Problems and Policies
HSTR 230A Canada to Confederation
HSTR 230B Canada from Confederation - present  
IS 201 Introduction to Indigenous Studies
POLI 101 Canadian Politics
POLI 201 Canadian Institutions of Government
SOCI 103 Canadian Society
Notes:
We won't accept Canadian literature, art history courses or CS 101.
We normally won't accept courses that study one region or province of Canada.
Mathematics
Select two from:
MATH 100 Calculus I or MATH 102 Calculus for Students in the Social and Biological Sciences or MATH 109 Introduction to Calculus
MATH 101 Calculus II
MATH 151 Finite Mathematics
MATH 161 Mathematics for Elementary School Teachers I 
MATH 162 Mathematics for Elementary School Teachers II
Mathematics competency
This will be satisfied with a C+ average on two approved mathematics courses (UVic 3.00/9-point scale).
Notes:
We recommend MATH 161 and 162.
We won't accept UVic's MATH 120 Pre-calculus.
We won't accept statistics courses from computer science, economics, psychology or sociology.
Consult an Education adviser if you've completed a statistics course from a mathematics department.
We won't accept any math courses completed more than ten years ago.
Laboratory science
We suggest that you choose courses from two subjects to develop a more comprehensive science background. You'll teach all science subjects in your elementary classroom. The courses you take must include a laboratory component because elementary teachers are encouraged to take a field-based, hands-on approach to teaching sciences. Science courses that average at least 1.5 hours of lab time a week are acceptable but we prefer those that have at least 3 hours of lab time each week. 
Choose two from:
ASTR 101 Exploring the Night Sky
ASTR 102 Exploring the Cosmos
BIOL 184 (formerly BIOL 190B) Evolution and Biodiversity
BIOL 186 (formerly BIOL 190A) Physiology and Cell Biology
CHEM 101 Properties of Materials
CHEM 102 Environmental and Physical Chemistry
EOS 110 Oceans and Atmosphere
EOS 120 The Dynamic Earth1
GEOG 103 Introduction to Physical Geography2
PHYS 102A General Physics I
PHYS 102B General Physics II
PHYS 120 Physics I
Notes:
Each year, the School of Earth and Ocean Sciences reserves an EOS 120 lab section for prospective elementary teachers. Registration is by permission. Questions regarding SEOS courses and labs can be directed to

seos@uvic.ca

or (250) 472-5133.
Consult an adviser if you want to take GEOG 103 but have already taken EOS 110 or 120.
Please consult an Education adviser if you took a human anatomy or physiolgy course elsewhere.
Social Science department courses, such as psychology, are not accepted in lieu of science courses.
Physical geography courses are the only social science courses that will be accepted as science. UVic's GEOG 103, for example.
We won't accept any laboratory science course completed more than ten years ago.
Academic electives
These electives must be related to topics taught in BC schools. Most students take the electives in year one, but you may complete them in the summer session following years one, two or three. The academic electives must be completed before entering year four.
Tips!
Additional Canadian studies, English, and/or laboratory science may be taken as academic electives.
We suggest you take one or more French courses because you'll teach French in your classroom. The BEd program includes EDCI 469 Teaching Oral French. University French is not a prerequisite to EDCI 469.
We can't accept courses from professional programs such as child and youth care, social work, and teacher education.

For example, 

do not take

 AE 103A, AE 103B, ED-D 101, EPHE 143, or MUS 131. The following education courses are the exception to the rule:  EPHE 141 Human Anatomy, EPHE 142 Personal Health, Wellness and Potential,  and EPHE 155 Introduction to Nutrition: Concept and Controversies.

Check with an adviser in the Faculty of Education if unsure about your choices.
Select electives from the following subjects. Choose courses having topics related to those taught in BC schools.

If you're taking courses at a college or university in British Columbia, check the list of post-secondary institutions below. You may find an information handout for the college or university you'll be attending that lists approved year one courses.
If we haven't prepared an advising sheet for the college or university you're attending, then:
Select courses that you think can be used to satisfy year one requirements. 
If you are attending a BC post-secondary institution, use the BC transfer guide to find out if the courses transfer to UVic.
Send your course selection to the Education Advising Office at MacLaurin.  An adviser will review your course selection and let you know if your courses are approved.
In addition to the required courses, you'll be asked to provide evidence of your experience, ability, and interest in working with children in educative ways in the form of a statement of intent, résumé of related experience and reference forms.
You'll need a minimum of 75 hours of practical experience working with groups of children or youth at the age level you wish to teach (ages 5 - 12 for elementary). It can be a total of various experiences put together. A substantial number of relevant experience hours is generally favourable for your application, as admission is competitive, and, in the event of a GPA tie, we will use experience to determine the successful candidate. Although we consider all relevant experiences, we strongly recommend current experiences within the last five years, preferably some within the last two years.
Typical experiences for applicants include:
coaching team sports
working as a summer camp counsellor
leading summer programming for youth
group tutoring
working with church groups or other youth groups
working in after school programs
working in school classrooms as a volunteer or assistant
Experience in international settings is valuable, but we also recommend experience in domestic settings. A variety of experiences is encouraged to better prepare for the program. If you wish to pursue volunteer opportunities, go to the Volunteer Victoria website or a volunteer association in your area.
Please note that babysitting, caregiving, and parenting, while worthwhile, will not be considered as evidence of meeting the experience requirement.
A.
Statement of intent (400-500 words, typed)

This statement needs to address the following: 
why you wish to become a teacher, 
how your life experiences (employment, volunteer activities, work with diverse groups of children or youth, special skills or talents, leadership roles) are relevant to teaching, and 
why you think these experiences are appropriate preparation for a career in teaching.
B.
Resume of related experience

Include your full name, UVic student number (if you have one), the name of this program and a summary of related paid or unpaid experience (list most recent experience first). The summary of each experience should include: start and end date, name of workplace/organization, brief description of what you did, and the total number of hours spent working directly with children or youth. List any relevant skills, certificates, etc.
C.
Reference forms (two)

The reference forms must be from people who have observed you working with groups of children/youth in educative ways. They cannot be completed by a relative, friend, co-worker or a person you have supervised.  Referees must use the form provided; reference letters are not acceptable. References must meet the above criteria or your application will be considered incomplete and ineligible.
We are reviewing our selection criteria for the September 2021 intake
---
For September 2020 entry, admission is based primarily on GPA as long as the experience requirements are met.
Conditional admission based on academic requirements: Applicants who apply, submit all transcipts, submit all other required items, and satisfy all academic requirements by the published deadlines will be ranked by their 12-unit grade point average and selected to the program (offered conditional admission) starting with the highest GPA until all the program seats are filled.
The 12-unit/sessional GPA is calculated on the most recent sessional CPA at April 30, 2020. If the most recent session is fewer than 12 units, previous session(s) averages will be included until a total of 12 units is reached. 
12 UVic units is equivalent to 8 typical, half-year courses. 
While the minimum required GPA is 3.00 (9-point scale, UVic C+), admission is competitive and the actual GPA cut-off may be higher. 
The number of seats available for new-to-faculty, year two applicants will depend on the number of year-one elementary education students eligible to progress to year two. That number won't be known until May. 
 Admission confirmed based on experience requirement: Applicants offered conditional admission as above must satisfy the Teacher Education Office's experience requirement in order for their offer of admission to be confirmed. (See "Experience Requirement" above.). Note: Only applicants who have been conditionally admitted will have their experience requirement reviewed.