HSD A170 – Teaching lab/drop-in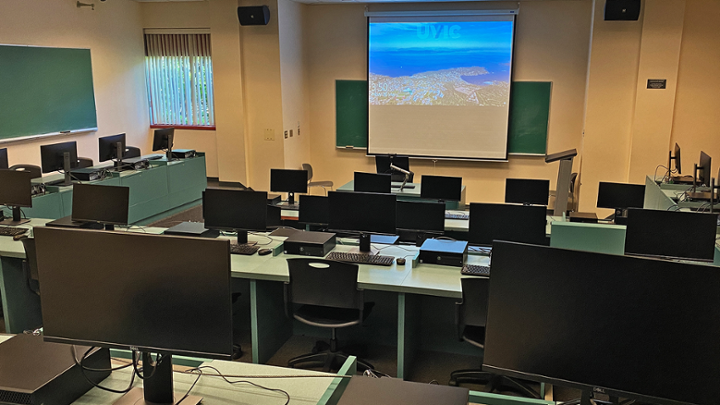 Lab details
Room type: Teaching lab/drop-in
System type: Windows
Mon-Fri: 8:30am-4pm
Sat-Sun: Closed
Holidays: Closed
Capacity: 32
Availability:
Location
Accessibility information
This room is located on the basement level with elevator access from the HSD building lobby. The elevator gives you access to the door on the far side of the drop-in lab.
The instructor station and the central group of student stations are located three steps down from floor level. There is one computer with an electric height-adjustable desk.
What's in this lab
Instructor station set-up for lecture capture with webcam
Standard classroom video data projector and speakers
Chalkboards on multiple walls
Printing is available in black-and-white.
Software
The software installed in this lab can change throughout the semester.
7Edit 2
ACDLABS 12.0
Adobe Acrobat Reader DC Win
Apache Log4j VULNERABLE jars
Beyond 20/20 Professional Browser 7 Win
ChemDraw Prime 22.0 Win
Cisco AnyConnect Secure Mobility Client 4 Win
Cyberduck 8 Win
EPI Info 7 Win
GIMP 2 Win
Google Chrome 119 Win
Google Earth 7 Win
HLM Student Edition 7
Handbrake 1
IBM Global Security Toolkit 8
IBM SPSS Amos 29 Win
IBM SPSS Statistics Premium 28 Win
IHS EViews 13 Win
ImageJ/Fiji
KeyVerify
MATLAB 2022b Win
Maple 2015 Win
Mercury
MiKTeX Console 4 Win
Microsoft Edge 119 Win
Microsoft Office 365 University 2016 Win
Microsoft Power BI Desktop
Notepad++
PaperCut NG Client 22 Win
Praat 6 Win
R Statistical Computing 4 Win
Respondus LockDown Browser 2 Win
SAS Base SAS 9 Win
SAS Enterprise Guide 7 Win
Stata/BE 17 Win
Stata/SE 17 Win
VideoLAN VLC Player 3 Win
Visual Studio Code 1
Zotero 6 Win
calibre 5
Booking
This room is available for instructor and staff bookings. Please note that academic courses are given priority. For more information about academic and non-academic bookings, see our teaching lab booking page.
Support
If you're having problems with lab equipment, software, or the space, please see a staff member at the HSD A140 support desk.
You can also contact us for help with any questions about UVic technology, services, or accounts.