Clearihue A035 – Teaching lab/drop-in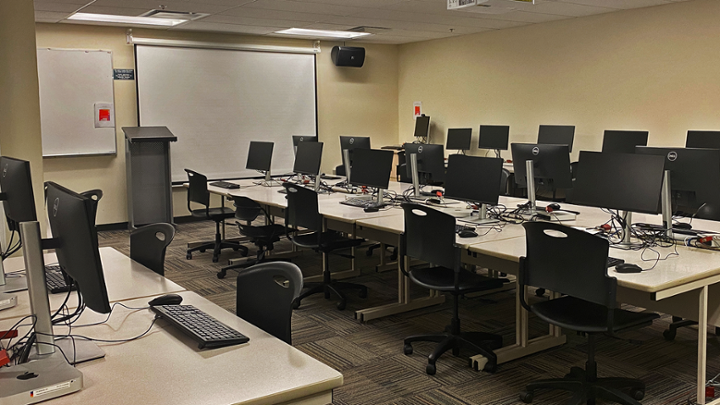 Lab details
Room type: Teaching lab/drop-in
System type: Mac OS
Mon-Fri: 8:30am-6pm
Sat-Sun: Closed
Holidays: Closed
Capacity: 36
Availability:
Location
Accessibility information
This room is located on the basement level with elevator access from the Clearihue building A-wing lobby. The staff at the Clearihue A112 support desk can help you navigate through the basement.
What's in this lab
Instructor station set-up for lecture capture with webcam
Standard classroom video data projector and speakers
Whiteboard
Podium
Printing is available in black-and-white and colour. The colour printer is in the Clearihue upper floor lab.
Software
The software installed in this lab can change throughout the semester.
Adobe Acrobat Reader DC Mac
Apple GarageBand 10
Apple Keynote 12
Apple Numbers 12
Apple Pages 12
Apple iMovie '13
Audacity 2.4 Mac
Cyberduck 8 Mac
FaceTime 5 Mac
GIMP 2 Mac
Google Chrome 100 Mac
Google Earth 7 Mac
JAMF Casper Suite 10 Mac
KeyVerify
Microsoft Office for Mac 2021
Microsoft Teams 1 Mac
OBS Studio 27 Mac
PaperCut MF Client 19 Mac
Praat 6 Mac
R Statistical Computing 4 Mac
RStudio
Safari 15 Mac
VideoLan VLC Player 3 Mac
Visual Studio Code
Booking
This room is available for instructor and staff bookings. Please note that academic courses are given priority. For more information about academic and non-academic bookings, see our teaching lab booking page.
Support
If you're having problems with lab equipment, software, or the space, please see a staff member at the Clearihue A025 support desk.
You can also contact us for help with any questions about UVic technology, services, or accounts.