Clearihue A031 – Teaching lab/drop-in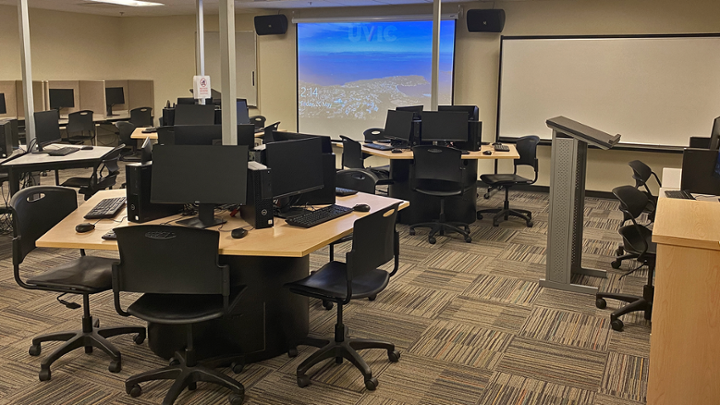 Lab details
Room type: Teaching lab/drop-in
System type: Windows
Mon-Fri: 8:30am-6pm
Sat-Sun: Closed
Holidays: Closed
Capacity: 36
Availability:
Location
Accessibility information
This room is located on the basement level with elevator access from the Clearihue building A-wing lobby. The staff at the Clearihue A112 support desk can help you navigate through the basement.
There is one computer with an electric height-adjustable desk.
What's in this lab
Instructor station set-up for lecture capture with webcam
Standard classroom video data projector and speakers
Whiteboards around the room
Podium
Printing is available in black-and-white and colour. The colour printer is in the Clearihue upper floor lab.
Software
The software installed in this lab can change throughout the semester.
7Edit 2
ACDLABS 12.0
Adobe Acrobat Reader DC Win
Adobe Digital Editions 4 Win
Apache Log4j VULNERABLE jars
Audacity 2.4 Win
Beyond 20/20 Professional Browser 7 Win
BioEdit
ChemDraw Pro 18.0 Win
Cisco AnyConnect Secure Mobility Client 4 Win
Cn3D 4
Cyberduck 8 Win
Dynare
ELAN 6 Win
EPI Info 7 Win
Echo360 Universal Capture 6 Win
FieldWorks Language Explorer
GAMS 36 Win
GIMP 2 Win
Google Chrome 116 Win
Google Earth 7 Win
HLM Student Edition 7
Handbrake 1
IBM Global Security Toolkit 8
IBM SPSS Amos 29 Win
IBM SPSS Statistics Premium 28 Win
IHS EViews 12 Win
ImageJ/Fiji
KeyCheckout
KeyVerify
LIPS
Language, Proof, and Logic
MATLAB 2021a Win
MEGA
Maple 2015 Win
Mendeley Desktop 1
Mercury
MiKTeX Console 4 Win
Microsoft Edge 117 Win
Microsoft Office 365 University 2016 Win
Microsoft Power BI Desktop
Microsoft Silverlight 5 Win
Microsoft Teams 1 Win
Minitab 19 Win
Notepad++
PaperCut NG Client 21 Win
Praat 6 Win
PyMOL Win
Qt Designer 5 Win
R Statistical Computing 4 Win
RunGTAP 7 Win
SAS Base SAS 9 Win
SAS Enterprise Guide 7 Win
SIL FieldWorks 9 Win
SYSTAT 13
Stata/BE 17 Win
Stata/SE 17 Win
VideoLAN VLC Player 3 Win
Visual Studio Code 1
Zoom 5
Zotero 6 Win
calibre 5
Booking
This room is available for instructor and staff bookings. Please note that academic courses are given priority. For more information about academic and non-academic bookings, see our teaching lab booking page.
Support
If you're having problems with lab equipment, software, or the space, please see a staff member at the Clearihue A025 support desk.
You can also contact us for help with any questions about UVic technology, services, or accounts.