Eligibility and requirements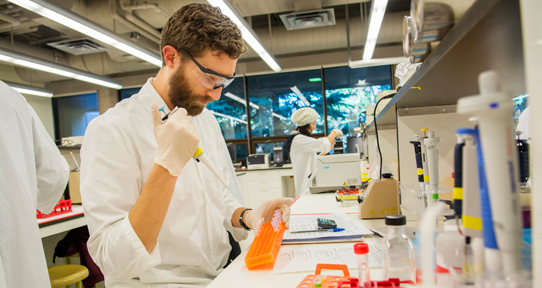 Applicants are required to hold a BSc in Biochemistry, Microbiology or an acceptable equivalent before final acceptance can be granted. Priority is given to students with a grade point average (GPA) of 77% or above (B+ average, 3.65 on a 4 point scale, high Second Class in Britain); however, the department will consider applications from students who have a minimum GPA of 73% (B average) if they have a demonstrated record of research accomplishment.  The GPA calculations are based on the most recent two years of full-time study.  For more information please visit the graduate admissions website
Provisional (early) acceptance can be offered to applicants in good standing in their final year of study, subject to fulfillment of the criteria set out above.
Mature students (students who have at least 4 years of relevant research experience) will also be considered for admission.
Applicants whose first language is not English and who do not hold a degree from a designated English-speaking country will need to provide proof of language proficiency.  A minimum TOEFL exam score of 100 (on the internet based exam) or an overall IELTS score of 7.0 with no score of less than 6.5 on each academic component is required. Test scores older than two years are not acceptable.
All students must maintain a GPA of 77% (B+) or better in their graduate course work to remain in the program.
Entrance to doctoral studies
Applicants holding or expecting to hold a BSc may only apply to the MSc program. To transfer to the PhD program, MSc students must apply within 18 months of starting their MSc and pass a candidacy examination that consists of a successful oral defense of a research grant proposal.
Admission to a doctoral degree program normally requires a master's degree in Biochemistry or Microbiology from a recognized institution. Students who wish to enter the PhD program after completion of a MSc degree in this department must apply in the usual manner. One of the referees for this application must be the MSc supervisor as the Department of Graduate Studies Committee must consult with M.Sc. supervisor before deciding on the student's re-admissibility.
Need help?
More information about applying to UVic graduate studies is available on the Graduate Studies website.