Kasapi Scholars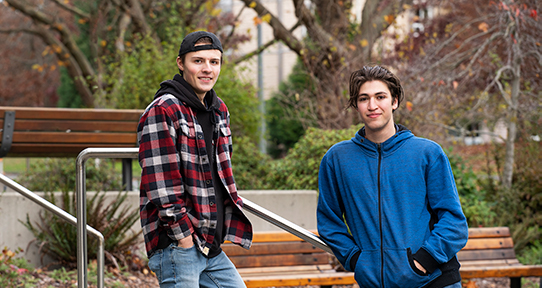 A perfect tie
"Above all, my father believed in equality," says Athos Kasapi, about his late father Agamemnon. "He never liked situations where the deck was skewed. His attitude was that there should be a level playing field."
Last year, the Kasapi family established the Agamemnon Kasapi and Family Scholarship Endowment at the University of Victoria to honour their father's wishes, achievements and values. The award is worth $25,000 annually to the eligible recipient, making it the largest amount per year for an undergraduate scholarship in the Faculty of Science. The terms for the award are clear and simple—the student with the highest GPA in any program in the Faculty of Science at the completion of their first year will receive the award. But when the Office of Student Awards and Financial Aid (SAFA) tried to process the inaugural award, they discovered things are rarely as simple as they seem. There were two students tied for first place, both with a perfect GPA of 9.0.
A tie is unusual, but not unheard of. So, the Office of Student Awards moved to the tie-breaking criterion, which is the students' scores in their first-year calculus course. It turned out the students were tied again! Both had scored 100 per cent. When the four Kasapi siblings heard about the tie, they reflected back on their father's strong sense of fairness and concluded that the scholarship should be split evenly between the two students.
"It was a surprise. It seemed extraordinary that they would both have perfect scores. But it seemed unfair—and not in the spirit of my father—to add criteria after the fact. He would never go back and change the rules." - Athos Kasapi
Extraordinary students
The recipients—Sol Snir Shaool and Dawson Jarvis—seem happy enough with the split. The two knew each other by name after a year of online classes, but only met in person during a lunch with Athos in November 2021.
Dawson grew up on a farm in Chilliwack, BC. He's working towards a degree in biochemistry, with an interest in pursuing medical school and potentially medical research. He was surprised to learn he'd earned the scholarship and was curious to learn why.
"I knew I had done well in first year, but when I read that I had the highest GPA in the Faculty of Science at the end of it, my heart stopped for a second. I felt excited and admittedly felt a little bit of pressure for the rest of my degree!" Dawson says. He was excited to meet a member of the Kasapi family to learn more about "the people who are putting money into your education."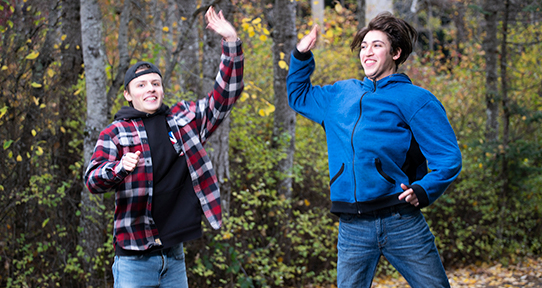 Fellow recipient Sol Snir Shaool moved from Israel to Canada with his family at age 13, bringing with him an innate curiosity and a blossoming love for science. At UVic, he started in physics but is now pursuing a double-major in biochemistry and chemistry.
"Science is fun because it's the how and why of everything. You're looking at how the world works… characterizing and quantifying it. And then there's the future. 'What can we do with this? How can we better people's lives with this knowledge?' I think we're going to have to solve the world's problems through science." - Sol Snir Shaool
Sol finds it hard to express what the scholarship means to him. "It's excitement and relief that I don't have to worry about the money for this year," says Sol. "I don't know if words could really describe how much the [Kasapi] family have given me… have given the university."
A fulfilling outcome for both donor and students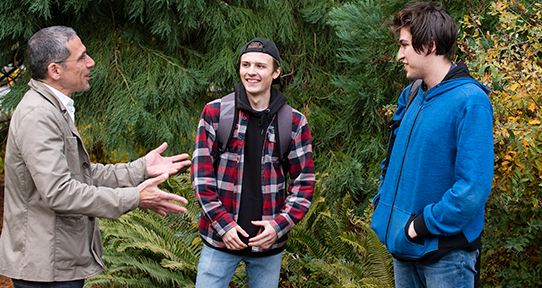 Before meeting the inaugural recipients, Athos anticipated sharing some advice that he learned while completing a PhD in quantum optics at Stanford University. "I will urge them to take risks and seek out research opportunities," he said. However, he was also looking forward to hearing what the students had to say.
"My father was a very modest man. In any meeting, he would listen, a lot. He wouldn't put his own opinions forward. People would learn what he stood for through his actions. So, when I meet the students, I want to channel my father and just listen. They are the next generation and I'm fascinated to hear their plans for the future. It's a privilege to be able to help students like that." - Athos Kasapi
This might be the only year that the scholarship amount is split into two. The terms are being amended to add a third tie-breaking criterion, reflecting the family's wishes for the award to be one of the largest undergraduate scholarships in the faculty. "We want it to be a big-deal scholarship," says Athos, "a life-changing thing."