Events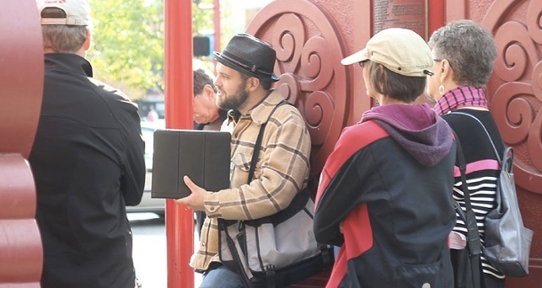 Former CSRS graduate student fellow Vincent Gornall leading a walking tour which highlighed religious aspects of Victoria's urban environment. Photo by Ray Lister.
-------------------------------------------------------------------------------------------------------------
CSRS Director's message on March 14th, 2020
Jamie Cassels announced on March 13th that, effective Monday the 16th of March, UVic classes will be moving to alternative means of delivery. He noted that the university is not going to close, but he felt that it was prudent to prevent frequent, and especially large, meetings.
In response to that announcement, CSRS has decided that the remaining Thursday afternoon public lectures will be postponed and we should be able to reschedule most of these talks in the next school year line-up.
On behalf of the staff of the CSRS, I wish you strength, good humour and equanimity in these difficult times. I look forward to seeing you all in what I hope will be the very near future.
Paul Bramadat, PhD

Professor | Director
Centre for Studies in Religion & Society | University of Victoria
------------------------------------------------------------------------------------------------------------
Lectures, conferences, symposia, a film series, field-trips and special events—these are some of the channels through which knowledge generated from CSRS research is shared with the community. With few exceptions, CSRS events are free and open to all.
The CSRS Weekly Lecture Series
This series features weekly presentations by the various graduate, faculty, and visiting research fellows in residence at the Centre for Studies in Religion and Society.
The Thursday Public Lecture Series will take place from 5:00-6:00 pm in the David Turpin Building, Room A110 (unless otherwise noted for special events).  Light refreshments will be provided where available. Click the speakers' names for more information.
Audio recordings of past lectures are available on UVic's SoundCloud site and the videos for the John Albert Hall Lectures are available on our Vimeo page. 
---
Sept. 12th, 2019
Rachel Brown and Michel Desjardins
Nourishing Religious Studies: What Food Reveals about Religion

Sept. 19th, 2019

Indigenous Law and Hope—A Gendered Perspective
Sept. 26th, 2019

CSRS Graduate Student Fellow

Disciples by Default: Growing up in Alternative Religious Movements
Oct. 3rd, 2019
Diarmaid MacCulloch
JAH Lecture: Christianity Past, Present and Future: The Big Picture
Oct. 8th, 2019
Diarmaid MacCulloch

JAH Lecture: Christianity and Islam: Drawing the Right Lessons from History

Oct. 17th, 2019

(to be rescheduled)

Victor Hori

Ritual Vulgarity in Zen Buddhism

Oct. 24th, 2019
Kathryn Chan

The Trouble with Collective Religious Freedom

Oct. 31st, 2019

CSRS Visiting Research Fellow

Women as Patrons of Religious Art in Sri Lanka: Some Social Implications

Nov. 7th, 2019
Andrew Perrin

(Re)discoveries in the Judaean Desert: Fact, Fable, and Finding the Dead Sea Scrolls

Nov. 21st, 2019

CSRS Faculty Fellow

Contemplative Practices, Contemplative Pedagogies

Nov. 28th, 2019
Graham Jensen

Towards a New History of Modern Poetry and Religion

Jan. 9th, 2020
Graham McDonough

Religious Diversity, Catholic Schooling and Pope Francis

Jan. 16th, 2020

Ian H. Stewart Graduate Student Fellow

Merchants, Monastics, and Chinese National Identity in Malaya

Jan. 23rd, 2020

No Lecture

Nicola Sanchez-Hood's lecture is postponed to April 9th.

Jan. 26th (Sun), 2020

2-5pm

(Victoria Jewish Community Centre, 3636 Shelbourne St)

 

*Special Event with Dept of History*

Tell Them Not to Hate - Words of Witness and Sacred Imperatives

Jan. 30th, 2020

5:30-7pm

(HHB105)

 

*JAH Lecture*

Crossing the Red Lines: What Sex Says About a Changing Arab World 

Feb. 6th, 2020
Jordan Stanger-Ross

Holocaust Commemoration in Victoria: The Politics of Memory

Feb. 13th, 2020

Heather J. Lindstedt & Brian A. Pollick Graduate Student Fellow

Contemporary Creative Expressions of the Qur'an in Pakistan
Feb. 27th, 2020
Walid Saleh
The Genealogy of a Discipline: Qur'an Commentary and Religious Transformation in the Modern Middle East

March 5th, 2020

7-9:30pm

(CINECENTA)

 

Religion, Spirituality and Ecology in the Anthropocene
March 12th, 2020

Iah H. Stewart Graduate Student Fellow

The Role of Music in the Extreme-Right Movement in Germany

March 19th, 2020

(to be rescheduled)

CSRS Faculty Fellow

Literature, Religion and the Senses of Place in the English Revolution

March 25th (Wed), 2020

This lecture has been cancelled.

 

*Special Lecture with Dept of Art History and Visual Studies*

Visions of Impermanence: Prasat Nok Hatsadiling and the Path to Heaven in Northern Thailand

March 26th, 2020

(to be rescheduled)

CSRS Artist-in-Residence Fellow

The Heart Coffer: Spiritual Explorations through Puppetry

April 2nd, 2020

(to be rescheduled)

Winnifred Lonsdale Graduate Student Fellow

Leaving Catholicism: Secularization among Women on Vancouver Island since the 1960s

April 9th, 2020

(to be rescheduled)

CSRS Graduate Student Fellow

Indigenous Reimagined: Exploring Virtual and Augmented Reality for Cultural Resurgence
---
 Past Events:
Special Events
The CSRS hosts a range of special events including conferences, symposia, tours, and one-off lectures, often in collaboration with other UVic departments, community organizations, or affiliates such as MEICON.
---
Distinguished Lecture in Islam
Every two years the CSRS presents a lecture from an eminent scholar working in fields related to Islamic studies. A fund supporting this lecture series was established in 2007 by an anonymous donor who wished to increase the community's understanding of Islam.
The next Distinguished Lecture in Islam will take place during the 2018-19 academic year.
---
Conferences, Seminars, & Symposiums
In collaboration with community and university partners the CSRS hosts special events such as conferences, seminars, and symposiums annually. Check back for information about upcoming events as they are schedulled.
March 15th, 2019 -- "Religion and its Others: Power, Sovereignty, and Politics in Indian Religions Past and Present" Sponsored by the Shastri Indo-Canadian Institute. Please click here for the symposium agenda.
John Albert Hall Lectures
The John Albert Hall Lectures are a multi-part speaker series featuring expert perspectives on the changing role of religion in contemporary society. Support for this series is generously provided by the Anglican Diocese of BC John Albert Hall Trust. Lectures are free and open to all members of the public and university community. 
Visit here to see the John Albert Hall Lecures page for more details.
Video recordings of past John Albert Hall Lectures are available on the CSRS vimeo site.
---
Centre-Cine Film Series
Each month from September through April, the CSRS presented a feature or documentary film as part of the Centre-Cine Film Series. The films are carefully chosen to explore questions of morality, culture, the search for meaning, and other themes arising from the human spiritual journey.

Every month Centre-Cine participants from centre fellows will be sent the name of a selected film. It is up to participants to locate and watch the film themselves. All participants are then invited to meet for a group discussion on the film with CSRS Artist in residence, Terry Marner, acting as facilitator. All films in the series will be available on Netflix and most will be available from the Greater Victoria Public Library (GVPL) on DVD. Viewers may have to place a hold on the movie if they are using the GVPL.