John Albert Hall Lectures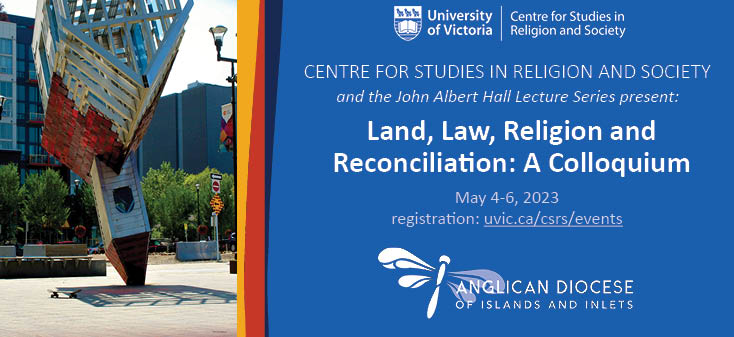 The John Albert Hall Lectures are a multi-part speaker series featuring expert perspectives on the changing role of religion in contemporary society. Support for this series is generously provided by the Anglican Diocese of Islands and Inlets John Albert Hall Trust. Lectures are free and open to all members of the public and university community. 
Click here to watch the lecture recordings on our YouTube channel.
Video recordings of past John Albert Hall Lectures are available on the CSRS vimeo site
Upcoming JAH Events
Law, Land, Religion and Reconciliation: A Colloquium.
This workshop will explore the implications of the existential shifts in religious life for the stewardship of religious property in contemporary Canada. What are the moral and religious obligations of a religious community that has a lot of assets, deeply-felt religious and social commitments, but few congregants? Why (if at all) is it important for religious communities to honour the wishes of donors from generations past? Whose voices should guide decisions about the future management of institutional property? Where do tax considerations and registered charity status fit in? How are different religious communities responding to changing social realities in Canada in terms of their property use, and what can we learn from these experiences? 
There are talented scholars, clergy, religious institutional staff, and policy-makers working on these questions, and we will gather a cohort to explore and examine the intersecting issues they raise. We invite you to register for this exciting event of May 4-6, 2023, if you are planning to attend in person.  Read program here
Keynote Speakers:
Carmen Lansdowne, Moderator of the United Church of Canada and member of the Heiltsuk First Nation.
Kathryn Chan, UVic Law Professor and Acting Director of the Centre for Studies in Religion and Society
David Seljak, Professor of Religious Studies, University of Waterloo.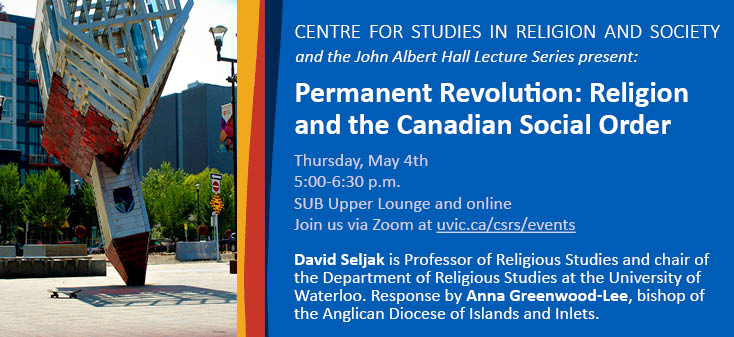 Please visit this site or our events page for more information as we always update lecture information as soon as it becomes available.  
The John Albert Hall Interview Series
The interviews were a forum for individuals with notable careers in religion and civil society to reflect on contemporary issues. 
Values for a New World: An interview with Noam Chomsky
In this two part series, Noam Chomsky is interviewed by Canon Ian Alexander, the former co-chair of the John Albert Hall Lecture Series Steering Committee, and Martha McGinnis, Associate Professor of Linguistics and Chair of the Linguistics Department at the University of Victoria. The interview took place in December, 2021.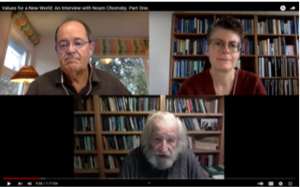 Values Are the New Religion: An Interview with Linda Woodhead
In the 2020-2021 John Albert Hall Lecture Series "Values for a New World," Linda Woodhead delivered a lecture entitled "Values Are the New Religion." In this follow-up interview with host Ian Alexander, Linda goes deeper into aspects of her thesis. July 2021.
A video recording of this interview is available here.
Up Close and Personal with Herbert O'Driscoll
Herbert O'Driscoll is a respected and beloved writer, preacher, and proponent of Celtic spirituality. Last fall, he turned ninety. This spring, his latest book is being published. Entitled A Greening of Imaginations, it imagines the "back stories" of some favourite Biblical scenes and characters. In conversation with Ian Alexander, Herbert O'Driscoll reflects on his life and reads from his new book, copies of which will be available for purchase and autographing.
Wednesday, March 27, 2019
Light refreshments from 9:30 am
Public Interview at 10:00 am
St. George's Anglican Church, Cadboro Bay, 3909 St. George's Lane
Please consult the poster for more information.
Reforming Tradition: A Conversation with Remi De Roo
Bishop Remi de Roo and Ian Alexander
Thursday, June 21, 2018
Hickman Building, Room 105
11:45am to 1:15pm
A video recording of this lecture is available here.
Interview Synopsis: One of Canada's longest serving Catholic bishops, participant in Vatican II, scholar, author, advocate on behalf of the poor and critic of capitalism--Remi De Roo has led a remarkable 94 year life of faith in action. Join him for an intimate encounter that includes a public interview with former CBC host Ian Alexander, and questions from the audience. Light refreshments will be served.
Speaker Bio: Remi De Roo holds a doctorate in sacred theology from the Pontifical University of Saint Thomas Aquinas, Angelicum, in Rome, and is the only living Canadian bishop to have participated in all four sessions of the Second Vatican Council. He is the author of several books, including Cries of Victims--Voice of God (1986) and Chronicles of a Vatican II Bishop (2012). Considered a radical by some for his social views and reforming spirit, De Roo has clashed with popes and prime ministers in his efforts to champion the goals of Vatican II.
An Interview with Lois Wilson
Lois Wilson and Ian Alexander
Tuesday, January 30, 2018
First Metropolitan United Church,
932 Balmoral Road at Quadra Street
7:00 to 8:30 pm
A video recording of this lecture is available here.
Interview Synopsis: Retired senator, first female moderator of the United Church of Canada, prolific author, national and international advocate and administrator—Lois Wilson has led a remarkable ninety-year life of faith in action. Join her for an intimate encounter, including a first-person interview with former CBC host Ian Alexander, questions from the audience, and a chance to meet Lois in person.
Speaker Bio: Lois Miriam Wilson served as the first woman president of the Canadian Council of Churches (1976-1979), first Canadian president of the World Council of Churches (1983-1991), Chancellor of Lakehead University (1991-2000), and Canadian senator (1998-2002). She is a Companion of the Order of Canada and recipient of the Pearson Medal of Peace. Dr. Wilson is currently a senior fellow at Massey College, University of Toronto, and distinguished minister- in-residence at Emmanuel College, University of Toronto.
Past JAH Events
Watershed Moment: Spirituality, Forests and Fresh Water
featuring Christiana Zenner, Tzeporah Berman, and Deondre Smiles
Date/time: Thursday, March 3rd at 5:30 to 7:00 pm PT
Location: Zoom only
Click here to watch a recording for this online lecture.
Forests and fresh water are essential to life on our planet. Not surprisingly, they also feature prominently in the ritual, ceremony and the sense of the sublime across religious and spiritual traditions. Yet it is becoming apparent that our forests and bodies of water are increasingly at risk. Around the globe, forest and water management has taken center stage in movements of resistance that emphasize ecological protection and Indigenous rights. Do religion and spirituality have a role to play in our understanding of or response to the crisis? Where do we go from here? Watch our recording from the above link button as our expert panel considered some of the pressing questions of our time.
Tzeporah Berman is an environmental activist, campaigner and writer, and International Program Director at Stand.earth. Deondre Smiles is Assistant Professor of Geography at UVic and a specialist in Indigenous geographies and ways of knowing. Christiana Zenner is Associate Professor of Theology, Science and Ethics at Fordham University and author of Just Water: Theology, Ethics, and Global Water Crises.
Resisting Structural Evil: Climate, Economy and Hope
featuring Cynthia Moe-Lobeda & David Seljak
Date/time: Thursday, December 2 at 5:00 to 6:30 pm PT
Location: Engineering and Computer Science Building 125 
Viewing online: This lecture requires registration to view online. Register with the button seen below.
Click here to view a recording on our YouTube channel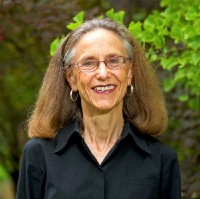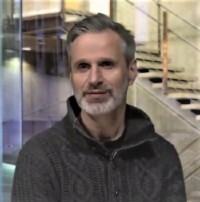 Climate justice may be the foremost moral challenge of the 21st century. Race and class dimensions of the climate crisis are haunting. While caused primarily by high-consuming people, climate change is wreaking death and destruction foremost on impoverished people who also are disproportionately people of color. How are we to face this crisis with courage, wisdom, agency, and hope? What do spirituality and religion bring to this question? What is the role of economic life in building sustainable Earth-human relations? Join us for honest and hopeful inquiry into these burning questions.
Cynthia Moe-Lobeda is Professor of Theological and Social Ethics at Pacific Lutheran Theological Seminary and author of the award-winning Resisting Structural Evil: Love as Ecological-Economic Vocation.
David Seljak is Professor of Religious Studies and chair of the Department of Religious Studies at the University of Waterloo.
JAH Events Archives
2020-2021 "Values for a New World" series
2018-2020 Guest Speaker Series
Ideafest 2020: Religion, Spirituality and Ecology in the Anthropocene
Thursday, March 5th 2020  7:00 to 9:30 pm UVic Cinecenta
A video recording of this lecture is available here.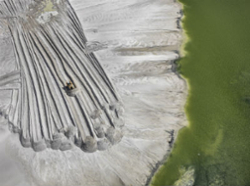 Phosphor Tailings Pond #4, Near Lakeland, Florida, USA 2012. photo © Edward Burtynsky, courtesy Nicholas Metivier Gallery, Toronto. Concise photo credit: © Edward Burtynsky, courtesy Nicholas Metivier Gallery, Toronto​ 
Religious traditions and ideas have played many roles throughout history, but one their most common functions has been to provide guidance to humans coping with mysterious and threatening aspects of the natural world. Arguably, we are now in a period some call the "Anthropocene," in which it is humans who have the most profound impact on the environment and climate. How might scholars understand the role religions have played in creating what many think of as a new geological epoch? How might the scale and implications of these changes be communicated to people responsibly, without inducing paralysis or terror? How might religious communities respond to this new situation? What are the most and least helpful ways of thinking about and responding to this new period? 
In this Ideafest session in the first week of March, participants met at Cinecenta to watch the recent film, Anthropocene: The Human Epoch (by Jennifer Baichwal, Edward Burtynsky, and Nicholas de Pencier), and then engaged in a moderated conversation with the film-makers, activists, and scholars of religion, society, and the environment about the implications of this new historical period for our common lives. Our panel included Matthew Humphrey (A Rocha Canada), April Nowell (UVic) and Trevor Hancock (UVic).
This Ideafest event was a part of the 2019-2020 John Albert Hall Lecture series, a collaboration between the CSRS and the Anglican Diocese of British Columbia, with generous funding from the John Albert Hall Trust.
"Crossing the Red Lines: What Sex Says about a Changing Arab World"
Thursday, January 30th
5:30 to 7:00 pm Hickman Building (HHB), Room 105
A video recording of this lecture is available here.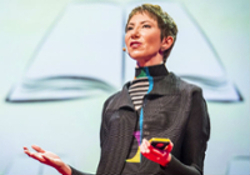 "If you really want to know a people, start by looking inside their bedrooms." For the past decade, Shereen El Feki has been travelling across the Arab region, talking to people about sex: what they do, what they don't, what they think and why. Shereen's research and advocacy uses sex as a lens to better understand movements on a bigger stage, in politics and economics, religion and tradition.
Shereen El Feki, journalist and Professor of Global Practice at the University of Toronto's Munk School of Global Affairs, is the author of Sex and the Citadel: Intimate Life in a Changing Arab World, an award-winning look at the intersection of gender, sexuality, politics, economics and religion across the Arab region, now a series of short films airing on BBC World. As Regional Director of Promundo, Shereen is currently leading the largest ever survey on men, masculinities and gender roles in the Middle East and North Africa.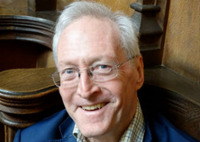 In the Fall of 2019, University of Oxford historian Diarmaid MacCulloch delivered two public lectures at the University of Victoria. MacCulloch is one of the world's foremost scholars of Early Modern Christianity and author of numerous award-winning books, including A History of Christianity: The First Three Thousand Years.   
MacCulloch's Thursday, October 3rd lecture, "Christianity Past, Present and Future: The Big Picture," refocused the story of Christianity to show what an unexpected product modern Western Christianity was given its origins as an Eastern religion. He emphasised the power of ideas to reshape human affairs, and considers the pasts, the presents and the futures of the world's most widespread faith.
In his Tuesday, October 8th lecture, "Christianity and Islam: Drawing the Right Lessons from History," MacCulloch considered the complicated relationship between two great religions of the Middle East over 1400 years and rejects attempts to frame this relationship as a "clash of civilizations". Rather, he argued, there was a history of borrowing between Christianity and Islam, both in terms of ideas and practices, and this history needed to be explored as part of any comprehensive effort to understand and engage present difficulties.
Both lectures was held in the Engineering and Computer Science Building (ECS) room 123 from 5:30-7:00pm. Video recordings of the lectures are available for Oct 3 and Oct 8. Please find a poster here for the lecture information.

The Christian Left and Canadian Politics
The Hon. Bill Blaikie 
in conversation with Lisa Helps, Patricia Lane, Alex Nelson, Mary Louise Meadow and Paul Bramadat
First Metropolitan United Church, 932 Balmoral Road, Victoria
1:30 - 3:00 pm
In this election year, how might Christians (and non-Christians) interested in progressive politics act and think? Should activists prioritize certain dire global situations (e.g., climate change), other more local challenges (e.g., homelessness), or international crises (e.g., refugees in Europe)? Do progressive Christians and like-minded members of other communities have a special role to play in contemporary Canadian politics? Join us for this open conversation with one of Canada's senior political thinkers.
For more information, please see the event poster.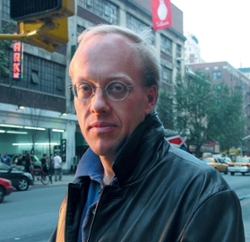 Christian Fascism and the Rise of Donald Trump
Christopher Hedges
Hickman Building, Room 105
5:00pm-6:20pm
A video recording of this lecture is available here. An audio recording of the lecture is also available on our SoundCloud account. 
In this free public lecture, author and activist Christopher Hedges discusses the current state of religion and politics in the United States.Christopher Hedges is a Pulitzer Prize winning journalist, New York Times bestselling author, Princeton University lecturer and ordained Presbyterian minister. His latest book is America: A Farewell Tour (2018).
Photo credit for posters: Michael Nigro
Light refreshments will be served. For more information, please see the event poster.
An audio recording of the lecture is now available on our SoundCloud account. 

Gender, Justice and the Church
Cheri DiNovo, Jennifer Henry, and Gina Messina moderated by Michelle Slater
MacLaurin Building, Room A144
5:00pm-6:20pm
A video recording of this lecture is available here.
The longstanding and systemic mistreatment, underpayment and sexual harassment of women and members of the LGBTQ2S+ community has been firmly in the public spotlight this past year thanks to movements such as #MeToo and Time's Up. But how have Christian communities wrestled with these issues? Have there been gains in equality, empowerment and safety in Christian settings? Have Christians been advocates for change in wider society?  Three leading women reformers reflect on the implications of biblical teachings and tradition in the struggle for justice in church and society.
The lecture is free and open to the public. Light refreshments will be served.
Cheri DiNovo is an ordained minister in the United Church of Canada and a former Ontario MPP. She introduced more successful LGBTQ2S+ legislation than any other MPP in Ontario history.
Jennifer Henry is the Executive Director of Kairos: Canadian Ecumenical Justice Initiatives, and one of Canada's leading proponents of Indigenous rights, as well as gender and migrant justice.
Gina Messina is associate professor at Ursuline College, and co-founder of the online project Feminism and Religion. Her most recent book is Jesus in the White House (2018).
Michelle Slater is lead minister at Oak Bay United Church.
If you missed the event, we have a video recording of the panel discussion on Vimeo.
September-November 2017: Crisis, Conscience, Community: The 500th Anniversary of the Reformation

We had a special series of four lectures, between September and November in 2017, focusing on themes related to the 500th anniversary of the Reformation. Please find each lecture below for more details.