Events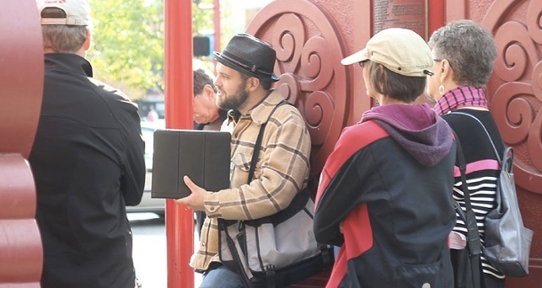 Former CSRS graduate student fellow Vincent Gornall leading a walking tour which highlighed religious aspects of Victoria's urban environment. Photo by Ray Lister.
Lectures, conferences, symposia, a film series, field-trips and special events—these are some of the channels through which knowledge generated from CSRS research is shared with the community. With few exceptions, CSRS events are free and open to all.
The CSRS Weekly Lecture Series
These CSRS lectures feature our fellows and special guests. They are held from 5:00-6:00pm Pacific Time on Thursdays throughout the academic year, with the exception of some special lectures (see dates below with an asterisk* for exceptions). Due to precautions related to Covid-19, lectures are online only. All lectures include a live audience Q&A. Click speakers' names for Zoom sign-in information and more details.
Audio recordings of past lectures are available on UVic's SoundCloud site and the videos for the John Albert Hall Lectures are available on our Vimeo page. 
---
Sept. 17th, 2020
Gary Kuchar
Literature, Religion and the Senses of Place in the English Civil War

Sept. 24th, 2020

Nikki Sanchez
Exploring Emergent Media for Indigenous Sovereignty and Resurgence
Oct. 1st, 2020

Sheryl Reimer-Kirkham, Sonya Sharma, Rachel Brown and
Melania Calestani

Prayer as Transgression? The Social Relations of Prayer in Healthcare Settings
Oct. 8th, 2020

 

Leaving Catholicism: Secularization among Women on Vancouver Island since the 1960s
Oct. 15th, 2020
Tamsin Jones, Victor Hori
and Russell McCutcheon
Should 'Religious Insiders' Teach Religious Studies?

Oct. 22nd, 2020

Ian H. Stewart Graduate Student Fellow

The Role of the Congregation: Religious Identity Among Filipinx Sexual Minorities
Oct. 29th, 2020
Archetypes of Mindfulness
Nov. 5th, 2020
What just Happened? Religion and Politics in the US
Nov. 19th, 2020

Katherine Young Travel Award Graduate Student

 

Buddhist Texts as Lived Objects
Nov. 26th, 2020

 

The Heart Coffer: Spiritual Explorations through Puppetry

*Dec. 3rd, 2020

(5:00-6:30pm)

First installment of the Values for a New World series:

Writing and the Great Change Upon Us

*Jan. 7th, 2021

(5:00-6:30pm)

Miroslav Volf

Second installment of the Values for a New World series:

At Home in the World?

Jan. 14th, 2021

Françoise Keating

Heather J. Lindstedt & Brian A. Pollick Graduate Student Fellow

 

Creating a Civil Society: A Manuscript of René d'Anjou
Jan. 21st, 2021
Daniel Boyarin
What's Wrong with 'Religion'?

Jan. 28th, 2020

Randa El Khatib

CSRS Graduate Student Fellow

Early Modern Biblical Cartography in John Milton's Paradise Lost

*Feb. 2nd, 2021

(Tue 11:00am-12:30pm)

Noam Chomsky

Third installment of the Values for a New World series:

Confluence of Challenges: The Fate of the Human Experiment

Feb. 11th, 2021
Maggie Jones
The Economic Legacy of Indian Missions in the United States

*Feb. 23rd, 2021

(5:00-6:30pm)

Thomas Homer-Dixon

Fourth installment of the Values for a New World series:

Commanding Hope

Feb. 25th, 2021
Manvinder Gill
Tense Misalignments: Exploring Sikh Canadians' Relationship with Alcohol

*March 4th, 2021

(5:00-6:30pm)

Linda Woodhead

Fifth installment of the Values for a New World series:

Values are the New Religion

March 11th, 2021
Kathryn Chan
The Adjudication of Religious Refugee Claims

*March 16th, 2021

(Tue 11:00am-12:30pm)

JAH Guest Panel
Featuring: Noam Chomsky, Miroslav Volf, Esi Edugyan, Linda Woodhead

March 25th, 2021

Meharoona Ghani

CSRS Artist-in-Residence

Letters to Rumi

April 1st, 2021

Eliza McClenagan

CSRS Graduate Student Fellow

Purifying Protestantism: Anti-Jewish Theology and the Holocaust
John Albert Hall Lectures
The John Albert Hall Lectures are a multi-part speaker series featuring expert perspectives on the changing role of religion in contemporary society. Support for this series is generously provided by the Anglican Diocese of BC John Albert Hall Trust. Lectures are free and open to all members of the public and university community. 
Visit here to see the John Albert Hall Lecures page for more details.
Video recordings of past John Albert Hall Lectures are available on the CSRS vimeo site.
---
Special Events
The CSRS hosts a range of special events including conferences, symposia, tours, and one-off lectures, often in collaboration with other UVic departments, community organizations, or affiliates such as MEICON.
---
Distinguished Lecture in Islam
Every two years the CSRS presents a lecture from an eminent scholar working in fields related to Islamic studies. A fund supporting this lecture series was established in 2007 by an anonymous donor who wished to increase the community's understanding of Islam.
The next Distinguished Lecture in Islam will take place during the 2018-19 academic year.
---
Conferences, Seminars, & Symposiums
In collaboration with community and university partners the CSRS hosts special events such as conferences, seminars, and symposiums annually. Check back for information about upcoming events as they are schedulled.
March 15th, 2019 -- "Religion and its Others: Power, Sovereignty, and Politics in Indian Religions Past and Present" Sponsored by the Shastri Indo-Canadian Institute. Please click here for the symposium agenda.
Centre-Cine Film Series
Each month from September through April, the CSRS presented a feature or documentary film as part of the Centre-Cine Film Series. The films are carefully chosen to explore questions of morality, culture, the search for meaning, and other themes arising from the human spiritual journey.

Every month Centre-Cine participants from centre fellows will be sent the name of a selected film. It is up to participants to locate and watch the film themselves. All participants are then invited to meet for a group discussion on the film with CSRS Artist in residence, Terry Marner, acting as facilitator. All films in the series will be available on Netflix and most will be available from the Greater Victoria Public Library (GVPL) on DVD. Viewers may have to place a hold on the movie if they are using the GVPL.