Christie lab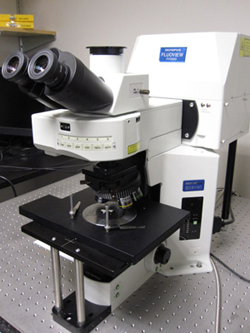 Dr. Brian Christie from the Division of Medical Sciences, with funding from The Canadian Foundation for Innovation, is now offering an Olympus BX61WI confocal laser scanning microscope for use.
Lasers/lamps:
Mercury Arc Lamp
Blue (Argon) Laser
Green Laser
Red Laser
Filters:
LSM
CFP
GFP
YFP
TRITC
DAPI
Software
Olympus FluoView FV10-ASW 1.7c
Once users are trained, online booking of instrument time can be made through the Advanced Microscopy Facility's online booking system. To arrange training contact Evelyn Wiebe by email or telephone. Fees are $25/hour for UVic researchers.
Contact:
Evelyn Wiebe
(250) 853-3827
ewiebe@uvic.ca
Dr. Brian Christie
(250) 472-4244
brain64@uvic.ca